Transportation challenges in Laos
---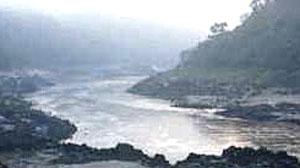 Image ©
2001 Donald Gilliland
Even though it borders Thailand - undoubtedly Southeast Asia's most popular travel destination - and it possesses a glorious bounty of mountains, rivers, historic temples and lovely French-Colonial buildings, the land-locked country of Laos is seldom visited by tourists passing through the region, except for a steady stream of young backpackers and adventurous travelers. Travel to Laos has become very safe, costs are dirt-cheap, the food is heavenly and the native people positively charming. So why doesn't the country receive more tourists?
One of the main reasons for the relatively low number of visitors is that Laos has a limited number of paved roads, making it difficult to meander around the country. In addition, transportation options within the country are slow, unpredictable and often pretty darn scary. Polite folks would call travel in Laos "challenging" while those that are used to being pampered in first-class cabins would probably label it "horrific."
The most prevalent mode of transport in Laos is the bus, and most fleets are composed of pretty basic models. Taking a Lao bus is always a roll of the dice. Some break down, most arrive late and almost all of them are uncomfortably over-crowded. Air conditioning? Not in your wildest dreams. Actually, on those cold mornings in the mountains of Northern Laos you might be praying for a heater instead (no such luck on that front, either). Provincial buses in Laos are never in a hurry to get anywhere, nor do they always leave on schedule. They make frequent stops to pick up farmers and villagers that always have bags of chickens, rice, and sundry other goods to haul to market. Whatever isn't strapped to the roof is stuffed inside the already crowded interior. In fact, you might be asked to balance a bag of smelly fish parts on your lap while the dilapidated bus chugs up and down twisting mountain roads. Relax and enjoy the spectacular scenery and just think of it as an added adventure, one you will be able to regale your friends with when you return home.
If you insist on having A/C and want to get somewhere quickly, you can always hire a private car. That is certainly the far more comfortable choice but not within the means of those traveling on a limited budget. Flying? Yes, that is another possibility, but it would mean forking out yet more precious money and booking a flight with Lao Aviation, not the most dependable of carriers. Their schedule is sporadic, the old planes quite small and they are prone to frequent cancellations. Another airline? Sorry, Lao Aviation has a monopoly on domestic flights. A more intriguing option is travel by boat. Not only can it be a convenient way to get from one place to another, it's also a fantastic way to enjoy the pristine scenery of rural Laos (urban is not a word one would associate with Laos, even the capital of Vientiane).
When I planned my first trip to Laos, I couldn't resist taking a boat trip down the Mekong River to Luang Prabang. Starting from my home in Bangkok, I journeyed to Chiangrai in Northern Thailand. From there I took a bus to Chiang Khong, a tiny riverside Thai town on the border. When I arrived, I was in no particular hurry, so before making the border crossing I grabbed a bite to eat and then stopped by a guesthouse to send a few e-mails. Not knowing the status of Internet service in Laos, I figured this would be my last shot at communication for a while.
After passing through Thai immigration I boarded a large canoe - along with a dozen other passengers - that quickly took me across the Mekong to the village of Huay Xai on the Laos side. After a short walk up a steep hill I passed through the relatively simple process of Laos immigration and there I was. Not exactly in the middle of nowhere, but far removed from the hustle and bustle of city life. Huay Xai is certainly the epitome of a sleepy little border settlement. Not much to do other than eat, drink and get a good night's sleep before continuing on your journey. Nevertheless, I couldn't resist an exploratory walk, anxious to get my first impressions of Laos. During my one-hour excursion I passed several groups of happy children playing games (badminton, takraw, soccer) in front of well-kept little houses. Many waved back and shouted "hello" as I gawked at their games. Lots of stray farm animals (pigs, chickens, water buffalo) milled about and a steady stream of people riding bicycles glided past me. I counted exactly two cars and not a McDonalds or KFC anywhere. Ah, paradise! At the top of a nearby hill was a small Buddhist temple. I walked around the grounds and passed two monks, one of whom asked me for a cigarette. Being a non-smoker I had to turn down his request. One request that I was able to accommodate though was several children's wish for pens. Yes, those little things you write with. You would have thought they were extremely valuable commodities the way so many children kept asking for them. Luckily, I had a few extra ones tucked in my bag, otherwise I would have left a trail of disappointed kids in my wake.
After spending the night in Huay Xai, I continued my journey to Luang Prabang the next morning by boat. For centuries the Mekong River has served as the equivalent of the main highway in Laos. Even now, due to the poor condition of roads throughout the country, the river remains a convenient way to get from one town to another. Boats of all sizes navigate the mighty river, which isn't such an easy task due to a vast collection of hidden rocks and boulders. For the Huay Xai-Luang Prabang trip, travelers can choose a slow boat or the much faster speedboat. The difference? The slow boat is cheaper, the views are better and there's more room to stretch out and relax. The slow boat, though, is, well...slow. It takes two full days to get to Luang Prabang, stopping overnight in the tiny village of Pakbeng. The speedboat naturally is much faster - taking only about six hours to make the journey - but is more expensive, loud as hell, dangerous and very cramped. Most passengers are required to wear crash helmets.
I chose the slow boat option, thinking that it would be a marvelous way to make the trip without rushing matters. I dreamed of two leisurely days floating down the Mekong, enjoying magnificent scenery and maybe working on my tan a bit. What I didn't count on was being stuffed into the bowels of an old wooden boat and lumped like cargo with about fifty other agitated travelers. No room to lie down, stretch or do aerobics. The boats were decrepit fishing vessels with no seats or toilets. Food and beverage service? Don't make me laugh. The only way to escape the dungeon-like conditions of the lower berth was to sit on the roof. But even climbing up to that coveted spot required a tricky chin-up like maneuver. One man in our group slipped while attempting to do so and tumbled into the river. For a few seconds there was stunned silence in the boat until one woman on board started laughing uproariously at the man's predicament. I found out later that she was his wife. Luckily, the captain realized what had happened and after a minute of indecision ("Should I keep going or waste time by rescuing this poor schmuck?"), he turned the boat around to retrieve the tourist and his soggy traveler's checks.
One reason for the crammed nature of our vessel was because we'd left Huay Xai on a Monday. Since boats don't leave on Sundays, this tends to make the Monday trips full to overflowing. The slow boat I was on stopped several times at villages during the day in order to give everyone a chance to eat, drink and use the toilet. One constant I found at all the villages - besides naked children and friendly natives - was the unlikely presence of cans upon cans of Pringles potato chips. I couldn't figure out whether an overzealous Pringles salesman had gone up and down the river soliciting every single village, the natives had developed a sudden craving for this crunchy snack food or they just figured that's what all tourists existed on.
In Pakbeng, the village where we spent the night, things were unsurprisingly very quiet. That probably had something to do with the fact that electricity had not yet reached this hilly little burg. No discos or video arcades or football fields to be found, just lots of wooden houses on stilts and yes, more farm animals wandering around. Although Pakbeng didn't have any electricity, they did have a few generators that were cranked up for a few hours each evening to ensure that there was hot food and cold beer for the motley band of tourists spending the night. Since Pakbeng is now the stop of choice for the slow boats, a bevy of guesthouses has sprouted in recent years. Most of them are quite spartan and cost only a couple of dollars per night. While taking a post-dinner stroll down Pakbeng's solitary dirt street I chatted with several pleasant natives, most of who wanted to sell me ganja. When I turned down one fellow's offer of "Number One Ganja," he must have erroneously thought I was declining because of the price. He countered with, "Okay, I also have number two ganja. Very cheap."
Early the next morning, and a cold misty morning it was, we departed for Luang Prabang. Once again, the views were stunningly beautiful, but our boat remained uncomfortably packed. We weren't making very good time either. Our boat must have been the slowest vessel on the Mekong that day - I think even a group of inner-tubers passed us at one point. Nevertheless we finally arrived in Luang Prabang just before sunset. Tired and hungry, I quickly found a guesthouse, looking forward to some tasty Lao food and a good night's sleep.
Once settled in Luang Prabang, I took my time and spent several days exploring the quaint city and its enchanting collection of temples, monks, and natural attractions. I can honestly say that Luang Prabang is one of the most relaxing and charming places that I've ever visited. I certainly hope that hordes of tour buses don't descend upon the town in the near future. That would only ruin the idyllic atmosphere.
When it came time to continue my travels, I chose the bus for the journey to Vientiane. This involved getting up before daybreak and taking a "jumbo" (a three-wheeled tuk-tuk) to the bus station on the edge of town. Once I arrived, I joined a line of bleary-eyed travelers at the ticket office. "Are you sure this is the bus to Vientiane?" asked one Australian man. The woman behind the ticket window nodded to confirm the fact. "But where are the windows?" inquired the alarmed Aussie. The woman shrugged her shoulders and flashed one of those enigmatic Asian smiles. The man returned her smile, picked up his backpack and reluctantly turned towards the transportation that would be taking us on the nearly twelve-hour journey to Vientiane. The mud-splattered blue bus looked more like a vehicle used to transport melons than it did people. As the backpacker had noted, there were no windows, only rusting frames where you would normally find such amenities. Hanging from the ceiling of the bus were moldy flaps of tarp that could be lowered and tied together in hopes of keeping out the rain. The seats - if you were one of the lucky few passengers to obtain one - were narrow wooden benches with padding about as thick as a layer of tissue.
Rather than taking this contraption all the way to Vientiane, I broke up the journey by stopping in Vang Vieng, a gorgeous little town on the Nam Song River, nestled amongst a collection of karst-shaped mountains and caves. Cramped quarters aside, the trip wasn't as miserable as it sounds. For starters, the scenery along the route to Vang Vieng was nothing short of awesome. From craggy mountains and rock-strewn rivers to thatch-roofed villages with the obligatory farm animals and naked children roaming about, there was always something to hold your attention.
For my Vang Vieng stopover, I had visions of floating down the river on an inner tube, taking long hikes and exploring some of the nearby caves. Upon arrival in Vang Vieng, however, a steady rain had started to fall and the February temperature remained cold. I waited out the storm by having a fabulous lunch at a little cafe on the main road (make that: the ONLY road). By the time I'd finished eating, the rain had subsided enough that I decided to take a hike right away rather than wait out the unpredictable weather. I followed a dirt trail out of town with no idea where I was going, other than I was headed towards the river and a mist-shrouded mountain range. The Nam Song River appears to be a lazy stretch of water, which as it flows through Vang Vieng is certainly the case. But further downstream the gentle current picks up speed and cascades over boulders and sharp rocks. From reports that I'd read on the Internet, more than a few recreational tubers have been injured and even killed in the river. My reasons for foregoing tubing on this day, however, were more for those of comfort. Besides the rain, the temperature was still a bit too cold for my tropical blood.
At each fork in the road, I kept on veering right towards the river, leaping none too gracefully over a series of mud puddles. I finally came to a gravel path that led me to the river. Spanning the narrow channel of water was a rickety bamboo bridge that looked like it wouldn't hold up for too many more rainy days. Although the river appeared shallow enough to wade, I decided to risk taking the precarious looking bridge and investigate the other side. After I was safely across, I stopped to watch people fishing, washing their clothes and swimming - all panoramically framed by the misty mountains. The weather never got any better during that day and I decided to cut short my stay in Vang Vieng and head on to Vientiane.
The bus ride the next day was another cramped affair but it mercifully lasted only about four hours thanks to, not only the shorter distance but also the fact that there weren't any steep mountain ranges to cross. Still, the ride was long enough for me to wish that the seats had contained a bit more padding and that there had been something in the way of legroom.
When it came time to choose which mode of transportation I'd take back to Thailand later in the week, it didn't take me too long to decide. Rather than endure another long butt-bouncing bus or train journey, I succumbed to comfort and booked a flight. More adventure? Not just now thank you, I'll save that for next time.
---