'Wedding Banquet' Taiwanese Recipes and Photos
---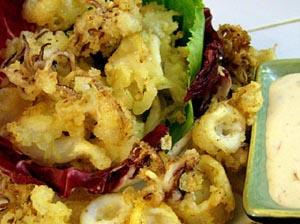 Image ©
2006 Celeste Heiter
Crispy Squid with Chili Mayonnaise
1 pound squid, cleaned and cut into 1" rings
Vegetable oil for deep frying

Marinade:
1 tablespoon Chinese rice wine
2 cloves garlic, finely minced
1 teaspoon sugar
1/2 teaspoon salt

Combine all ingredients in a large bowl. Add squid rings and tentacles and marinate for 30 minutes. Drain and set aside.
Batter:
1/3 cup cornstarch
1/2 cup flour
1 teaspoon salt
1 teaspoon baking powder
1 egg yolk
3/4 cup cold water
1 tablespoon vegetable oil

Combine all ingredients and stir until thoroughly blended. Add squid rings and tentacles and stir to thoroughly coat. Heat cooking oil in a large skillet or wok until a drop of batter sizzles. Drop squid rings and tentacles a few at a time into the oil, making sure not to crowd the pan. Fry squid until golden brown, turning frequently. Remove squid from oil and drain on paper towels. Serve with Chili Mayonnaise
Chili Mayonnaise
1/2 cup mayonnaise
1 lemon, juice only
1 teaspoon chili garlic paste
1 tablespoon soy sauce
1 teaspoon sugar

Combine all ingredients and stir to thoroughly blend.
Golden Fish with Spicy Sauce
1 pound white fish, (halibut, snapper, etc.) cut into 1" cubes
1/2 tsp salt
1 Tbsp cornstarch
2 scallions, thinly sliced
1 teaspoon minced garlic
1 teaspoon grated ginger root
1 teaspoon Chinese chili paste
1 tablespoon sugar
2 tablespoon rice wine
2 tablespoon sesame oil
3/4 cup chicken stock

Batter:
1 egg white
2 tablespoons cornstarch
2 tablespoons soy sauce
1/2 cup Biscuit mix
1/3 cup water

2 cups Vegetable oil for deep-frying
Combine egg white, cornstarch, and soy sauce in a large bowl; mix well. Add fish and mix thoroughly. Combine biscuit mix and water, stir to form a smooth batter. Add to fish mixture, stirring thoroughly to coat. Heat oil in a wok or skillet to 365 degrees. Carefully drop chicken pieces into the oil one at a time without overcrowding the pan. Fry until golden brown on both sides, turning once. Remove from oil and drain on layers of paper towels. Set aside to cool.
In a measuring cup, combine chili paste, sugar, cornstarch and rice wine. Heat the sesame oil in large wok or frying pan and saute the garlic, ginger, and scallions until tender. Add the chili paste mixture and stir to thoroughly blend. Add the stock and simmer until slightly thickened. Serve over Golden Fish. Serves 4.
San Pei Chicken
4 chicken leg quarters (whole leg & thigh with skin)
1/2 cup soy sauce
1/2 cup sesame oil
1/2 cup rice wine
1 tsp cornstarch blended with 1/4 cup water

Place the chicken pieces in a large crockpot, electric wok or other slow cooker. Combine the soy sauce, sesame oil and rice wine and pour over chicken. Simmer on low heat for 4 hours. Remove the chicken from the crock pot and place in a baking dish. Heat the oven to 400 degrees and bake the chicken until skin is golden brown, about 1/2 hour.
Transfer the sauce from the crockpot to a sauce pan. Stir in the cornstarch and simmer until thickened. Place the chicken on a serving dish and pour the thickened sauce over it. (serves 4)
Tea-Smoked Game Hens
2 Cornish game hens, halved lengthwise

Poaching broth:
4 cups water
3 tablespoons soy sauce
1/4 cup Chinese rice wine
1 tablespoon sugar
2 teaspoons ginger root, thinly sliced

Smoking Mixture:
1/3 cup dry rice
1/3 cup brown sugar
1/3 cup oolong tea leaves

Combine all ingredients in a small bowl and mix thoroughly.
Soy Glaze:
3 tablespoons soy sauce
1 teaspoon sesame oil

Combine poaching broth ingredients in a large kettle and bring to a boil. Place the halved game hens in the poaching broth, reduce heat and simmer for 20 minutes. While the game hens are poaching, line a heavy wok or skillet with two layers of aluminum foil. Scatter the smoking mixture in the bottom of the pan. Place a wire rack in the pan, arrange the 4 game hen halves on it, and place over medium heat until the pan begins to smoke.
Cover the pan with a tight-fitting domed lid, reduce the heat and allow the mixture to smoke for 15 minutes. Remove the pan from the heat and allow to cool for 5 minutes before removing the lid. Brush the skins of the game hens with the soy glaze and allow to cool before serving. Serve with rice and Asian stir-fry vegetables. Game hens may also be refrigerated and served cold.
Bananas in Coconut Milk
2 firm bananas, peeled and cut into bite-sized chunks
1 can coconut milk
1 teaspoon ginger root, finely shredded
3 tablespoons powdered sugar

Combine all ingredients in a large saucepan and bring to a boil. Reduce heat and simmer for 15 minutes, stirring occasionally. Divide the bananas into individual serving dishes and ladle the coconut milk over them. Serves 4.
---