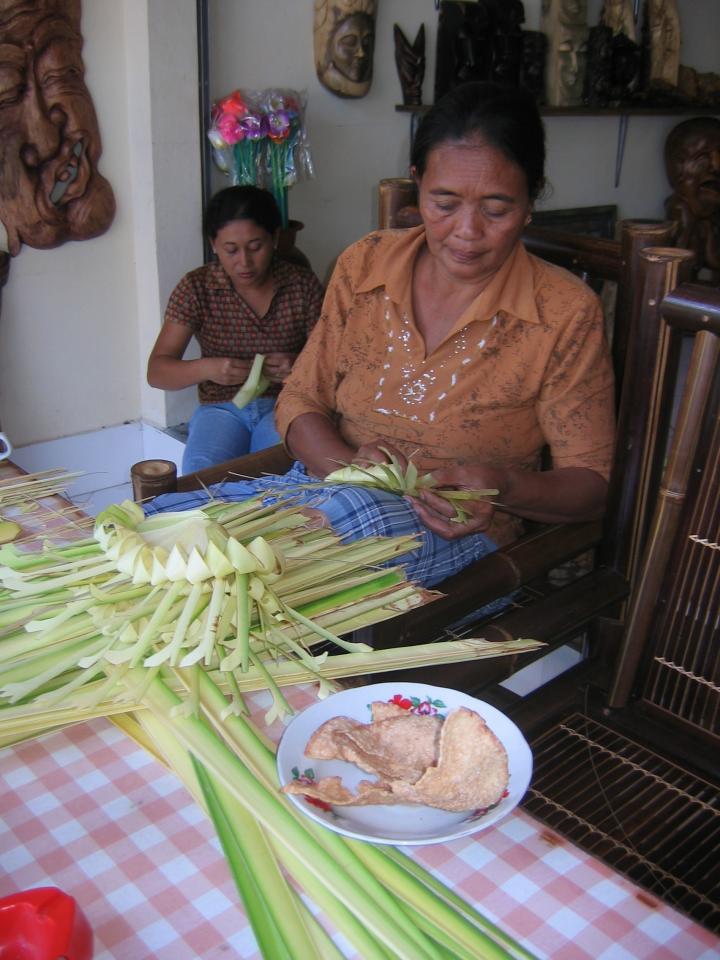 Image ©
2008 MaryLou Driedger
What is Bali?
          Bali is perfect weather. The average temperature is 31 degrees year round. It never rains for longer than thirty minutes. A refreshing sea breeze lifts your spirits all day long.
           Bali is flowers. Garlands are hung around your neck when you arrive. You'll find blossoms on your hotel room pillow. The heady fragrance and brilliant colors of bougainvillea, orchids, hibiscus and water lilies surround you.  Lush green ferns abound. Each morning little baskets intricately woven from banana, palm and coconut leaves are placed outside every single home and business in Bali for good luck. The baskets contain elegantly arranged flower petals sprinkled with holy water. One evening I watched two women weaving dozens of baskets for the mornings' floral offerings.
           Bali is delicious food. I'd read an intriguing lifestyle book called Fragrant Rice by Janet DeNeefe before visiting Bali. Janet married a man from Bali twenty years ago and became enchanted with its cuisine. She has opened two restaurants. We enjoyed supper at one of her establishments named Casa Luna. Everything was divine! I had a feta, avocado, tomato, mint leaf salad for an appetizer. Later I enjoyed grilled swordfish accompanied by the book's namesake, fragrant rice. My dessert was a rich, spicy, creamy ginger ice-cream. It was a meal to remember!
          Bali is beautiful people. The women and children of Bali are especially enchanting. We sat at supper one night, enjoying a meal at an ocean front restaurant when a lovely little girl with dark shiny hair, a quirky smile and big wide eyes came up and tried to sell us some wooden animals she had painted. Who could resist such a beautiful face? The handsome women of Bali walk with stately grace even while carrying huge, full baskets on their heads.
        Bali is monkeys. Monkeys are sacred. The island has several monkey forests where hundreds of macaques make their home. Visitors can observe the creatures without the barriers of cages. These forests also hold Hindu temples. The monkeys freely roam among the worshippers. They are considered magical. Their presence in the holy place is a sign of good fortune. I visited the Monkey Forest in Ubud and could have spent hours watching the monkeys up close and personal as they ate, played, groomed one another and cared for their babies. I couldn't help but take dozens of photos. It is said the monkeys exude good energy. I hope I picked some up during my time mingling with them in the Monkey Forest.
           Bali is massages. Balinese mothers spend many hours massaging their babies during the first three months of life. They believe this will help them grow up to be peaceful, happy people. Tourists can take advantage of the Balinese expertise at massage by visiting one of the many spas on the island. My husband and I found an excellent masseuse named Amalia in the village of Tanah Lot. We both visited her every day during our week in Bali. What a way to live!
         Bali is stars. I'm not sure I have ever seen so many. We tried to decide whether the stars were exceptionally brilliant because the night sky over Bali is so clear or because for the first time in our lives we were south of the equator. The location and brightness of certain stars was different from the northern hemisphere night sky we have observed all our lives.
     For me Bali was brilliant stars, rejuvenating massages, fascinating monkeys, beautiful people, delicious food, gorgeous flowers and perfect weather. I'd love to go back someday and add more items to my Bali is…………….. list.
---