The Wildest of the Wild: Danum Valley
---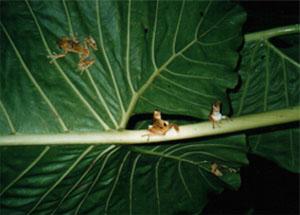 Secluded From Human Civilization
Anyone with an interest in tropical rainforest and its rich and diverse flora and fauna will be amply rewarded by a visit to Danum Valley. As recent as the early 1960s, this nature sanctuary located in the south eastern corners of Sabah was virtually inaccessible. This is because the entire valley is cut off from civilization by the vast surrounding primary forests. In the early 1960s, between the waning years of the British rule and the nascent years of Sabah's independence through a merger with the independent Malaya, soil surveyors first carried out soil studies in Danum Valley. They observed that there was an abundance of wildlife and different forest types and then suggested the setting up of a wildlife sanctuary within Danum Valley.
A Forest Reserve is Born
In 1976, the Sabah Natural Parks Board sponsored a scientific expedition into Danum Valley, which was funded by the World Wildlife Fund (as it was known as then). Their report recommended that Danum Valley be turned into a natural park. A few years later, a state-wide fauna survey was carried out and its report concluded that Danum Valley was one of the most important conservation areas for mammal and birds. At around the same time, the Sabah state government alienated a vast area measuring 10000 square kilometers (3865 square meters) of virgin forests to the Sabah Foundation, a state-owned organization responsible for improving the welfare and education of the Sabahans.
The Sabah Foundation fulfils its objectives through generation of revenues from logging, saw-milling and other timber processing activities. Fortunately for the greening of our planet, the Sabah Foundation in 1980 voluntarily retaining Danum Valley as a conservation area where natural vegetation and the wildlife will be preserved for the purposes of conservation, research and education. In 1986, the Sabah Foundation formally opened a scientific field study centre in the eastern part of Danum Valley. To date, many scientific projects have been undertaken at the research centre. In 1996, the protective status of Danum Valley was further enhanced when it was gazette as a Protection Forest Reserve. As a result, logging and other commercial exploitative activities have been banned.
Largest Lowland Forest Reserve in Malaysia
As the crow flies, Danum Valley is about 70 kilometers (44 miles) west of Lahad Datu, Sabah's fourth largest town. It occupies an area of 438 square kilometers (170 square miles) making it the largest remaining area of virgin undisturbed lowland rainforest in Malaysia. Danum Valley lies within the upper reaches of Sabah's second largest river, the Segama and its tributaries. The eastern and southern borders of Danum Valley are demarcated by the Segama River. Danum Valley is generally hilly but not mountainous. Its highest point is Mount Danum, of 1090 meters (3585 feet) in height. Danum Valley is bordered all round by a vast timber concession area.
An Interesting Journey
The fastest way to get to Danum from Kuala Lumpur is to take one of the daily KLIA flights directly into Tawau. Adjacent to Tawau is where Sebatik Island is shared between Malaysia and Indonesia. After two hours and forty minutes of smooth and comfortable route aboard a Boeing 737, my aircraft touched down on the two-year old Tawau airport which still looks spanking new and whose glass and concrete walls still glisten and sparkle in the sunlight. Waiting for me in his resplendent t-shirt was David, my Lahad Datu friend. His shirt, in the corporate colors of his employer unmistakably caught my familiar eyes from among the sea of people milling in front of the airport exit. David whisked me in his four-wheel and headed towards Lahad Datu, some 120 kilometers (72 miles) from the airport. The quaint kampung houses and plots of cocoa farms and fruit orchards soon make way for miles and miles of monotonous oil palm plantations bearing such exotic names like Binturong, Tingkayu and Mostyn.
Yet, not all the scenes and images are dull and unyielding. From time to time, from the high vantage point of the road traveled we can gaze afar at a wide vista of rolling hills and valleys pock-marked with oil palm trees. A few kilometers after, we passed the mid-way town of Kunak, which has a reputation for producing the sweatiest oranges in Borneo, we reached the Madai Caves. This is where the local natives, the Idahans, have been harvesting birds' nests, a Chinese delicacy for 21 generations. After one and a half hours of leisurely drive, we finally arrived at the Silam junction, the main entrance into another world. At this point, we are just 13 kilometers (8 miles) short of Lahad Datu. Waiting expectantly for me was Rayboul, my guide from Borneo Rainforest Lodge and the driver. After I bid farewell to David, I boarded another four-wheel drive, this time heading for the Lodge which is another 83 kilometers (50 miles) away.
Elephants Trekking in the Night
Along the treacherous and winding road (formerly logging tracks), we observed many tell-tale signs of the presence of wild Asian elephants (elephas maximus). Their dung were splattered along the road and there were uprooted grassy plants such as wild bananas (musa sapientum) and wild ginger (zingiberareae) with their once bright red and yellow flowers looking so forlorn on the forest floor. For a greater part of our journey we traverse through an area where logging operations are still in progress although subject to a less destructive method known as reduced impact selective logging. This initiative was taught by the New England Power Company of the United States. Sky-cables, winches, and hoists are deployed so that trees which are felled do not come crushing down to the ground to destroy the smaller plants in the path.
Excessive Logging?
There is not much sight of the tall stands of mature tropical hardwood which can grow up to a height of 55 meters (180 feet) as many had long been felled and devoured the hungry sawmills in Japan, South Korea and Taiwan to be made into furniture and for construction purposes. What remained of the tall trees are the tualang trees (Koumpassia excelloa) or Mengaris as better known in Sabah.
Bee Trees, all of 'em
Unlike the dominant lowland rainforest species, the dipterocarp hardwoods the tualang is a legume. The wood is brittle and is therefore not commercially harvested. They however look beautiful with the silvery bark and bright green feathery crown which droops like multiple parachutes. They tower head and shoulders above all the other trees in view of their gigantic height which reaches 75 meters (250 feet). They are also known as the bee trees as 80 to 90 per cent of bee hives are found dangling on the tualang trees whose trunk is so smooth and slippery that the sun bears (Helarctos malayanus) are unable to clamber up to reach for the honey.
Eco-nature Adventures
In order to open up Danum Valley to ordinary folks like you and I, the Sabah Foundation in 1995 launched the Borneo Rainforest Lodge comprising of 31 twin-sharing timber chalets and a main two-storey building. In the main building, there is a reception area and a bookshop-cum-library are found on the ground floor while the upper floor boasts a spacious lounge, dining hall, bar counter, kitchen and a viewing gallery overlooking the misty forested hills and the bend of the Danum River. Just a few meters in front of the observation gallery are a few tall trees where throughout the day birds will rest their tired wings and sing away in their distinctive ways. During my three day stay, I was entertained daily by the antics of a troop of boisterous red-leaf macaques (Presbytics rubicunda) frolicking among the trees. While the chalets are spartan, they are each equipped with a bathroom cum modern closet, hot water shower, a ceiling fan and a wide balcony to enjoy the quiet surroundings, the sights and sounds of the forest. Through not lavish, the chalets are clean, airy and comfortable.
Fit for the King and Queen!
It is literally "fit for the King and Queen", for Sweden's King Carl Gustav and Queen Silvia stayed at the Lodge during their trip in 1996. It is primarily for this reason that Danum Valley remains a popular sojourn for the Swedes. A walkway constructed from Belian or Borneo Ironwood links all 31 chalets to the main building. The walkway is frequented by birds, small animals like lizards, squirrels, beetles, bugs, snails, millipedes and other invertebrates.
The Lodge is an excellent base to explore the lush lowland rainforests and it abundance and diversity of creatures. From the Lodge, one can trek along a number of well-marked nature trails including a 2 meter high, 1 kilometer long canopy walkway. One exciting track known as the Viewpoint Trail measuring 1.3 kilometers takes one to the highest hill in the vicinity of the Lodge. From its peak of 220 meters (730 feet) above sea level, one can enjoy a spectacular and unimpeded view of a wide expanse of the hills, valleys and forests of Danum Valley. Along the Viewpoint Trails one will totter across two timber planked foot bridges suspended by steel cables anchored to the trees. Along the trail, one will also set sight on the sparkling waters of a waterfall and touch and feel the refreshing coolness of the pristine waters of the Jacuzzi Pool. Swimmers will certainly feel reinvigorated by a dip in the pool after much perspiration resulting from the walk through the damp and humid forest undergrowth. So remember to bring your swimsuits along for this refreshing dip!
Ancient burial site
A short deviation from the Viewpoint Trail will bring one to a ridge which constitutes an ancient Kadazandusun (a Sabah native group) burial site. Coffins made of Belian wood a few hundred years ago are found along the ridge. Burial jars are also lodged in the burrows dug into the volcanic rockface. During the jungle walk one cannot give a miss to the squeamish leeches even with the protection afforded by leech socks and hard gloves. I did not realize that I was a leech victim as the saliva glands of the tiger leech (Haemadipsa picta) which attacked me contained an anesthetic besides an anti-coagulant. As a victim of the leech bite, I was awarded a certificate by the Borneo Rainforest Lodge to confirm my membership of the Danum Valley Blood Donors Society. As Danum Valley is still a protected forest reserve, some of the tropical timber species are as old as 500 years and many of them have a fat girth and huge buttress roots supporting the main trunk. The buttresses grow to heights taller than most vertically endowed basketball players appearing on the NBA circuit.
Rich in flora and fauna
It is reported that Danum Valley has 37 species of fishes, 56 species of amphibians, 72 types of reptiles, 275 varieties of birds and thousands of insects, worms and other mollusks and invertebrates. Almost every single Borneo primate species can be found in Danum Valley, the exception being the silver leaf monkey. All eight species of hornbills have also been sighted in Danum Valley. Some of the most beautiful and largest butterflies and moths can also be found here. On the two mornings I was at the Lodge, I heard the loud whooping and gurgling territorial calls from the Borneo Gibbons (Hylobates muelleri), reverberating at the crack of dawn through the distant hills and vales surrounding the Lodge. One of the biggest attractions is to catch the elusive and shy Orang Utans (Pongi pygmaeus) during the early morning walk. The morning too is the best time to watch flocks of hornbills and small families of the mountain red-belied squirrels (Calloscirus flavimonus) which are adept at scampering stealthily up and down the trunks of the tall trees looking for ants, lizards and other prey. I chanced up a flock of bushy crested hornbills (Anorrhinus galeritus) among a few tall trees at the Lodge. Their presence is made unmistakable by the sound of their raucous cackles and noisy wing flapping.
Greedy Pig appears!
When darkness falls, it is chow time for many animals and nocturnal creatures such as lizards, bats, flying foxes and squirrels, night owns and frogs. True to its sobriquet of "greedy pig", the solitary bearded pig (Suis barbatus) has been making its presence felt every evening between 7 to 8 at the back of the kitchen of the Lodge. Obviously, it could not resist the aroma of cooked food as it has the habit of foraging for leftovers deposited in the trash bins. On my first evening at the Lodge, the chef excitedly ran to me to ask me to direct my torch at "Janggut" or the Bearded one in English, a moniker the staff has given to the particular bearded pig.
During the night walk along the 200-meter Nature Trail close by the Lodge, Raybould the guide and I reaped a bountiful harvest in terms of sighting of things from Mother Nature. We encountered several tree frogs (Polydedates otilophus) roasting behind the wild yam leaves. At a very close range, I saw resting on twigs a flowering mantis leaf insect, leaf hopper, stick insect and a bulbul bird with its head resting snuggly between its wings. Hanging between the branches of trees was a sleeping oriental whip snake (Rhinoplocephus boschimoi). None of these creatures were flustered by our presence or roused by the crackling sounds from the dead branches and twigs as we stepped on them. Still active and sprightly were the reddish brown and black giant forest ants (Camponotus gigas). They form an endless line moving along the forest floor and each carried grub by its jaws. The cacophony of sounds made by the cicadas, beetles, birds, frogs and other creatures of the wild form a kind of uninterrupted orchestra piece with each of the species playing their assigned instruments.
Glow-in-the-dark Fungi
As our own eyes become accustomed to the darkness, something even more unusual became apparent ? faint luminous patches of white which are actually a kind of fungus cover over the fallen and decaying branches of tree trunks. After a rainy period which coincided with my visit in December 2002, a delicate mushroom-like fungus appeared on rotting logs. In the darkness, we can see that they are luminescent but with a greenish and bluish tinge and much brighter than the white encrusting fungi referred to as earlier.
As we headed towards to Lodge near the end of our night walk, I thought for a moment that this was the end of my close encounters of the wild kind. At the Lodge grounds, Raybould directed his powerful torch at a clump of fig trees (ficus family) which were planted along both sides of the walkway. We saw clinging to a branch in a koala bear-like fashion one of the strongest animals in Borneo (it is not found in Peninsula Malaysia) ? the tarsier (Tarsius bacaneus), a soft furry mammal 13 centimeters in length with a 20-centimeter tail and webbed feet.
When we reached my chalet, Raybould squatted down and shone his torch at the stilts supporting the chalets. Three pairs of red-like eyes reflected against the light. On closer examination, we discovered that the eyes belong to a small herd of greater mouse deer (Tragulus napu) or pelanduk kancil to the locals.
Although we did not encounter many wild animals who made Danum Valley its home, such as the extremely shy Sumatran rhinoceros (Dicerohimus sumatrensis), clouded leopard (Neofelis nebusa) and banteng, a type of wild Asian cattle that resembles a miniature cow, Danum Valley has much to offer to naturalists, nature lovers and ordinary travelers. Apart from infrequent visitations by greedy and callous illegal hunters, Danum Valley is very much untouched by human activity. May it remain so!
* * * * *
---