Your First Trip to Taiwan: A Suggested Itinerary
---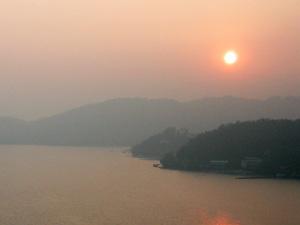 Image ©
2003 Dawn Stanton
So you've decided to go to Taiwan! Or maybe you're considering it but want to research what the island has to offer before you make a final decision. Or maybe your employer is sending you there for work and you want to take a few extra days to delve into the island's culture, history, and natural beauty because you don't know when you'll get the chance to see Taiwan again. Whatever reason lies behind a first trip to Taiwan, I've found that once you experience the island, you will want to go back again. The itineraries suggested here are only that: suggestions. The important thing is not to rush through any of the sights (e.g., one afternoon in Taroko Gorge is not enough). I've found its better to see fewer things but spend more time at each sight if you are crunched for time. Whatever you miss, plan it for your next trip!
One Week
The capital, Taipei, offers plenty to do and see, more than enough to fill a week. Even better, many of the sights are accessible via the MRT system. Don't miss Chiang Kai-shek Memorial, situated in the same area as the National Theater and National Concert Hall. If you check scheduling in the theaters, you may be able to catch a play, musical performance, or cultural event while here. Sun Yat-sen Memorial Hall should be a destination as well. Both Chiang-kai Shek and Sun Yat-sen memorials are accessible via MRT and both have a memorable changing of the guard ceremony.
Shop at the night markets every chance you get! There are several throughout the city. (See an earlier article, "Taipei's Famous Night Markets," for specific details.)
The National Palace Museum and Yangmingshan National Scenic Area are both accessible while keeping Taipei as your base.
Two Weeks
In addition to the suggestions for the one week itinerary, consider booking yourself a train... your destination depends on your preferences. Arranging a tour with a tour company is another option.
If you prefer to stick to the cities, Tainan in the south has the island's oldest shrines and temples, as well as remnants of a Dutch fort and a temple to Koxinga, who drove the Dutch from the island in 1661. A one or two night stop could be made in Taichung on your way south or on your return to Taipei. Night markets in both cities are lively and diverse.
If you're ready to spend some time closer to nature after the hectic life of Taipei, head to Alishan (Mt. Ali). You can spend at least two days hiking in the Alishan national forest, a day or two exploring the villages within the government-protected scenic area, and you'll have ample opportunity to set aside one morning to make the pre-dawn journey to view the sunrise from Alishan.
Three Weeks or More
In addition to the suggestions for the one and two week itineraries, each stop suggested here should be allotted at least two days.
Taroko Gorge. Like Alishan, Taroko Gorge is a government-protected National Scenic Area. The gorge lies in eastern Taiwan and offers visitors a number of trails to explore along the 12-mile length of the gorge. A flashlight is a recommended accessory as many of the trails pass through quite long, unlit tunnels. Wenshan Hot Springs, a completely open, natural hot springs, is a special treat here. The springs are situated just several feet from the rushing river that runs through the gorge. As of October 2003, entrance to the hot springs was free; sadly, though, discarded sodas cans and other bits of garbage in the hot springs area detract from its beauty.
Sun-Moon Lake. This getaway lies in Nantou County, the middle of the island. Here you can rent a bicycle to tour around the lake at your own pace, visit Tsen Pagoda (memorial to Chiang Kai-shek's mother), Xuanzang Temple, and Wenwu Temple. To really spoil yourself, consider staying a night or two in the luxurious Lalu Hotel. One night in a standard one-bedroom room costs NT $12,300; the Lalu Spa offers various massages, steam and flower baths; mud heat wraps and aromatherapy sessions.
Kenting Beach. I've never been to Kenting but it is one of the most popular tourist spots in the country, making it worth a mention. Kenting is located in southern Taiwan and has sunny weather nearly year round. The beach is part of a larger national scenic area. Non-marine activities here include bird and butterfly watching.
Fokuangshan Monastery. Not nearly as touristy as Kenting or even the national scenic areas, Fokuangshan Monastery, the largest monastery in Taiwan is located on a secluded hilltop in Kaohsiung. If you are interested in staying at the monastery, you will need to contact them to make arrangements ahead of time. A stay can be as short as one night or as long as several months. Also make arrangements ahead of time if you wish to participate in any meditation practice. It is a nice way to end a tour of the island before heading back to the bustle of Taipei to catch your departing flight.
Keep in Mind
Hundreds, probably thousands, of Taiwan's museums, temples, cultural centers, and national scenic areas do not appear on this suggested itinerary. It doesn't mean they were unworthy; it's simply impossible to list everything! Please excuse any omissions.
Also keep in mind, the further off the beaten path (and the further south) you go, the more likely you are to encounter situations where there are no English speakers. Having a basic grasp of Chinese (Mandarin) will help you in most cities, while you may find only speakers of Taiwanese or one of the minority languages, such as Hakka, in the rural areas.
* * * * *
---