301/302 Dinner & a Movie Recipes
---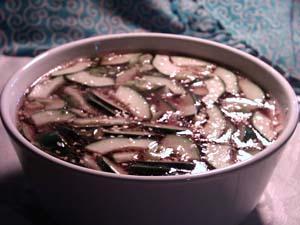 Breaded Prawns with Chili Mayonnaise
12 large prawns, peeled and de-veined, tails intact
1 1/2 cups panko
1 cup all-purpose
2 eggs
Canola oil, for frying

Place the panko in a large mixing bowl. Season the prawns with salt and pepper and coat with the flour. Dip the flour-coated prawns into the egg and then the panko. Heat the canola oil in a wok to 350 degrees F. Add the prawns to the oil and fry until golden and crispy. Remove the prawns and drain on paper towels, sprinkle with salt. Serve on an attractive dish with Chili Mayonnaise. (see recipe below)
Chili Mayonnaise
1/2 cup mayonnaise
2 tablespoons Korean chili paste
1 teaspoon sugar
1 tsp chopped garlic
1 teaspoon sesame oil
1 tablespoon rice wine vinegar

Mix all ingredients together and stir until smooth. Serve in a small bowl with Breaded Prawns
Quick and Easy Kimchi
1 head Napa cabbage
1/4 cup kosher salt
1/2 cup rice vinegar
1 tablespoon sugar
2 tablespoons hot chili paste
1 tablespoon fresh ginger, grated
2 cloves garlic, finely chopped
2 scallions, finely sliced

Remove outer leaves from cabbage. Cut cabbage in quarters lengthwise and trim away the tough ends. Cut each quarter into 1 inch slices. Put into a colander and toss with salt. Cover and place over a bowl to drain for 2 hours, until wilted.
In a large bowl disolve the sugar in the vinegar. Add the chili paste, ginger, garlic, and scallions. Rinse the salt from the cabbage, drain well and add to the vinegar mixture. Pack tightly in a glass jar, and if needed, add enough water to cover. Close the jar and refrigerate for at least 4 hours.
Sweet Daikon Radish Pickles
1 pound daikon radish
1/4 cup kosher salt
1 cup rice vinegar
1 cup water
1 cup sugar
1/4 teaspoon turmeric

Combine the vinegar, water, sugar, and turmeric and bring to a boil in a small saucepan, stirring to dissolve the sugar. Remove from heat and allow to cool. Peel the daikon radish, trim away the ends, cut into quarters lengthwise and slice into 1/4-inch pieces. Place in a colander with salt and mix well. Place the colander over a bowl and let drain for 1 hour. Rinse the salt from the daikon and place in a glass jar. Pour the vinegar mixture into the jar to cover the radish slices. Refrigerate at least 4 hours, or overnight.
Chilled Cucumber Soup
2 cucumbers
2 cups chicken broth, with fat skimmed off
1 cup water
1/2 cup cider vinegar
1/4 cup soy sauce
1 tablespoon sesame oil
1-1/2 teaspoons sugar
1 teaspoon white pepper
4 green onions, chopped on the diagonal
2 tablespoons toasted sesame seeds

Trim the ends from the cucumber and slice in half lengthwise. Remove the seeds with the tip of a spoon and cut into thin slices. In a large serving bowl, mix together the chicken broth, water, cider vinegar, soy sauce, sesame oil, sugar, and white pepper. Add the cucumber and green onions. Chill well. Sprinkle with sesame seeds when ready to serve.
Korean Mixed Bulgogi Grill
Marinade #1 (mild)
1 cup low sodium soy sauce
1 cup mirin (Japanese cooking sake)
1 cup water
1/2 cup light brown sugar
1 apple or pear
1 tablespoon fresh ginger root, grated
4 cloves garlic, finely chopped

Marinade #2 (spicy)
2 tablespoons hot chili paste
1 tablespoon toasted sesame oil
1 tablespoon sesame seeds
3 scallions, sliced thin

Meats:
1/2 pound beef tenderloin, sliced into 1" strips 12 large shrimp, cleaned and peeled, tails intact 2 boneless chicken breasts, sliced into 1" strips 1/2 pound boneless pork chops, sliced into 1" strips
Serving Accompaniments:
Mixed lettuce leaves
Fresh mint
Chili peppers, diced
Hot chili paste
Quick and Easy Kimchee
Sweet Daikon Pickles
Soy Sauce
To Prepare and Serve:
Divide each of the sliced meats into two portions. Marinate half in the spicy marinade, and the other half in the mild marinade, for at least 20 minutes. For convenience, meats may also be marinated overnight. When ready to cook, place the meats on a plate and discard all leftover marinade. Using an electric grill or a stovetop grill pan coated with non-stick cooking spray, grill on both sides, making sure that all meats are thoroughly done in the center.
Serve the grilled meat with a platter of mixed lettuce leaves, mint leaves, chili peppers, bowls of soy sauce and chili paste for dipping, and side dishes of kimchee,daikon pickles. To eat, wrap meat, herbs, chili peppers and condiments in a lettuce leaf and dip in soy sauce or chili paste.
Vegetable Pancakes
1 bell pepper, cut into thin strips
4 mushrooms, thinly sliced
1 carrot, cut into short, thin strips
1 zucchini, cut into short, thin strips
2 eggs
1 cup flour
3/4 cup water
Canola oil or non-stick cooking spray

Wash and prepare the vegetables. Mix together the eggs, flour and water. Place a small mound of the chopped vegetables in a hot skillet coated with canola oil or non-stick cooking spray. Pour a small amount of the batter over the vegetables to form a pancake and cook until brown on one side. Turn the pancake over and brown on the other side. Repeat the process with the remaining vegetables and batter. Serve with dipping sauce.
Dipping Sauce
1/2 cup rice vinegar
1/4 cup soy sauce
1 teaspoon sesame oil
2 tablespoons sugar
1 tablespoon grated ginger root
1 clove minced garlic
1 scallion, thinly sliced
1 teaspoon sesame seeds

Mix all ingredients together and let stand for at least one hour before serving.
Fried Jasmine Rice
2 tablespoon sesame oil
1 tablespoon minced garlic
1 tablespoon minced ginger
2 tablespoons chopped scallions
4 cups cooked jasmine rice, cooled or leftover
2 tablespoons light soy sauce

In a hot wok coated with sesame oil, add garlic, ginger and scallions. Cook until soft then add rice and soy sauce. Mix all ingredients thoroughly and stir-fry until rice is hot.
Peaches Marinated in Sake
3 fresh peaches, thinly sliced
1 cup Japanese sake
1 tablespoon sugar
2 sprigs fresh mint

Dissolve the sugar in the sake. Slice the peaches and place in a plastic container with a tight fitting lid. Pour the sweetened sake over the peaches, cover and marinate overnight. Serve in attractive bowls garnished with a sprig of fresh mint.
---