Adventure in Cuc Phuong National Park
---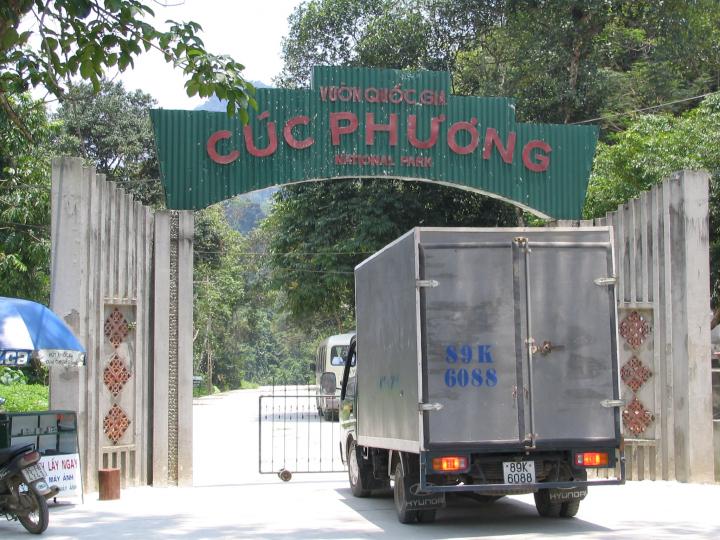 Having read Philip Game article "Land of the Langur" here on ThingsAsian, I booked my private tour to Cuc Phuong National Park through my boutique hotel: Hanoi Elegance 3. 
I was picked up by the hotel mini-van at 8am, then transfered 110 km on fairly good road to Ninh Binh, south of Hanoi.  After about 2.5 hours, we finally arrive at Cuc Phuong National Park.  It was a clear day with full sun and a nice breeze.  There were millions of butterflies fluttering around.  What a sight!  They travelled in troups on this nice day in May.  Most of them moved through the air in record speed, literally swirling around you like wind.  It was impossible to capture their image on film, but I just contented to experience this wonderful moment. 
My driver, my guide and I sat down to enjoy a mid-day lunch before heading off to visit the Endangered Primate Rescue Centre.  Good vietnamese dishes included deep-fried spring rolls, stir-fried morning glories, pork with white cloud mushroom, omlette, morning glory soup and rice.
A half hour tour of the 5 species of langurs and gibbons gave good understandings of what the animals will face in the wild.  The Park is still under the threat of proaching and hunting of these wild monkeys.  Sometimes at the local markets, they will show up, as people trade them as meat, medicine or pet.  The centre confiscates, buys and rescues these poor creatures and nurses them back to health.  They are kept in cages big enough to allow very good activities.  Some of them were released into a semi-wild area fenced eletrically to keep hunters away.  4 langurs and 2 gibbons share an area of 2 hectares which will enable them to find food on their own and accustomed to the wild.  At the moment, it seems they are better off here in the sancturary than back out in the wild to be subjected to being hunted.
Next off, we drove to the Cave of pre-historic man.  My tour guide rented a flashlight, and I got my mini one.  It is a small limestone cave if compared to those of Halong Bay.  However, it was a perfect place for a short adventure caving without the danger.  After passing the entrance with sticks of incense, we headed deeper into the cave, I was shown beautiful natural limestone deposits that glittered by our flashlights.  We went up 2 flights of stairs by a metal ladders to the upper chamber.  The ceilings have parches of colour resembled an abstract wallpaper.  Then we flashed our light to the darkness and there were lots of bats, some resting on the ceilings and the walls, other flying around inside the cave.  My tour guide said they have good eyes and for sure we saw their eyes like bright stars in the dark sky looking back at us.  Then we climbed up a small opening to the window of the cave where the sunlight filtered through.  But it was too steep to climb down from there, so I opted for the same way back. 
After checking into the lake-side bungalow, I did not feel like sweating for another trek.  So I worked on my botanical illustration started several days ago in Hong Kong until sun down while my tour guide soaked up the landscape with a cigarette.  After a lovely dinner of the same delicacies, I retired early to the sound of insects under a mosquito net.
After an hour painting on the botanical illustration in the confine of my room, I went out to breath the fresh morning air.  The butterflies are still resting.  They plastered themselves on the white wall of the bungalow, opening their wings to catch the 1st ray.  There were incredible variations to their size, shape and colour, no one of them are the same!
A good breakfast prepared us for the 16km hike ahead.  First we had to ride on motorbikes to the centre of the park to begin our hike.  I simply was over-packed.  Although I came with all my minimum necessities, reality hit flat on my face when I was told we would hike cross the jungle soon for approximate 5 to 8 hours.  I have my shoulder bag keeping my passport, a first aid kit, my mini flashlight, a mirror, a whistle, a fan and medicine.  Then my backpack with a small bottle of water, my camera, a sweater and a windbreaker, a walking stick, extra batteries and memory cards weighted another 5 pounds.  What was spectacular was next.  I have a trendy sport bag with 10 pounds of clean clothes, pajamas, chocolate treats, battery charger, an emergency flashlight, a pair of slippers plus my toilettries.  On top of that, I have a leather portfolio case with the dimension of 12 by 18 inches stuffed with my watercolour paper, brushes, colour paints, an a little folding chair.  I had to first negotiate the bike ride with all these.  I kind of looked at myself in horror!  But Vietnamese people are so nice.  My driver carried the black portfolio and hooped up the motorbike and with the forest ranger who took my sport bag, off they went.  I rided on the back of the motorbike for the first time, keeping balance of my backpack, and holding onto the bike seat for dear life while my bike driver really went fast along the meandering road all the way to the centre of the park. 
Little did I know what was ahead of me really put me to the test!  I have trekked in Borneo a few times before but for a maximum of an hour or two at a time.  An hour into the trekking in the primary rainforest, I started to question what sort of trouble I got myself into this time.  We definitely carried too much of a load with us for the journey ahead.  Of course the heavy load was all mine!  I felt guilty as my tour guide handled my portfolio was so uncomplaining and the ranger carried my sport bag on his shoulder moved ahead fast.  After the first 3 km, we arrived to the Ancient tree.  It is an old Parashorea tree that have very wide buttress roots.  After a slight rest, the next 2 km was the most difficult part.  We climbed up and down on stone boulders carrying our heavy loads threaded pathway so narrow that was almost impossible to pass.  Vines were hacked back, fallen trees removed in our path before we rest on the hillside deep inside the rainforest.  Vietnamese people have good spirit and work hard to complete their task.  I am sure if I have to move my entire luggage through the rainforest, they will make that happen too.  At the 6km mark, any load seemed too heavy.  I was running through my mind as to what I could abandon.  The answer was nothing.  There was a sign at the beginning of the hike: leave nothing but your footprints, kill nothing but your time.
We moved on, we sweated more and drunk more water.  Along the way, I tried to take my mind off the heavy load by focusing on the climbing plants growing in the primary forest.  I noticed Bauhinia scandens, Adenia heterophylla, Marsdenia tonkiensis, Mucuna sp., lots of Argyreia sp. and as long as we were inside the primary forest I saw fallen leaves of Hodgsonia macrocarpa.  There were occasional spent blossoms fallen onto our pathway.  Along the way, there were still area infested by leeches.  They were easy to spot, with their body wizzling actively on the forest floor.  
We finally left the primary forest and came to an open area that was cleared by the Muong people who used to live inside the park.  They cleared the area for planting.  But now they had been re-allocated to the peritheral border of the park.  The cleared area have very short trees and common climbers for disturbed area for example Merremia sp.  I found a beautiful plant of Dregea volubilis flowering at the moment.  I asked to stop and sketched the lovely green cluster of flowers for an hour before we moved along for another 6km to reach the Muong Village.
I was to stay at the village chief's house ovenight as the honoured guest from far away having travelled the harsh 16km in the rainforest.  I was welcomed by green tea and the electric fan powered by the small generator along the stream.  It was not yet the wet season, so only 1 electrical appliance is running at a given time.  Although I sweated, but there was no shower as too little water was around.  I think I can do without a shower for a day than to risk having an infection using the water at the small stream (I fell along the trail and hurted my palm).  The ranger and my tour guide went to the stream to clean up while I sensibily changed into my white kimono and tried to catch a breeze on the second floor of the stilt house. 
After cooling down, I went for a walk around the small village.  Cows and water buffalos have bells under their chin, were peacefully munching on grass.  Cute dogs lazily sun-bathed on the path.  People tended their fields growing with rice, cassava and corn. The scenery is beautiful with the mountains in the distance and rice fields terrace as the foreground. 
Dinner time was announced, and we gathered on the second floor of the stilt house and enjoyed our eleborate meal under a single light bulb.  It was hot but we could either have the fan and ate in the dark or we have the light and sweated while we ate.  The chief expressed his happiness by bring out the best dishes from the humble kitchen.  There were about 10 dishes for our 3 guests and the Muong family of 5.  Bitter bamboo shoots was the delicacy flavoured by the chief.  We had beef with coriander, BBQ pork, a double fried eggs just for me, stir-fried morning glories and its soup, pork wrapped in betel pepper leaf, deep-fried spring rolls, fried tofu and rice.  The chief presented us the icy rice wine.  I politely wetted  my lip with it as I never drink.  The rest of them sipped the liquor and chatted for a long time.  I too enjoyed the dinner immensely under the single light.  As the dinner extended to the late hours, my white kimono attracted moths and insects of all kind.  They might have thought that I was the moon.
After washing my face with the precious water from a trickling fountain, and relief myself inside the toilet which is simply a hole in the ground, I bedded down to the hard floor lined with a mat and a thin mattress with a mosquito net above.  I was sure I smelled of sweat but I slapped on some perfume and ultimately it did not matter.  I slept to the sound of insects which was an amazing escape from the motorbike and traffic noise of Hanoi.  Simple village life and wonderful mountain-scape accompanied by the sound of the wild were as far away from civilization as you can get.  I am glad to have come to Cuc Phuong.     
---