Taman Mini Indonesia Indah and Madame Ten Percent
---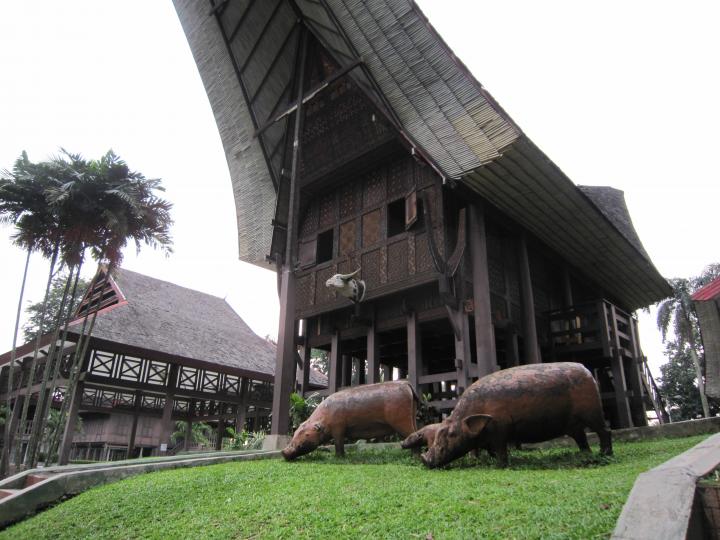 When I told people I met in Indonesia that I just visited the really big park called Taman Mini Indonesia Indah in Jakarta, they would laugh a little and say,"Oh Yeah, the one built by Madame Ten Percent!"  At first I did not know that expression.  But when I sat down in the library of Selasar Sunaryo Art Space in Bandung, I started reading a book about Indonesian Politics, and came across a chapter on former President Soeharto's wife Madame Tien and her creation of Taman Mini, then it was clear why a lot of Indonesians hear the mention of this park and were filled with distaste.
Conceived by Madame Tien Soeharto who commanded immense power in economic affairs during the early days of Soeharto's presidency, the funding of the park drew controversy and outrage as she always made sure that perks from major business ventures went to herself or one of her relatives.  In 1971, the 100 hectare huge park was built on land on the outskirts of Jakarta, taken over after the occupants had been evicted without proper compensation.  The 26 pavillions representing each of the provinces' regional handicrafts and clothing were funded "voluntarily" by contributions from regional administrations and businessmen.  Finished in 1975, the park has a lagoon where you can row around the artificial islands of the archipelago or take a cable car across for a bird's eye view.  There are museums, restaurants, an Imax theatre, orchid gardens, a bird park, a reptile park shaped like a colossal komodo dragon, a butterfly enclosure and  functional buildings of 5 religions in Indonesia all connected by Aeromovel monorail train in the air, mini train for kids, or shuttle bus, taxi, your own car or motorbike. 
No one could conduct any profitable business without giving Madame Tien at least ten percent of the proceeds.  And how fine is the park?
Well I arrived after a 45 minutes taxi drive from the Jakarta International Airport.  After I paid Rp 9000 (about US $1) to get in, I checked into one of the 3 accomodations available inside the park, Desa Wisata Resort Hotel and Convention Centre (other accommodations include a hostel of the same name and another youth hostel called Graha Wisata Remaja).   
It was inconceivable for the hotel staff to understand why a foreigner who speaks no Bahasa Indonesian would stay there for 1 night in a family cottage costing about US $50.  Me neither, but I needed a place to stay out of the crazy Jakarta before traveling onwards to a village in Depok and the garden in Bogor.
The full A/C accommodation is slightly rough around the edges with 1 king-size bed, a huge living room with a TV, a sofa in the bedroom complete with vanity, a bathroom in the back with hot water shower, a bathtub and toilet (filled with geckos on the wall), a dish washing area and an outdoor laundry sunning area with clothesline.  Breakfast is included with juice and 8 different Indonesian cuisine dishes.  The environment is tranquil with a lake in the middle and an open air theatre.  The lawn is inhabited by very skinny cats. 
I went out to explore the park, and bumped into some Chinese tourists in the South Sulawesi traditional house.  And they disappeared back into their long tourist coach faster than I could say "Hi", but I managed to ask to have my own photo taken by one of the tourists.  I then went to all the traditional houses devoid of anyone inside and visited a Chinese temple and a Yogyakarta house with a big pendopo (roofed hall) before I was too tired to walk and hitched a ride on the back of a motorbike.  There were not many people coming to the park for a weekday.  Just a few school children seen here and there and the park has a feeling of being abandoned for quite sometimes.  Grass was overgrown, buildings are in need of repair and piles of garbage are here and there.   I imagined the weekend is a different story, with families from Jakarta city rushing to the park for a ride on the cable car or a dip in the Water World. 
I ordered dinner at the restaurant and enjoyed the fresh passion fruit juice, Soto Ayam and Ayam Goreng with slices of cucumber, then retired to my cottage to watch incomprehensible Indonesian TV programs.
The next day, I visited the excellent Museum Indonesia full of ethnographic materials such as gamelan sets, traditional costumes by mannequins, Indonesian art and craft and an outstanding collection of Indonesian currency from early times through colonial periods to after independence.
At 10AM, I watched a little bit of traditional dancing in the Bali House before I left in a taxi. The experience is that the park is a strange cultural curiosity, and now they have applied for the inclusion of Representative List of Intangible Cultural Heritage by UNESCO.
* * * * *
---