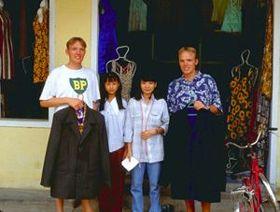 Image ©
2000 Steven Bailey
One morning in Nha Trang I fell into conversation with a young Italian traveler named Alessandro.
"You heading north or south?" I asked.
"South to Saigon," Alessandro said. "And you?"
"North to Hanoi."
Every conversation between budget travelers in Vietnam seems to begin with this sort of exchange. This is because travelers in Vietnam follow a linear itinerary mandated by the country's unique shape. Like Chile, Vietnam is a long and slender nation. Travel remains an exercise in moving north or south, often along the coast on Highway One or the railway that parallels it like a jealous lover. Backpackers can and do deviate inland to popular destinations like Dalat or Sapa, but always, in the end, they return to their original north-south or south-north trajectories.
Although I'd made a half-dozen trips to Asia and managed to see a good chunk of the continent, I'd never been to Vietnam. I was new to the country, and for this reason I planned to follow the standard backpacker's route. It hit all the major sites, and ran roughly as follows: Ho Chi Minh City, Dalat, Nha Trang, Hoi An, Hanoi, Halong Bay and Sapa. The route had become so well established that backpackers refer to it as the second Ho Chi Minh Trail.
Impecunious Backpackers
I went on a budget. In this regard I journeyed in good company, for as the Bangkok Post recently noted somewhat disapprovingly, "The most typical visitor [to Vietnam] is still the impecunious backpacker." The Post stated the truth, of course. Backpackers certainly do travel on the cheap. Not as cheap as the locals, perhaps, but wildly cheaper than well-heeled tourists or business people on expense accounts. This cost cutting allows backpackers to extend the length of their trips.
But what else defines a backpacker? As a rule, they tend to be young. At 32, I generally had five to ten years over most backpackers. They generally travel alone, as I did, or with a spouse or lover. They eschew tour groups of any sort, but often band together with other travelers met on the road. All carry the standard gear: a large multipurpose backpack, a smaller daybag and a concealed moneybelt stuffed with hard currency. Without exception each packs a camera and Sony Walkman or Discman. Most backpackers undertake fairly lengthy and ambitious journeys; my six-week trip to Southeast Asia paled in comparison to some of the epic yearlong jaunts of my comrades. They have a sense of adventure and curiosity, they often party hard, they are generally well educated and regardless of their mother tongue, they all speak English. They come primarily from Western Europe and North America, though Vietnam is also popular with Israelis and an increasing number of intrepid Japanese.
On the down side, backpackers tend to dress like hippie beach bums. In my walking shoes, button-down shirt and chinos I looked wildly overdressed compared to the average backpacker in shorts, sandals and souvenir T-shirt. In addition, backpackers often make the mistake of thinking that they represent some superior breed of explorer morally purified by their lack of cash. They believe they are seeing the real Vietnam as modern-day adventurers, but in fact they are simply budget-conscious tourists seeing the same country as everyone else. From the wealthiest cruise ship passenger to the scruffiest backpacker bussing overland from Laos, we were all tourists.
Like most tourists there, but especially the backpackers, I carried two books. The first, obviously, was my battered US passport. The second, alas, was not the Bible; gone are the days when Western travelers carried such wholesome reading material. No, my second book was the latest edition of Lonely Planet's Vietnam: A Travel Survival Kit. Virtually everyone packed this guide. Travelers often began sentences with the phrase "It says in the book that..." and everyone knew which book was being cited.
Budget Transport from Sinh Cafe
I never lacked for backpacker company; the long and narrow nature of Vietnam ensured that we moved along the same trail like a team of mountaineers roped together. We couldn't afford to fly between major cities and because the relatively undeveloped Vietnamese transport system offers a finite selection of options to get from A to B, we all tended to ride the same trains and buses. The state operates the trains; anybody and everybody operate the buses. Bus companies undersell the railway and drive everything from brand-new Mercedes coaches to battered city buses bought second-hand cheap from cities in South Korea and Japan.
A host of companies now offer special tourist bus services for the budget traveler market. Of these, Sinh Cafe remains the most famous--some would say infamous--as well as the largest. Sinh Cafe offers a popular open ticket that, like the Lonely Planet guide, both traces and renders increasingly permanent the standard traveler's route up--or down--Vietnam. For $57 a backpacker can journey from Saigon to Hanoi, or vice-versa. Each ticket holder can stop at major points along the way for as long as they like, and when they are ready to move on they can catch the daily Sinh Cafe bus. This remains a relatively simple exercise, since Sinh Cafe has an office, hotel and restaurant wherever the open-ticket bus stops.
In a clever move that suggests Sinh Cafe will go far, every traveler who buys an open ticket gets a free souvenir T-shirt. Sinh Cafe issues their employees these T-shirts as well, which means that at any given moment on De Tham Street--the heart of Saigon's backpacker ghetto--half the people sport Sinh Cafe T-shirts. Even the cyclo drivers have taken to wearing them. The shirt's front sports the Sinh Cafe logo and the back shows a map of Vietnam marked with the route of the open ticket. Without question this remained the most effective advertising scheme I encountered in Vietnam.
The authors of the revered Lonely Planet guide, however, state that they "feel compelled to specifically warn travelers about the so-called open ticket sold by Sinh Cafe in Saigon." The problem, apparently, is that in the high season--July-August and Christmas-New Years--space is not always available on the buses, leaving open-ticket holders stranded in various locales. I did not buy the open ticket; I bought individual tickets on an as-needed basis. Whenever I rode Sinh Cafe buses, however, I always had two seats to myself, and I heard no complaints from those travelers holding open tickets. It pays to be careful when arranging transport in Vietnam.
Tickets: Let the Buyer Beware
I once took a tourist minibus from Hoi An to Hue. My hotel booked the bus and I paid $4 for what the receptionist said would be a two-hour journey. In the end it took three hours, but I couldn't complain. After all, the Swedish couple in the first row of seats paid $5 each; another Swedish couple sitting beside me paid $8 apiece for what they thought would be a tour of the Da Nang Cham Museum, the pass at Hai Van, China Beach, and the Marble Mountain. They had to settle--rather meekly, I thought--with our ten-minute stop at the pass. The Straits Chinese couple riding in the back seats had booked an "express nonstop tourist bus" from Nha Trang to Hue that dumped them in Hoi An at six a.m., where they had to wait two hours to catch our minibus. Clearly, I'd done the best of the lot.
That said, don't be afraid to buy a ticket and ride. Travel between major points remains surprisingly easy. Sinh Cafe buses and those run by their rivals may not be luxury limousines running with clockwork efficiency, but they always got me to my destination with only a few minor hiccups. Sure the seats are uncomfortable and the average speed a rambling 30 miles an hour, but the tickets are dirt cheap, payable in US dollars or Vietnamese dong. The buses stop for photos, for swimming and for cheap eats. Best of all, each bus carries a rolling United Nations. I met people from all over the world on these buses and without exception, all had interesting stories to tell.
Travelers' Tales: T-55 Tanks and Silk Tailors
Alessandro continued the story he'd begun to tell me in Nha Trang. An Italian by birth, he'd lived in Germany from age ten and called Munich home. He spoke Italian, Spanish, English, and German, had the remarkable ability to wear the same blue sport shirt every day, and yet always appear well scrubbed and stylish. Emma, a Scotswoman working for the UN in Uzbekistan, recounted a party in which the Russian host invited his guests for a wine-soaked tank ride up an Uzbeki mountain. Exactly why the host had a T-55 battle tank on his farm remained unclear, Emma admitted. Johan and Kaj, Danish twin brothers, described their $400 tailored silk clothing shopping binge in Hoi An; they remained particularly proud of their iridescent blue velvet blazers.
A crazed Australian in faded, tattered clothes stained with road dust spoke of India. He had little good to say, and his travels there had left him with the gaunt grimace of a man who'd been on the road too long. He'd acquired a paranoid streak and one night he scowled beneath his lampshade-like wicker hat and muttered darkly about a Chinese conspiracy. I met another Australian who'd served as a soldier in Vietnam--the Aussies sent a contingent of jungle fighters to serve alongside the Americans--and had returned thirty years later as a volunteer university lecturer. Having first come there in a destructive role, he wanted to balance this by returning in a constructive capacity. The multinational cast of characters never ended and I grew to look forward to the companionship and tall tales of those long, bumpy bus rides north.
Join the International Backpacker Tribe
I continually ran into the same backpackers in Vietnam. We'd all embarked on the same Saigon to Hanoi pilgrimage, or vice-versa, and like all pilgrims we banded together, looked out for each other, swapped travel tips over meals and drinks and generally enjoyed each other's company. I soon came to assume that upon arriving in a city I would meet the same friends I'd been travelling with all along, and I almost always did. This made me feel less of a stranger upon arriving in an unfamiliar city, and made traveling alone in Vietnam a social rather than a solitary experience.
My fellow backpackers and I required two basic commodities: time and money. Most backpackers lacked at least one of these two elements; some lacked both. Rare indeed was the traveler who possessed enough of each. In my case, I faced a shortage of time and I exacerbated this with a laid-back pace. In three weeks of overland travel, I managed to get only from Saigon to Hue. I then had to catch my plane to Bangkok and this necessitated a Vietnam Airlines flight back to Saigon against the flow of my northbound fellow travelers heading for Hanoi. Nonetheless, I still found familiar faces in Saigon. Casually elegant Alessandro turned up in his trademark blue shirt, as did Emma, air ticket to Uzbekistan in hand. We met like old friends on De Tham Street, then retired to the 333 Cafe to swap road tales over bottles of icy BGI beer.
I felt like I had rejoined the international backpacker tribe, a motley assortment I first mixed with during my inaugural trip to Southeast Asia in 1989. This tribe became a sort of adopted gypsy family for me, and combined with the many wonderful Vietnamese people I met, made travelling in Vietnam a downright homey experience. I never felt alone. The adventure and fellowship of the south-north trail awaits.
---