Cameron Highlands (two years later)
---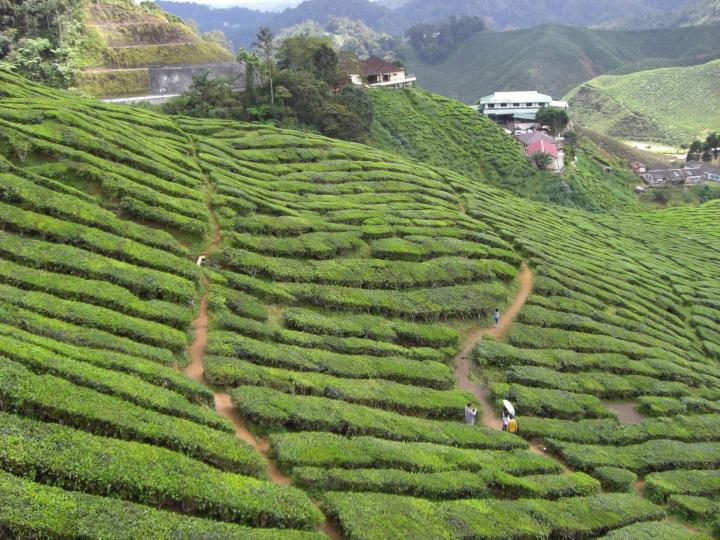 This article follows from an earlier piece I wrote on Cameron Highlands that can found somewhere else on this site - [click here].
Two years after I last visited Cameron Highlands in December 2005, I went there again with my family, my mother, my two brothers and their families.
As recommended in my earlier article, we took the Simpang Pulai route and I thought a brief about this route would be helpful to the drivers departing from Singapore who want to know exactly what signs to look out for.
As this trip involved more than one car and more people (read: time taken for longer toilet breaks along the way), we took a longer time to drive up the mountain compared to our journey in 2005.
The beauty of travelling this route is that the roads are wider and therefore make a safer ride. Another plus point is that the scenery is great as the greens enfold you around the bends of the road up the mountain.
With my extended family this time around I did away with my norm. For example, instead of staying at a hotel, we rented two private apartments at Puncak Arabella which is located on high ground at Tanah Rata. In total we got six bedrooms which was sufficient for our entourage. One of our apartment was a maisonette so we had plenty of space (with an attic room thrown in) and a good size kitchen. The other apartment, well, was normal, but a little more run down than the maisonette. Before we left for Cameron, my brother actually asked us to bring our own bedsheets and pillow cases because their past experience in one apartment at Des Anthurium (also located at Tanah Rata) was such that the beddings were not so clean and smelled awful. However, when we arrived, the apartment operator offered us the "newer" (in her own word) apartments at Puncak Arabella. You are warned - check the condition of the apartment if you are thinking of staying in one.
5:15 am
set out from home in the eastern side of Singapore towards the Tuas Causeway.
 
5:55 am
reached the checkpoint at Singapore Immigration; not much traffic so clearance was quick.
 
6:10 am
passed through Malaysian Immigration; again clearance here was quick. Traffic is always better in the wee hours of the morning.
Toll: Malaysian Ringgit (MYR) 8.40
6:15 am
stopped briefly at a petrol kiosk to meet the rest of the travellers.
 
6:25 am
Malaysian toll counter.
Toll: MYR 3.10
6:30 am
Malaysian toll counter - a toll pass is taken and we moved towards Kuala Lumpur-Melaka.

There are rest and recreation stops (R&R) along the length of the highway. One of the better stops is at Ayer Keroh. Here there are restaurant chains such as A&W and KFC. There is also a sports wear outlet here. The toilets here are pretty clean. However, like all toilets in Malaysia (at least it's the condition in all the Ladies toilet), the floor is wet wet wet. I wish the Malaysian authorities could segregate a non-wet area for those of us who are not accustomed to, and dislike,  wet toilet floors. At some Ladies toilets elsewhere in Malaysia, big fans blow at the floor and in some ways this helps to dry the floor in the general area a little, but the cubicles are still wet wet wet. Yuks.

Toll: depends on distance travelled; the amount payable is calculated at the end of destination*.
8:35 am
moved off from Ayer Keroh R&R.
 
10:10 am
stopped briefly at Seremban R&R. This rest stop is quite big with petrol kiosks nearby.
 
10:15 am
moved on towards Kuala Lumpur.

Then turn left at Shan Alam/KL International Airport/Ipoh (Exit 214).

Turn left again when we hit sign pointing towards Ipoh/Sungei (Sg.) Buroh.

 
12:15 pm
stopped for lunch at Tapah R&R. There is a Shell petrol kiosk here. The toilets here, though airy, are still wet.
 
1:20 pm
moved on again. 

Head straight towards Simpang (Spg.) Pulai/Ipoh from Tapah R&R.

Turn left to Spg. Pulai/Batu Gajah.

 

 

Toll: MYR 68.20 (this is our destination point*).

 
after leaving the toll counter, a short distance away, turn right to Spg. Pulai/Cameron Highlands. 

Then turn right and follow signs to Cameron.

 
1:55 pm
moved up the mountain past the granite quarries. The road here is easier to drive and serene scenery awaits you as you drive up the mountain.
For people who tend to have car sickness, I suggest they do not eat too much just before going up (and coming down) the winding road. Though the road here is wider with less curves, there will still be some people who cannot take the swings. Best bet is to have plastic bags and sour plums ready. For the uninitiated, sour plums help to stabilize an uneasy stomach.
2:46 pm
caught first view of Cameron Highlands farm plantations and nurseries.

Look out for Brinchang/Tanah Rata/Ringlet signs.

We stopped briefly at a water cress farm and a butterfly farm before continuing our journey. 

 
3:35 pm
reached Equatorial Hotel at Brinchang and then wound our way down the mountain to Tanah Rata where our rented flats are located.
 
For a better hotel to stay in and with service thrown in, I think the 5-star Cameron Highlands Resort (formerly known as the Merlin Inn) just opposite the golf course at Tanah Rata is elegant. The resort features a spa village and, best of all, it is newly refurbished.
My previous norm was that we would stay at Brinchang, the highest point in Cameron but this time we stayed at Tanah Rata, mid-point of Cameron where the hub of activities are. We used to stay at the Equatorial Hotel at Brinchang but it is a shame that the supposedly 5-star hotel is now run down and in need of renovations, repairs and reinvention.
For food, my family also did it differently in that we filled our stomachs at places that were different from our previous visits.
breakfast - coffee shop next to Hotel Golden Star at Brinchang. Try the wanton and prawn noodles. We also had roti prata (Indian pan-fried dough) and other eats at different places but they were nothing to shout about.
steamboat at Country Lodge - good value at MYR 18 per person. Dishes come in big portions. There are two Country Lodge outlets so if one is crowded you get to go to the other.
zhi char (stir-fry meats and vegetables) - Restoran Tringkap (No. 78), a village restaurant. Not your typical clean and well-maintained kopitiam (local coffee shop) but food here is cheap and good. It was very crowded during peak hours. I suspect this is one spot where the locals come for food, so you cannot go far wrong. I even had to hush-hush the others in my group who kept saying, "(the food here is) so cheap, so cheap" lest the owners heard and jacked up the prices! To find this place in Brinchang, head straight towards Rose Valley, and past the Boh Tea Plantations.
Another good zhi char place is Restaurant Kwan Kee. This one, in the centre of Brinchang town, is cleaner and better maintained (well, at least where the restaurant proper is, but not the toilet).
My sister-in-law recommended Restoran Ferm Nonya at Tanah Rata but we were disappointed with the dinner we had there one night. The restaurant probably had changed owners from the last time that my sister-in-law visited.
Cafe Downtown Hotel at Tanah Rata served both Western and Chinese food and appeared to be largely frequented by tourists when we were there one afternoon for lunch. The steak I ordered was not too bad. My brother even had two dishes of fried noodles!
Secret Recipe - we celebrated my nephew's birthday at Secret Recipe and the food, though good, could do with an expansion of items.
drinks - as Cameron is known for its tea plantations I recommend that you skip coffee and go for tea instead.
durians - for the first time ever at Cameron, we ate durians at a roadside stall in Brinchang. The durians tasted good enough for us to return again the next day, but alas the second time around, we were miffed towards the end of our happy makan session when we had a dissatisfactory "bargain session" with the seller. Suffice to say, (lest I go on about "all other durian sellers; they're alike in their uncouth business dealings") that became the last of our durian session at Cameron.
* * * 
Other things to do and see:
golf - not the best of golf courses but I heard the green fees are cheap. I, a non-golf player, also heard that it is no fun to play during weekends when the course is full. Best time to play I heard is early morning. 
tea plantations - there are several in the highland, the famous of which is the Boh Tea Plantation.
strawberry farms - we passed many that invite you to pick your own strawberries but really they are not as great as the billboard touted. The strawberries are usually small and green and I do not see crowds thronging the bushes (if I could call neat rows of strawberry pots that).
strawberry ice cream - since strawberry is an icon at Cameron (you see it everywhere), you should give it a try even in the cold mountain air.
vegetable farms - some children with us tried their hands at plucking cabbages from one farm but alas the cost of the self-picked cabbage was more than one that was picked and sold by the farm.
roadside "market" stalls - plenty; these cart fruit and vegetable produce with some selling cooked food as well.
vegetables and fruits - green and fresh; many varieties.
corns - they're both good steamed and uncooked.
flower and plant nurseries - plentiful around. Potted plants are cheap and we bought several pots back to Singapore. Avoid the flowering ones because they tend not to survive in the Singapore heat. 
cacti - many varieties around.
clothes - cheap but I cannot vouch for the quality and its fashion.
slippers - cheap enough to get a pair to lounge around the apartment.
When we arrived Cameron on a weekday, there was breathing space in terms of traffic and shopping. However, traffic hot up as the weekend approached and it was a chore to manoeuve cars along the narrow roads. To beat the crowd and the traffic, we decided to drive to Ipoh that Saturday. It took us slightly less than two hours to reach Ipoh. At Ipoh, we visited Limau Bali Loo Nyee Moi to buy sweets and savories that Ipoh is famous for - pong pia (flaky pastry biscuits), pomeloes, and mee sua (uncooked white noodles). Then we went to Restaurant Nam Fatt Fish Noodle House. Here the yong tau foo, sour plum drink and white iced coffee were superb. For shopping we went to Kinta City Shopping Centre, the largest shopping mall in Ipoh, but alas, there was no car park available on that day we visited. So we turned around to move uphill again.
* * *
A note to drivers on the return journey to Singapore:
Head for Kuala Lumpur/Ipoh Highway.
Then look out for sign leading to Johor (instead of Shah Alam).
Turn to Tuas Causeway, and barely five minutes later, you'll be at toll counter. Toll fare at various returning checkpoints are MYR 68.20, MYR 3.10, and MYR 8.40.
* * * * *
---