Eating and Shopping in Penang
---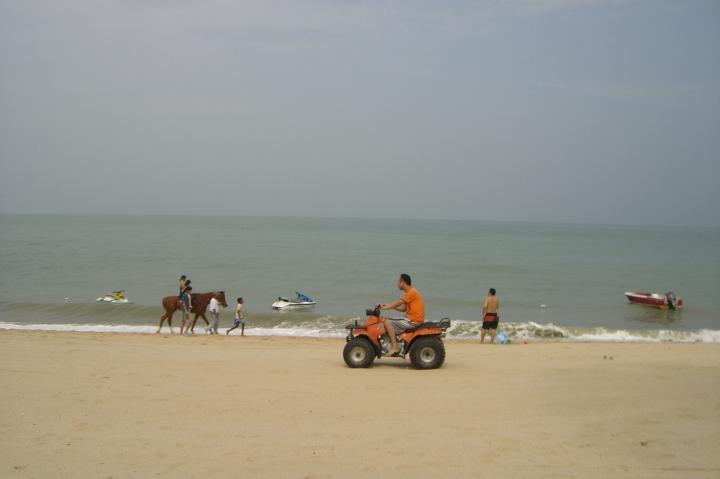 On a recent trip to Penang in December 2007, my family stayed at Shangri-la's Golden Sands Resort. Compared to the higher priced Shangri-la's Rasa Sayang, the Golden Sands is our hotel of choice in this island state of West Malaysia. We found the Rasa Sayang, though amply good-looking and boasts of Shangri-la's signature "Chi" spa, to be too private and quiet for families. There are lots more activities on the beach outside the Golden Sands. I splurged on two seaview connecting rooms this time. Last year, I took two standard hillview rooms (read no balcony, and rooms face the main road) but was appalled by the deafening early dawn prayers from a Muslim mosque located below the hotel. So if you are looking to sleep in during your vacation and you plan to take a hillview room, do remember to request for one that is away from the mosque, or on the higher floors.
At this point, I must pay compliments to the ever-smiling staff at the Golden Sands for they had been helpful and accommodating with our needs and requests. We found the same outstanding service when we were there in December 2006 as well.
Airport to the Golden Sands Resort
There is a taxi counter at the airport and it was a breeze when we asked for a cab. The 45 minute ride costs MYR 60. It would cost double the amount if we use the hotel transfer.
Things to do at Batu Ferringhi Beach
It is quite a shame that Batu Ferringhi Beach has lost out in popularity to the beaches in Phuket, Thailand. Batu Ferringhi Beach still boasts of pristine white sands and a great view of the sea. Walk barefoot. The feet would be delighted by the caress of soft fine sand. Water sport activities such as para-sailing, windsurfing, water scooters are available at the beach. One could even take a horse ride by the beach. Golden Sands has lovely chlorinated pools and spacious ground for sun-tanning. The children's pool is equipped with playthings that make them squeal with delight and fun. As soon as the pool shouts "open", they are there.
On the beach outside the Golden Sands, private operators set up tents offering massage, foot reflexology, nail and hair services. I was told that there was a raid by the police a few months ago and all their things were taken away. This is a shame because I feel that their presence enhances the delight of our visits there. Have-been-there tourists talk much about the very affordable massages offered by the strolling women along the beaches of Phuket, so why not accept these cheaper services at Batu Ferringhi Beach? I found them quite harmless and even the touts asking if you want to partake of the water sport activities are not persistent. When we politely said no, they left us alone. Of course, use your discretion to choose the services of those whom you consider fair, safe, clean and hygienic. I recommend the massage and foot reflexology services by the S.C. Foo family. Father, son and son-in-law work out from a tent to the far right of the Golden Sands, nearest to the Rasa Sayang. They charged MYR 60 for an hour's massage.
Shopping and eating
Opposite the Golden Sands, there is the Global Bay Cafe and Shopping Centre. If you're thinking of great shops here, forget it, but an edible local meal is what you could have. There is bak kut teh (herbal broth made with spices such as star anise, cinnamon, gloves, garlic and pepper from which pork, dried tofu (aka beancurd), mushrooms and pig intestines are added), hokkien mee (aka fried yellow noodles), assam laksa (noodles), beef noodles, duck rice, oyster omelette, fish ball noodles and drinks of course. When I was there, the stalls selling Korean and Japanese food were closed.
One night we took a 15-minute walk to the Summer Beach Cafe which is located on the beach behind the Parkroyal Hotel. The only zhi char stall there dished up fairly good stir and fry fare, for example, fried noodles, stir-fried vegetables, stewed tofu, meat items, steamed and fried fish and more. There was not much to look at as we ate since it was night. If you want to enjoy the seaview then I suggest you visit the cafe in the daytime.
Free hotel shuttle buses run regularly from Golden Sands to Island Plaza, Gurney Plaza and the Traders Hotel in town. After alighting at Traders, take a short walk to Prangin Mall, a mid-class shopping centre.
Once, we took a bus ride from behind Traders to Queensbay Mall, Penang's largest and longest shopping mall. Opened in December 2006, Queensbay boasts five floors of retail therapy and eating delight. The bus ride on Rapid U307 costs MYR 1.50 per person.
Whilst at Queensbay, I suggest you try the la-mian (hand-made Chinese noodles) and siao long bao (steamed pork dumplings) at the tastefully decorated Chinese restaurant called Dragon-i. My family tried the soup la-mian which was flavoured with a rich stock but it was only a day later that we found out that the dried la-mian is better. A note of caution - do give the Szechuan soup la-mian a miss because the oil in it would make your stomach cry "stop". The mango and pomegranate dessert was yummy.
We did most of our shopping at Gurney Plaza. Here they have F.O.S. and Reject shops, Parkson Grand and various eateries. Prices at Gurney Plaza are more affordable for the general masses. The other plus factor for shopping here is the nearby famous Gurney Drive hawker stalls. Here you can savour all kinds of food that Penang is famous for - Penang laksa, fish ball noodles, fish ball noodles, fried oyster omelette, fried carrot cake, satay (barbecued meat on skewers), kueh tupat (rice dumpling wrapped in coconut leaves), and desserts such as ice kacang (shaved ice on boiled red beans, jellies, sweet corn, fruits and flavoured with a generous topping of sweet syrup and sometimes evaporated milk), and chendol (ingredients like those found in ice kachang albeit this one has coconut milk and palm sugar).
We were recommended to New World Park Hawker Centre by Tommy Foo, the masseur at the beach. Although there were varieties of food to be had, we were not extremely impressed because we get better hawker food in Singapore. Then again, tastebuds are different for Penangnites and Singaporeans. However, I do like its airy, high-ceiling atmosphere. New World Park Hawker Centre is located at the junction of Burmah Road and Swatow Lane. This was a project by Robert Kuok's group (Kuok, nicknamed the Sugar King of Asia) to gather hawkers under one roof and to make it one of the tourist attractions in Penang. In my view, New World Park is not the ideal stop for tourists to savour Penang food. I much prefer Gurney Drive.
Penang is also known for tau sah peh (fluffy pastry with green bean paste filling). There are two famous competing brands - Ghee Hiang and Kim Heang. Over the years the green bean filling have given rise to other varieties. One of my favourite is beh teh sio  (flaky pastry with sesame seed molasses) which is sticky, chewy and sweet. Then there is pong peh (light fluffy pastry with white sugar). I suggest you bring home some boxes of these legendary Penang items as give-aways.
Another addition to the complex mix of Penang eats is chocolates. The Chocolate Boutique at Leith Street, with over 70 varieties of chocolates, opened recently. Here chocolates galore, with creative fillings such as durian, coffee and fruits, are available. The trip from the Traders Hotel to the Chocolate Boutique, for which we paid MYR 8, took less than 10 mins.
Night market
The pasar malam (night market) outside the Golden Sands starts to operate from 7:00pm every night. The make-shift stalls go a long way and hotel guests along this stretch of road - which comprise the Rasa Sayang, Golden Sands, Lone Pine, Holiday Inn and Parkroyal - are out in force each night to grab cheap buys of clothes, bags, accessories, watches, pirated DVDs and VCDs, pirated branded shirts and bags, batik paintings, household goods, and things Malaysian. A disclaimer on this public site - I am not suggesting that you buy pirated goods but they are definitely there, displayed publicly and at tempting prices. So buy at your own moral beliefs and risk.
I wonder at the diligence of the stall holders who put up, then dismantle their stalls every day. Don't they get bored doing this on a daily basis? Would it not be better if something is done to construct a permanent structure for them? But then, with a squeaky clean structure, minus the experience of rubbing shoulders with other shoppers, the constant need to look out for road traffic, the price haggling, and the cacophony of sights and sounds, the result may not be the same as its present day setup.
Taxis
Though meters are installed in taxis, they are not used (at least that was my experience). So ask for the rate before boarding. Hotel staff can tell you with what is a fair rate. Otherwise, ask the driver for their published rates, a document that they carry in their vehicles.
Penang Hill
I visited Penang Hill two decades ago, sans kids. This year I thought I would gave my children the experience of riding the tram car up the hill but alas when we reached the foothills, the ticket queue was such that we had to wait more than three hours before we could board the tram. On a Saturday afternoon and feeling the heat from the scorching sun we gave that a miss. However, if you have the opportunity, do visit but do go during off-peak hours (read non local school and public holidays).
Selamat Datang! Welcome.
---