'The Color of Paradise' Recipes and Photos
---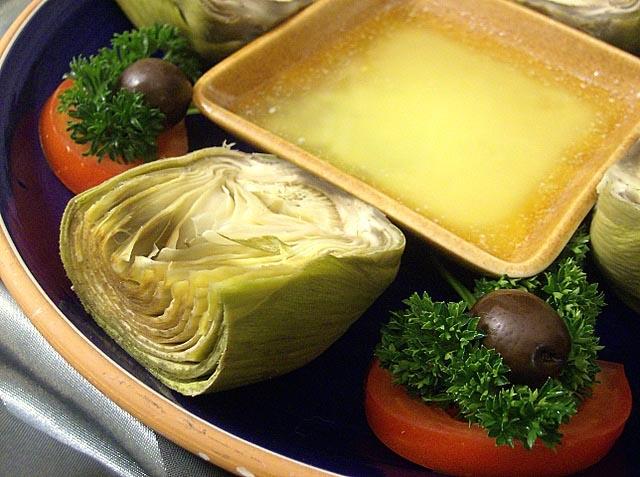 Image ©
2006 Celeste Heiter
Steamed Artichokes
4 artichokes, washed and trimmed
1 stick butter, melted
1 tomato, cut into 8 wedges
8 olives
Fill a large steam kettle with about 1" of water and bring to a boil. Reduce heat to a simmer. Place artichokes on the steamer rack, cover and steam for 30 minutes, until tender. Remove artichokes from steam kettle and allow to cool. Cut each artichoke in half. Arrange artichoke halves on individual serving plates garnished with tomato wedges and olives. Serve with melted butter in small dipping dishes. Serves 4.
Mediterranean Mixed Seafood Fritte
1 pound squid, cleaned and cut into 1/2" strips
1 pound firm white fish (cod, halibut, snapper, etc.) cut into thin slices
1 dozen oysters, rinsed and drained
1 dozen tiny sardines, cleaned and trimmed
2 eggs, lightly beaten
2 cups flour
Vegetable oil for frying
Fill a large skillet or wok with about 1" of vegetable oil. Heat the oil until a drop of test batter sizzles, slightly reduce the heat and maintain a constant temperature throughout the frying process. Working in small batches, dip prepared seafood in the egg and coat with flour. Without crowding the pan, carefully drop several pieces of the battered seafood into the hot oil and fry until golden brown on both sides, turning once. Remove seafood from oil and drain on layers of paper towels. Serve with Anchovy Caper Mayonnaise
Anchovy Caper Mayonnaise
4 canned anchovies
2 tablespoons capers, finely minced
2 tablespoons olive oil
1 lemon, juice only
1/2 cup mayonnaise
Place the anchovies in a small mixing bowl and mash into a paste with a fork. Add olive oil and thoroughly mix into a paste. Add capers and lemon juice and stir to blend. Add mayonnaise and mix thoroughly until the capers and anchovy paste is uniformly distributed. Transfer the mixture to a small serving bowl and serve with Mediterranean Mixed Seafood Fritte.

Mediterranean Salad
1 head romaine lettuce, washed, trimmed and chopped
1 large tomato, cut into thin wedges
1 cucumber, thinly sliced
2 ounces feta cheese, crumbled
24 Mediterranean olives
4 marinated artichoke hearts, quartered
Salad Dressing
1/4 cup olive oil
1 lemon, juice only
1/4 cup red wine vinegar
1/4 cup mayonnaise
1 tablespoon dried herbs (basil, oregeno, marjoram, etc.)
Combine all salad dressing ingredients in a jar with a tight-fitting lid. Shake vigorously. Place lettuce in a large salad bowl. Add dressing a little at a time and toss until lettuce is lightly coated. Divide the lettuce onto individual serving plates. Sprinkle with crumbled feta cheese. Garnish with olives, artichoke hearts, tomato wedges and cucumber slices. Serves 4.
Slow Roasted Lamb Shanks
4 lamb shanks
3 tablespoons olive oil
1 large onion, coarsely chopped
4 carrots, cut into 1" pieces
4 cloves garlic, finely minced
1 cup white wine
2 cups lamb stock
2 teaspoons salt
1 teaspoon cumin
1 teaspoon corriander
2 tablespoons flour dissolved in 1/4 cup water
Season lamb shanks with salt and pepper. Brown the lamb shanks on all sides in a heavy skillet or grill pan. Heat the olive oil in a large roasting pan with a tight fitting lid. Add onions, garlic, and carrots and saute until lightly browned. Add white wine and stir in salt. Arrange lamb shanks over the vegetables. Sprinkle with cumin and corriander. Cover and roast at 300 degrees for about 2 hours, until very tender.
Transfer lamb shanks and vegetables to serving dishes. Place roasting pan on stove burner and bring the pan drippings to a simmer. Add flour and water mixture to form a light roux. Add lamb stock and continue simmering until thickened. Serve on the side as a sauce for lamb and pilav.
Couscous Pilav
2 cups cooked couscous (prepare according to package directions)
2 cups cooked rice
1 small onion, finely chopped
3 cloves garlic, finely minced
2 large sprigs fresh parsley, finely chopped
2 teaspoons marjoram
1/2 teaspoon corriander
2 tablespoons olive oil
1 cup lamb stock
Salt and pepper (to taste)
Heat olive oil in a large kettle. Add onion, bell pepper, and garlic. Saute until tender. Add lamb stock and bring to a simmer. Add rice and couscous. Stir with a large spoon to thoroughly mix all ingredients. Add parsley, marjoram and corriander. Stir again to uniformly mix all ingredients. Season with salt and pepper. Serve with lamb shanks.
Swiss Chard Dolmas
 
1 bunch Swiss chard
3 cups cooked rice, at room temperature
1/4 cup olive oil
1/4 cup red wine vinegar
1 tablespoon dried dill
Salt and pepper
 
Combine rice, olive oil, vinegar and dill in a large mixing bowl and season with salt and pepper. Wash and trim the stems from the Swiss chard. Bring a large kettle of water to a boil and blanch the largest whole Swiss chard leaves for about 1 minute, until just tender. Remove the leaves from the water with tongs and transfer to a large cutting board. When the chard leaves have cooled, place the leaves face down one at a time on the board and use a sharp knifeto remove the thick central spine from the leaves, about two-thirds of the way up, leaving the fan of the leaves intact.  Overlap the lower halves of each leaf to form a half-inch seam.
 
Place two heaping tablespoons of the rice mixture in the center of each Swiss chard leaf, leaving the edges free for tucking to form the ends of the roll. Fold the lower edge of the leaf upwards around the rice, tuck in the sides and continue rollling to the upper edge. Transfer Swiss chard rolls to a baking dish and brush with olive oil. Bake at 350 for about 20 minutes, until rice is heated all the way through.
Honey Almond Beignets with Pistachio Ice Cream
1/2 cup nuts (almonds, walnuts, pistachios) finely chopped
1/3 cup sugar
1/8 teaspoon cinnamon
2 tablespoons orange flower water, divided
1 1/3 cup flour
1/8 teaspoon saffron
2 tablespoons olive oil
Water
1 egg yolk, lightly beaten
1/4 cup honey, warmed
1 tablespoon powdered sugar
Vegetable oil for deep frying
1 pint pistachio ice cream
In a mixing bowl, combine chopped nuts, sugar, cinnamon, and 1 tablespoon of orange flower water. Mix thoroughly. In a separate mixing bowl, combine flour, saffron, olive oil, and 1 tablespoon of orange flower water. Mix thoroughly. Add water a little at a time until mixture forms a ball of dough. Divide the dough in half and roll each half into a long cylinder about 1" in diameter.
Using a rolling pin on a generously floured surface, roll each cylinder into a long, flat strip about 3" wide. Spread the nut mixture over one strip of dough and top with the other strip. Press gently to seal edges. Cut the pastry into diagonal pieces about 1" wide and brush with egg yolk.
In a large skillet, heat the oil until a drop of test dough sizzles. Fry the pastries until golden brown on both sides, turning once. Drain on paper towels. Transfer pastries to a plate and drizzle with honey. Sprinkle with powdered sugar. Serve warm with pistachio ice cream. Serves 4.
---