A Communist Leader Hat Trick
---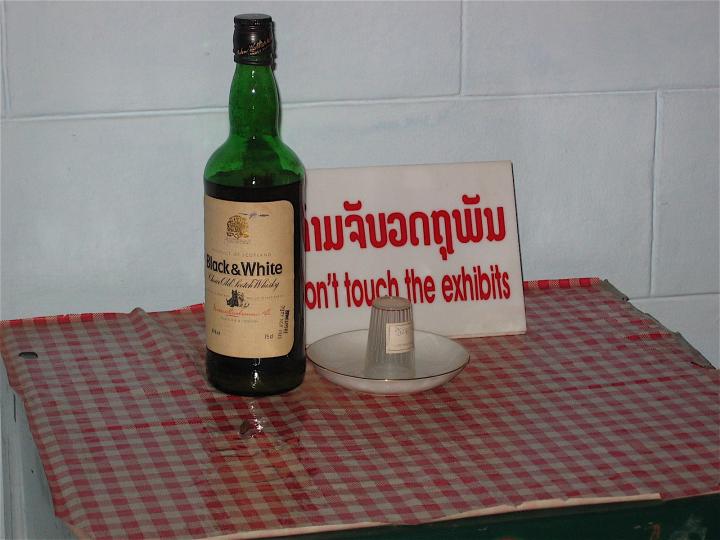 Image ©
2009 MaryLou Driedger
Should I open the bathroom door to see what was inside?
            I had a rather surreal experience while cycling in Vientiane, the capital city of Laos. I had already visited the Ho Chi Minh Memorial in Hanoi and the mausoleum of Mao Tse –Dong in Beijing. I decided to go for an Asian Communist leader hat trick and try to find the Kaysone Phomvihane memorial in Laos. Kaysone was the Laotian communist leader from 1975- 1992.
           I knew my quest wouldn't be easy. I was reading the book Another Quiet American while I was in Laos. It recounts author Brett Dakin's search to find the Kaysone Phomvihane memorial. Unlike Dakin I was not on a solo expedition.  I had the benefit of being part of a cycling group led by my brother Ken. Ken is legendary for his in-depth pre-trip research and planning. If anyone could find the Phomvihane museum, it would be him.
         Ken knew the Kaysone compound had at one point housed members of the American CIA stationed in Laos. It was located somewhere behind a very ornate government building holding all the official propaganda about Kaysone. We wanted to find the house Kaysone had lived in and the office where he'd worked. Dakin said it had been preserved exactly as Kaysone left it.
       We made our way down pot-holed dirt trails. We asked people where the compound was and no one knew.  We lost my husband Dave. I told my brother not to worry. I had lost Dave in fourteen other Asian countries and he had always turned up within a few hours. After trying three different dead end roads, we finally happened upon a friendly gas station owner who sent us off in the right direction. It wasn't long before we arrived at the gates to the Kaysone compound of low ranch style buildings. Waiting there for us was my husband Dave and a brusque no- nonsense guard who showed us where to leave our bikes. 
         A Laotian university student appeared and introduced himself in painfully correct English. He would be our guide. His name was Ken and he smiled shyly when my brother told him his name was Ken too.  Our guide Ken apologized for the fact the power was not working. He would be unable to begin the tour as he usually did by showing us a movie about Kaysone Phomvihane. He also would not be able to turn on the lights or air conditioning in any of the buildings. Continuing to apologize as we walked, he took us first to the Kaysone living quarters.
         Ken directed our attention to a half empty bottle of whiskey and a dirty glass, just as Kaysone had left them the day he died in 1992. We were shown Kaysone's spartan bedroom. His eyeglasses and an autobiography of Ho Chi Minh were on the nightstand just where he had left them.  
               I was surprised to see a Buddhist altar in Kaysone's residence since communist leaders in other Asian countries banned all religious practices when they came into power.  Apparently Kaysone tried this for one year but the Laotian people protested so vehemently he was forced to allow them to continue practicing their comforting Buddhist rituals. The incense sticks on the altar had been placed there by Kaysone before his death. I was happy to learn the skewers of grilled chicken had been a more recent addition.
           We went into Kaysone's library where he met with his generals and office staff. Our guide Ken said the notes on the blackboard were ones Kaysone had written.
           Outside the bathroom door was a fluffy pink bath mat with the word Happy and four musical notes printed on it. I wondered if I should open the door to see if there was perhaps something in the toilet preserved just as Kaysone had left it.  I decided not to.
            My visit to the Kaysone site was so intriguing I'm tempted to try my luck at entering North Korea to see the memorial of Kim II Sung.  It's the only memorial of a dead Asian communist leader I haven't seen. I've been told however it might be very difficult to get a visa to enter North Korea. So until the political situation changes I guess I'll have to be content with my Communist leader mausoleum hat trick.
---