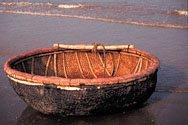 Image ©
2000 Global Directions, Inc.
Our photo essay of Do Son was one of those magical moments in our travels when we made an unplanned stop at a shaded beach just twenty kilometers southeast of Haiphong and caught the fishermen coming home for the day. A successful catch, combined with the perfect weather, contributed to a joyful mood that was contagious.
Do Son stretches out on a peninsula known for the nine hills called Cuu Long, and is a popular beach getaway for Hanoians. It is chance encounters like these that make trips memorable.
We hope you are headed for Vietnam soon for your own memorable moments.
---