Dongri, Kamatipura, and the Thieves' Bazaar
---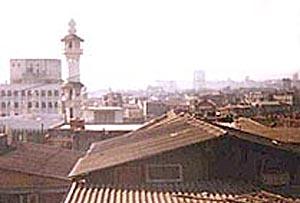 Image ©
2001 Ken Champeon
Pronounced "Doan-gree" with a flapped 'r' closer to a 'd', Dongri is a primarily Muslim sector of downtown Bombay. It is also the site of the Diamond Jubilee High School for Girls (DJG), my former employer of six months.
As with many Bombay boroughs, Dongri's actual boundaries were never clarified; perhaps they don't exist. Yet a cabby told to go to Dongri would infallibly bring me eastbound on Sardar Vallabhai Patel (SVP) Road to DJG. Out I stepped into a street sprinkled with gutted coconuts.
Dongri's history is a checkered one: it burned during the fiery and extensive communal riots of 1992 and 1993, in which young gangs targeted Muslim-minority establishments.
One of the most heart-rending examples of such an attack was a building in the Muslim-dominated locality of Dongri, Dargah Chawl, occupied only by lower middle class Muslims. Every single room in that building was ransacked and destroyed (Bombay: Metaphor for Modern India, Sujata Patel and Alice Thorner eds., [Oxford India Paperbacks, Oxford University Press, 1995], 280).
Membership in youth gangs was on the rise, as was the underground trafficking of heroin. "You will notice the scent of brown sugar," said my droll British supervisor, as we entered Dongri for the first time. Recent shootings had led to police intervention; a foreign journalist was harassed. But violence never bubbled to the surface during my sojourn. Dongri was "safe", in its own unsettling way.
An Indian teacher I knew had interviewed for a job at DJG but had declined it. "Because of the area," she said. Its "menfolk" were "always ogling." Though she was Catholic and resided in Christianized, middle-class Bandra, her remark was not religiously motivated. Indeed, most Indians downplayed the tension. "It's sensationalism," said a friend of mine: religiously motivated violence grabs more headlines (much as racially motivated violence does in America). A man is not merely murdered - a Christian is murdered by Hindus.
Dongri's chaos took different forms. West of Dongri on S.V.P. road was an intersection named Null Bazaar, a case study in Bombay's consistent failure to observe traffic laws or lights. Early in the morning, the lights blinked, giving infinite license. Commonly my cabby would inch out into the intersection, dodge a bicycle, halt noisily before a huge red bus, and, finally, blind to both directions, cross the intersection with a hair's-breadth between his tail end and another. All this transpired amidst a chorus of high-pitched horns, observed in the breach. By mid-day, lights had become more authoritative, but few travelers heeded their authority. Traffic proceeded from all directions, as if hell-bent on making a traffic jam. Cabbies berated people pushing handcarts, while the cart-pushers barked at pedestrians. The fat red buses often idled, honking lugubriously.
The Bombay street is a paved field. As a cabby of mine once said, with not a little relish: "Left, right, no problem!" During one ill-fated, hour-long journey to Shivaji Marg downtown, my cabby simply repeated the word "problem".
The "problem" is not lawlessness so much as law's helplessness. Bombay traffic consists of cars, autorickshaws, buses, bicycles, pushcarts, scooters, massive tricycles operated by legless men, cows, and pedestrians -- the fragmentary sidewalks being blocked by shops and homeless families. Cats carrying dead kittens in their mouths dart across the streets; goats with full udders meander; others lock horns on the medians.
Short of dividing the already narrow streets into lanes to suit all these sizes and speeds, not much can be done. As a result, Bombay traffic, as of the mid-1980s, proceeded at a rate of 13 kilometers per hour (8 miles per hour), while congestion only increased (Patel, 57).
Much of the commerce around Dongri is that of teashops and watch-vendors. Just west of Dongri is Chor Bazaar ("thieves' bazaar"), a seemingly endless array of antique and curio shops. Here can be found an entire, fully assembled Rolls Royce; and gramophones and toy jet planes from early 20th-century America. Literally every corner of Chor Bazaar holds some saleable item, or its seller.
The bazaar spills over into Dongri. Shops sell bangles, backpacks, arrangements of plastic flowers, hand-made kites. Cloths are spread out on the sidewalk to showcase neatly aligned, polished trash. Entrepreneurs busily clean, separate, and bundle metal cans into bright gold bails bigger than a car. The area is a kind of recycling center spread out over city blocks. After the rains, it becomes a dump. Dongri is just a stone's throw from Kamatipura, the city's red-light district, setting of the 1988 Mira Nair film Salaam, Bombay! The route of the #102 bus passes nearly a kilometer of brightly and colorfully painted holes-in-the-wall, fronted by women painted as brightly and colorfully. They squat, spit, pick at their hair, do each others' hair; they purse their lips, swing their skirts, make way for a satisfied customer combing his hair as he exits.
Bombay is home to some 80,000 "commercial sex-workers". The euphemism is significant. Like many official illegalities, prostitution is condoned. On Raksha Bandan, the Hindu holiday when sisters give wrist bracelets to their brothers in return for protection, prostitutes gave bracelets to local politicians. Over half of these prostitutes are HIV-positive.
I only once ventured through Kamatipura at street-level. The women called out to me and pulled at my satchel strap. Some months later, I would be taken through this area again by a well-intentioned cabby. He had presumed that being a foreigner and a bachelor, I would make a beeline for Kamatipura. He drove me through areas off the #102 route, and gave me a new sense of Kamatipura's extent. The going rates were between Rs. 100 (US$3) and Rs. 500 (US$15). Entire city blocks housed these practitioners of the oldest profession.
One day in a bar near Chowpatty Beach, some earnest, but quite drunken college-students made the same false presumption. When I mentioned the HIV statistics, they waved them off. "We'll get you a fresh one," they said.
Strange that Kamatipura could be so close to my school, and its female students and faculty. Every day the students swarmed in from Dongri's hidden corners, with their long black hair braided and looped, walking determinedly forward in their pressed pale-blue uniforms. The teachers walked with equal poise. And every day, five or six hours later, they disappeared into Dongri again, the students congregating for a while in Dharmshala Road, slurping up cane juice; or taking a ride on a manual, rickety, and rusted Ferris wheel jutting out into SVP road.
Sadly, Dongri never quite became my home. My home was in posh Malabar Hill, and I appreciated its respite. By midday, Dongri became intolerable. The noise and the scorching heat caused headaches for the unaccustomed. It was not an environment for reflection, or even productive action.
Invitations to people's homes were common, but seldom detailed. Rents are so high in Bombay (becoming comparable, recently, to those of Tokyo or New York) that extended families occupied one space. Students often claimed to live with nearly ten people at a time. A solitary foreigner in such a situation would have been humorous at best.
I finally accepted a persistent invitation from the family of Amera, a student of mine. And this only a few days before my departure. As I was leaving her flat, a diminutive old man wearing a topi approached me. Smiling, he asked me something in Hindi. I couldn't parse it, so a bystander rushed to my aid. The old man was asking me where I was going. I had just come from the Patni's home, I said. This pleased him. He shook my hand vigorously, still with that infinite smile.
I never knew the extent of my reputation in Dongri. Communication in India is problematic enough. No formal announcement was made of my presence. Some community members expressed concern over a male (and American!) teacher working at DJG. Some questioned my egalitarian habit of talking to students outside of class.
But overall, I left scarcely a ripple in Dongri. The parents could pride themselves on their children attending a school drawing the occasional assistance of Americans; but I doubt they knew what shape this assistance took. For me, the old man's smile and handshake were acceptance enough.
* * * * *
---