Dreaming Under Purple Bedsheets: Hong Kong's Regal Airport Hotel
---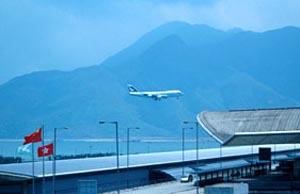 Image ©
2001 Steven K. Bailey
On my last morning in Hong Kong I awoke from a sound night's sleep, pulled back my purple bedcovers, and fixed myself some instant coffee at the minibar in my hotel room. I showered in the spacious bathroom, wrote up my notes at the glass-topped desk, then headed downstairs to the complimentary breakfast buffet of Japanese, Chinese, and Western-style cuisine. I shared the restaurant with an international mix of tourists, businesspeople, and airline flight crews. Like me, they all had planes to catch, for I wasn't staying at a hotel in Kowloon. I wasn't staying at a hotel on Hong Kong island, either. I was, believe it or not, staying at the airport.
I say "believe it or not" because somewhere along the line airport hotels have acquired an undeservedly bad reputation. Many travelers view them as generic establishments where sleep remains impossible due to the constant window-rattling blast of jet engines. I'm not sure why this view of airport hotels has become so prevalent, though it may be that passengers simply want to minimize their time in aircraft and airports, and include airport hotels in that calculation. Or perhaps the average traveler believes that the discomfort of air travel itself extends to airport hotels. This is a pity, because airport hotels at major Asian airports offer both convenience and luxury. Nowhere is this more true than at the Regal Airport Hotel in Hong Kong.
Hong Kong's Largest Hotel
The Regal caters to passengers and flight crews flying in and out of Hong Kong's Chek Lap Kok International, one of the region's busiest airports and home to two major carriers-Cathay Pacific and Dragonair. As might be expected of a hotel serving one of the world's largest airports, the Regal itself is quite big. In fact, at 1103 rooms the Regal remains the largest hotel in Hong Kong, which is no small honor in a city full of giant hotels.
The Regal sits next to the airport terminal, and through the floor-to-ceiling glass walls of the arrival hall you can look across a car park to the hotel. This is the first glimpse most guests get of the Regal, and it's not a particularly remarkable view. Seen from the outside the hotel presents a purely functional rectangle sheathed in grayish reflective glass. Bear in mind that this view of the Regal proves the rule about not judging a book by its cover, because once you've wheeled your luggage down the short walkway connecting the terminal to the hotel lobby, it becomes immediately obvious that the uninspiring exterior does not reflect the exceptional interior.
The Regal's lobby reminds me of a multi-level atrium in an upscale shopping mall, only less frenetic and more welcoming. Fountains splash, chrome surfaces gleam, escalators go up and down. Potted plants and full-sized live palm trees balance the metal and glass. A lobby bar sits to one side, ready to serve the free welcome drink offered to all guests.
The Regal opened in 1998 and still has the polished look of a brand-new building. Construction of the presidential suite on the top floors, in fact, isn't yet complete. This suite will feature a two-floor penthouse offering sweeping views of the runways, mountain peaks, and ocean to visiting heads of state, CEOs, and government ministers. However, unless you are a VIP who can afford $25,000 HKD a night ($3200 USD), you'll have to make do with one of the rooms on the lower floors.
The Regal has twelve floors to choose from, with the upper floors offering the exclusive Regal Class rooms and the even more posh Regal Club rooms and suites. Lower floors offer standard, superior, and deluxe rooms, as well as cabana rooms that feature balconies fronting the indoor and outdoor swimming pools.
Room Features Purple Motif and a Trio of Phones
I stayed in a Regal Class room on the ninth floor. The decor of this particular room tended towards modernist chic, with a glass-topped writing desk with chrome reading lamp, glass-and-steel coffee table, and stainless-steel pedestal for the TV.
Some thirty different color schemes adorn rooms at the Regal, and the scheme in my room centered on the color purple, complete with purple chair, purple bedspread, and purple couch. Given that purple has always been associated with royalty, the color struck me as perfect for a room at the Regal.
My room offered various high-tech gadgets for me to play with. A control panel by the bed allowed me to manipulate the lights, arctic-blast air-conditioning, and automated "do not disturb" sign from the comfort of my bed. Not one but three different phones occupied strategic positions throughout the room. The TV offered various cable, video game, and internet options, and even welcomed me to the room with a "Welcome Steven Bailey" message on its screen.
Amenities included coffee and tea, mineral water, fresh flowers, a copy of The South China Morning Post, a plate of hors d'oeuvres, and a full array of bathroom goodies. Robes and slippers waited in the closet along with the room safe. I had use of the swimming pool, health club, and spa.
A well-stocked minibar offered an array of drinks at expense-account prices. A can of beer cost $35 HKD (4.50 USD), a can of Pepsi $30 HKD (4.00 USD). I opted for a short stroll out to the Circle K convenience store in the lower level of the terminal, where the prices reflected those in the city itself.
Air-traffic Controllers Don't Get Better Views
I've always judged hotels by the quality of their views, and in this respect the Regal earns a very high mark. While some of the lower-floor rooms feature dismal views of the car park, most rooms offer views of the airport backed by either the aqua South China Sea or the green peaks of Lantau Island.
These dynamic views have a lot of entertainment value. In fact, the view from my ninth-floor hotel room made me feel like an air-traffic controller. I've always been fascinated by aircraft and airports, and I found myself glued to the window watching planes land and take off. No doubt I resembled a cat at a window mesmerized by birds flying on the other side of the glass.
I could also see the glass-walled terminal and the Airport Express train station. In the distance stood high-rise apartment towers, some half-complete and sheathed in green construction netting. Beyond lay the peaks of Lantau Island, their tops concealed in kerchiefs of gray rain cloud.
Along with the planes I could also watch the Airport Express train, which regularly glided up to the terminal like a sleek metallic-blue snake. Had I wanted to, I could have made the five-minute walk to the terminal station, caught the next train, and arrived in downtown Hong Kong just 23 minutes later. With the Airport Express, guests at the Regal have easy access to the city. Indeed, they have easy access to the entire world. After all, you can literally fly anywhere on the planet from Chek Lap Kok.
Before going to sleep that night I sat by my window watching the planes land. Cathay Pacific, Dragonair, China Air, South African Air, British Air-the aerial parade seemed endless. When my jetlag finally caught up with me, I pulled the drapes on the airshow. The double-glazed window glass ensured that I heard only a low murmur of jet engines that lulled me to sleep. In the morning, I awoke well-rested and sheathed in purple bedsheets.
Mini-stays for Mini-guests
While I spent the entire night at the Regal, I could have opted for a shorter mini-stay of up to six hours. This sounds like some sort of illicit rendezvous, but in fact these short stays are designed for exhausted passengers with long gaps between connecting flights. The Regal offers mini-stays between six a.m. and nine p.m. for $500 HKD ($65 USD). As a, well, mini-guest you can catch some sleep in a real bed rather than in a chair in the transit lounge, and shower in a real bathroom rather than wash your face in the airport's dingy restrooms. You can relax in a way that the frenetic arrival and departure halls would never allow. You can also eat at any of the hotel's eight bars and restaurants, not to mention use the spa, health club, and swimming pool. I can't think of a better way to kill a layover than by swimming a few laps and then drowsing by the pool.
Room rates at the Regal remain comparable to other major hotels in Hong Kong. The Regal offers rack rates of $1700 HKD ($220 USD) for standard single rooms and $2650 HKD ($345 USD) for Regal Class deluxe rooms. As with most hotels in Hong Kong, however, you can reserve rooms for much less through hotel booking consolidators. HK-Hotel.com, for example, currently offers standard single rooms at the Regal for $1050 HKD ($136 USD). This rate saves you $84 USD. I've used HK-Hotel.com more than once, and always found them reliable as well as competitive in terms of room prices. Visit their website at www.hk-hotel.com.
Five-minute Walk from Hotel Check-out to Airline Check-in
If you have a morning flight to catch out of Hong Kong, you might want to consider a stay at the Regal yourself. You can sleep much later than if you stay downtown, then get up for a leisurely buffet breakfast before making the five-minute walk to the check-in desk. You won't even have to heft your bags, as the hotel keeps a supply of luggage trolleys handy.
Likewise, if you fly in to Hong Kong late at night, the Regal remains your first option for going to bed. After all, you can be asleep in your room at the Regal within fifteen minutes of clearing customs and immigration. You'll have a wide choice of room decor, but personally, I recommend the rooms with the purple bedsheets.
* * * * *
The Regal Airport Hotel (connected by covered walkway to airport terminal) 9 Cheong Tat Road, Chek Lap Kok, Hong Kong Tel.: 852-2286-8688 (For reservations in North America, call 1-800-222-8888) Fax: 852-2286-8622 Email: rah.info@regalairporthotel.com, Internet: www.regalairporthotel.com
* * * * *
Other Airport Hotels in Asia:
Pan Pacific Hotel (connected by covered walkway to airport terminal) Kuala Lumpur International Airport Jalan CTA 4B PO Box 11468 64000 KLIA Sepang Selangor Darul Ehsan Malaysia Tel.: (60-3) 8787-3333 Fax: (60-3) 8787-5555 Email: panpac@pphklia.com.my, Internet: www.panpacific.com
Amari Airport Hotel (connected by covered walkway to airport terminal) Don Muang International Airport 333 Chert Wudthakas Road Bangkok 10210 Tel.: (662) 566-1020 Fax: (662) 566-1941 Email: airport@amari.com, Internet: www.amari.com
Le Meridien Changi (Fifteen-minute drive from Changi International Airport) 1 Netheravon Road Singapore 508502 Tel.: 65-542-7700 Fax: 65-542-5295 Email: meridien@singnet.com.sg, Internet: www.meridien-changi.com
* * * * *
---