'Eat a Bowl of Tea' Love Bites Recipes and Photos
---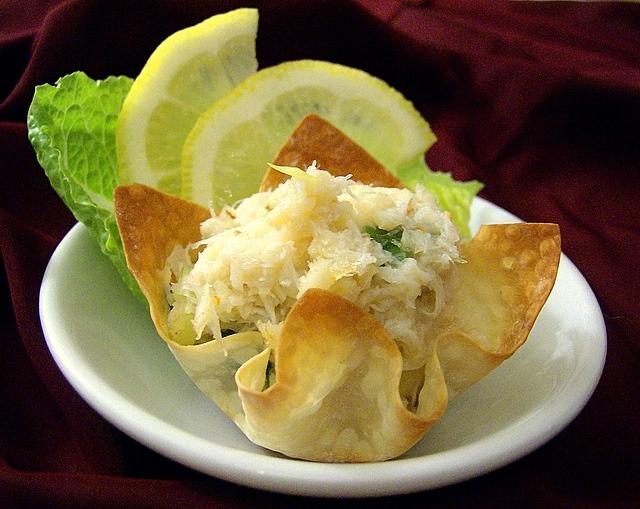 Image ©
2007 Celeste Heiter
In honor of Valentine's Day, and to accompany the film 'Eat a Bowl of Tea', this month's menu is a suite of tasty morsels that I call Love Bites, little dishes that can be eaten with chopsticks and fed to your Valentine one bite at a time. The menu includes Shrimp Summer Rolls, Velvet Crab in Crispy Wonton Cups, Shrimp Toast, Mushu Spring Rolls, Crispy Duck, and Orange Chicken.
1 carrot, 
coarsely grated
1 cucumber, 
finely julienned
12
 large rice paper wrappers
, trimmed to 5" square
Divide the shrimp, carrots, 
and
cucumbers
into 12
 equal portions. Fill a large shallow dish with about ½ inch of lukewarm water and soak the rice paper wrappers one at a time until they are soft and flexible. Gently lift the wrapper out of the water, and hold it over the dish to drain off excess water.
Lay the wrapper on a clean plate
, point down in a diamond shape
. Distribute and arrange one portion of the 
shrimp
, carrots, 
and 
in
the center of the wrapper
. Fold the wrapper upwards to cover the filling. Fold the left and right sides inward toward the center, and snugly roll the wrapper and filling toward the upper edge. The rice paper wrapper will stick to itself to form a sealed roll. Try to roll as tightly as possible, taking care not to tear the wrapper. Repeat the process for the other wrappers. 
S
erve with Nuoc Cham dipping sauce.
Nuoc Cham Dipping Sauce
1/4 cup granulated sugar
3/4 cup nuoc mam (nam pla) Asian fish sauce
1 cup fresh lime juice
2 cloves of garlic, finely diced
1 small fresh chili pepper, finely diced, seeds and membranes removed.
Mix all ingredients together and allow to stand for 1 hour (or overnight in the refrigerator) to marry flavors.
Velvet Crab in 

Crispy

Wonton

Cups
12 small wonton skins (3 inches square)
2 cans lump crabmeat, reserve the canning liquid
1 clove garlic, finely minced
2 scallions, finely chopped
2 tablespoons red bell pepper, finely minced
Preheat oven to 350. Place each wonton skin over the cup of a cupcake tin, gently press the wonton toward the bottom, and shape into a small, fluted cup. Bake the wonton skins for 5 to 10 minutes, checking frequently until golden brown. Remove from oven and allow to cool.
Open the tins of crabmeat and drain the liquid into a small measuring cup. Add cornstarch to liquid and stir to dissolve. Set crabmeat aside. Melt butter in a small saucepan, add garlic, scallion and bell pepper and saute until tender. Add crab broth and cornstarch mixture and whisk until slightly thickened. Add crabmeat, stir to blend, reduce heat and simmer until mixture is velvety and thickened. Season with salt and pepper.
Shrimp Toast
3/4 pound shrimp, shelled, deveined, and minced into a fine paste
4 water chestnuts, finely chopped
2 green onions, finely chopped
1 teaspoon grated ginger
1 teaspoon Chinese rice wine
1 egg, lightly beaten
2 t
easpoons
cornstarch
1
2
slices 
white
bread, crusts removed
Vegetable oil for deep-frying
Preheat oven broiler. Combine
 all
shrimp paste ingredients
in a mixing bowl
. Cut each slice of bread in half diagonally. 
(You may also use cookie cutters to form more intersting shapes).
Using a tablespoon, spread the shrimp paste 
thinly and
evenly over the surface of each bread triangle and press with the 
back of the spoon
to ensure that the shrimp paste sticks firmly to the bread. 
Place the shrimp toasts on a baking sheet, and broil in the oven until shrimp paste is slightly pink, about 2 to 3 minutes, checking frequently to prevent overbrowning. Remove from the oven and set aside.
Fill a small frying pan with about 1/2" of oil and heat to frying temperature. Using a fork or a metal spatula, slip the shrimp toasts into the hot oil one at a time, bottom side down and fry quickly to crisp the bread. Remove immediately from the oil and drain on paper towels. Serve warm. Makes 12.
 
Mushu Spring Rolls
1/2 lb ground pork
2 
scallions
, finely chopped
1
clove garlic, finely minced
1 cup Napa cabbage, finely shredded
1 tablespoon ginger
root, finely shredded
1 tablespoon soy sauce
1 tablespoon 
hoisin
sauce
2 teaspoons Chinese rice wine
1 teaspoon cornstarch
Vegetable Oil for deep-frying
Heat the sesame oil in a wok. Add ground pork and stir fry until done, about 5 minutes. Add
scallions, garlic, 
ginger, 
and
cabbage, 
an
d stir-fry until tender, about 5 minutes. Add 
hoisin
sauce, rice wine, and corn starch, and simmer until liquid is thickened. 
Remove from the heat and a
llow the filling to cool.
Place each 
wonton
wrapper point down, in a diamond shape. Spoon 
a
tablespoon of filling across the center of the wrapper. Fold the bottom point upward around the filling. Fold in the left and right points toward the center to enclose the ends, and roll snugly toward the upper point. Moisten the upper point with warm water and press to seal.
Heat the oil in a wok to 375 degrees. Deep-fry the spring rolls two or three at a time, turning once, until golden brown on both sides. Remove promptly and drain on layers of paper towels. Serve hot with 
Hoisin
Sauce.
Crispy Duck
4 boneless duck breasts
To prepare the sauce, combine all ingredients in a small saucepan and bring to a boil. Reduce heat and simmer until thickened. Allow to cool.
Rinse the duck pieces and pat dry. Using a metal skewer, pierce the skin of each piece in several places at a horizontal angle, being careful not to pierce the meat. Fold the edges of the skin around the meat and place skin side up on a wire rack in a shallow roasting pan. 
Cover and r
oast at 375 degrees for 
25 to 35
 minutes, until meat reaches desired doneness, from medium rare to medium well, depending on individual preference. For crispy skin, 
switch to
the broiler for 
the last 5 minutes
, checking frequently to avoid burning. Remove from the oven, allow to cool and slice into thin strips.
Orange Chicken
1/2 cup orange 

nectar


2 tablespoons brown sugar
3 tablespoons rice wine
1
teaspoon ginger root, finely shredded
1 t
easpoon
cornstarch
dissolved in 2 tablespoons water
Combine all ingredients in a small saucepan and bring to a boil. Reduce heat immediately and stir until thickened.
2 chicken breasts, cut into bite-sized pieces
1 egg white
2 tablespoons cornstarch
1/2 cup Bisquick baking
 mix
Vegetable oil for deep-frying
Combine egg white, cornstarch, biscuit mix and water, and stir to form a smooth batter. Add chicken and stir thoroughly to coat. Heat oil in a wok or skillet to 365 degrees. Carefully drop chicken pieces into the oil one at a time without overcrowding the pan. Fry until golden brown on both sides, turning once. Remove from oil and drain on layers of paper towels.
Transfer chicken pieces to a mixing bowl and drizzle with orange sauce. Toss gently to coat. Serves 4.
---