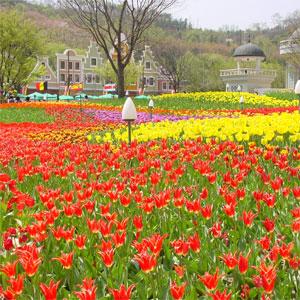 It was a bright Thursday as I made way to Everland Theme Park. The time was about 11 in the morning and upon reaching the parking lot of the 7th largest theme park in the world (and definitely Korea's most famous), the thirty-five of us had the shock of our lives!
The parking lot is by no means small. It was simply huge and rectangular in shape, but that was not the factor that surprises all of us. It was the number of buses that were parked there. There were school buses, tourist buses, you name it. In fact, there were more buses there than at a bus depot back in Kuala Lumpur where I live. The second surprising fact was this: It was only a Thursday. It was not a public holiday, special occasion or a school holiday. But the crowd was crazy and there were throngs and throngs of tourists, local visitors and definitely many school children. The number of school children trailing their teachers in large groups in their bright school uniform is a sight to behold! We could not get over our amazement. We found ourselves asking each other the same question over and over again. Why are there so many people on a Thursday? Don't these people need to work or study?
Not unlike giggly school kids, my husband and I jump right into the crowd and soon we were on our way into discovering a great wonderland and some of the most beautiful flowers in the world! Although not as legendary as Disneyland, yet Everland in Korea is one of the country's proudest achievement and a must-see attraction. Each year, it sees more than 10 million people passing through its doors and with a 20 year history as a world class family resort complex, you can only expect great fun and lots of excitement.
During the first hour of our visit there, we were guided by our tour guide and went on several rides of varying degree of speed, height and "wetness". Not exactly prepared for the crowd, it quickly dawned on us that the measly few hours we have there just is not enough for us to go on every ride and see every available attraction. However, equipped with a map of the overall theme park and strategically planning the next few moves, we were able to get along just fine.
Having bought the Big 5 tickets, we were entitled to five rides/entrance to any of the attractions found on the park. We used the first one for a cable car ride down to the park, which is definitely the fastest way of getting there. We also planned to use another of our ticket to get back up to the entrance. You see, the theme park is made in such a way that most gift/souvenir shops, restaurants, themed decorations and ticket booth are found near the entrance. To get to the main theme park, that is where the cable car comes in.
There are six parks on Everland: Festival World, Caribbean Bay, Speedway, Activa Park, HomeBridge Hostel, and Glen Ross Golf Club. The place was so big and intimidating that I was not sure which parks I went to. Let's just say that the language barrier didn't help much. However, we soon found out that we spent the most time at Festival World where I simply could not take my eyes off my favorite flowers, tulips, in full bloom and in many brilliant colors! Check out that picture at the start of the article. Many of my friends thought that it was a postcard picture when I sent it to them. Little did they know that these flowers are absolutely real! In fact, I had to feel the petals for myself to truly believe that such a beautiful creation could be a real.
You do not always get to see tulips at Festival World though, as they are seasonal and dependent on the time of the year. The whole affair started in the year 1985 with the Rose Festival, and has since developed into a full-fledged festival extravaganza. Now, you get the Tulip Festival during late March and April. There were like 1.5 million tulips in various colors and to suit the 'mood', the theme park was suitably decorated with huge windmill from Netherlands. There was also a Holland Village with suitable food to boot! Around the Four Seasons Gardens is a train covered with so many flowers that there were more flowers than metal parts. Many events were lined up for the festival such as a photo-taking competition. These tulips at the Four Seasons Garden are totally uplifting; bringing in the joyous mood of spring! After spring, the Rose Festival takes place from mid May to early June. This festival was initially started for couples who want to celebrate and show their love for each other.
During the summer months from mid July to August, the Summer Music Festival takes over with another huge splash of over a million lilies and live music during the hot summer nights. This is the best chance to relax amongst the fragrant lilies while listening to pop, jazz and even classical music performances.
During September and early November is the celebration of the Fall Festival with chrysanthemum and autumn leaves. The many colors of the flowers and leaves are an awe-inspiring experience. Lastly, the Winter Festival, which takes place in December to February each year! Expect a magical white Christmas with snow sledding in Snow Buster, special winter and holiday parades, and many more. Everland is also the proud owner of the longest snow sleigh slope in Korea. There is also the Tree Festival that features unique Christmas trees. Also, if you are in Korea during Christmas, join in the Christmas Party in Everland! During this festive season, every night is a night of celebration, fun and happiness.
Aside from the Four Seasons Garden, there are also many other attractions including a Safari World, Caribbean Bay, Speedway, and Activa. Currently, the center of attraction at the Safari World is the birth of a mixed-breed cub... a mix of tiger and lion. So, you can just imagine how the little thing looked like. The queue to Safari World was the longest and waiting time could get anywhere from 1 hour to 1-½ hours. Unless you have a lot of time to spare, I would say, perhaps you might want to skip Safari World (with much reluctance of course), or you could never make it through the rest of the attractions, which are equally good and fun.
And then there is Caribbean Bay, which provided us with the most laughter and enjoyment. As typical tourists, we were not exactly prepared to get wet at the theme park. Our expectations were 100% sightseeing and nothing else. Besides, when I was there, it was only the start of spring and the lingering coldness from winter still remains in the air. However, when faced with a world class water park such as the Caribbean Bay, we simply threw caution to the wind... and this includes older folks from the group. Caribbean Bay is simply lovely with their Spanish style stone buildings, palm tress and subtropical plants found at both indoor and outdoors. It has a 23 meters high Water Bobsleigh, a Surfing Rider with artificially generated strong waves, Indoor and Outdoor Wave Pools, a 570 meter Lazy River, a sauna, spa and suntan room. My husband and I got on a circular boat with four other older folks. Surrounding each seat is a waterproof (almost like a mac) plastic sheet that we very soon gather is to protect ourselves from the water. Once on the boat, it was too late to change our minds as the boat started careening off down the river. Along the way, there were many well-placed props and strategic "bumps" that could send our boat spinning or hitting the sides of the man-made riverbank. Mistake number 1! Never ever use an umbrella on this ride! Two ladies seated opposite us thought it was a great idea to have the umbrella up, but once we hit a hard bump, the boat hit the bank hard and a huge splash of water rises above us and well... landed squarely on the umbrella. The rather pathetic umbrella folded beneath the water and beautifully drenched the two ladies. Like two wet chickens, they simply threw off their umbrella at us and got the rest of us wet as well. Now, getting wet is not exactly very fun for us as we were in thick sweaters and absolutely no change of clothing. Luckily, there was a heater at the end of the ride, but we learnt a lesson that day. Listen to the "rules of the ride" before alighting on any boat. It was fun, but a wet experience.
Also available at Everland is Korea's first racetrack called the Speedway. It is the venue for monthly auto racing, motorcycle racing and drag race. All you need is a valid driver's license to be on the track. If you are in for more speed, you must get the special Speedway licenses in order to qualify to enter the driving and motor racing competition. Alternatively, you can also check out Kart Autobahn, a go-karting place that is open on all days except Mondays. All you need is a valid driver's license and be at least above the age of 12.
Not into scary rides and fast races, then how about a round of golf at the Ross Golf Club? Teeing off at the Ross Golf Club is a special experience as you will get to enjoy the picturesque view of the beautiful nature, well maintained green and challenging course. However, do make your reservations in advance. This is also Korea's longest public golf course. Then, there is Activa Park, which is the perfect place for a social gathering. Here, you get excellent sports facilities and catering services.
Right now, there are exciting events that are taking place at Everland. Known as the Big 4 Events, it comprises of the Magic Parade, Multimedia Show, Moonlight Magic Parade, and the Everland Grand Show Dance History 2002.
The Magic Parade is simply stunning. Even the production has been planned for three years whist the plot took one year to complete. As the name suggest, the Magic Parade is an entertaining parade with fabulous floats that goes up to 15 meters in length and 14 meters in height. The parade was designed in Spain and Italy and the floats were all made in the US. The theme for this parade is 'Journey to the Land of Imagination Powered by Magic' and in tune with the theme, you will see a magical storyline with enchanting trips to the lands of the dream, adventure, fantasy, imagination and wish. This 1 kilometers-long parade takes about half an hour to complete. Some of its best features include the Jungle Adventure, which presents the lost civilization of Angkor War and Maya. There is also a replica of Pharaoh recreating ancient Egypt's sailboat and of course, Swan Lake and Magic Castle of dream. The Magic Parade begins at 2 pm.

The Multimedia Show is a spectacular event where impressive laser show and pyrotechnics fills the night sky of Festival World. A spellbinding show, the radiant star lights and LiLi (mascot of Everland) will keep you entertained. Here, you will be able to pick up the fantastic laser work that won't fail to grab your attention. You will feel a sense of adventure as the laser show brings you from a cooling waterfall to an escape from the exploding hot volcano. When the laser show is over, you will be brought back to earth with a gentle thud amidst the sweet-smelling flowers and glamorous fireworks in the night sky. Catch the performance at 9 pm.
Another magical moment is yours at the Moonlight Magic Parade. This fantastic parade is a feast of light with a total of five hundred thousand light bulbs! The bewitching parade has several entertaining themes such as Greek myths, World of Light, Space Exploration, Cyber Future city, Magic Cave, Magical Everland and even fairy tales such as Alice in Wonderland, Wizard of Oz, Happy Train, and Little Mermaid. Altogether, there are ten floats for your enjoyment. This performance starts at 8 pm.
Last but not least, the Everland Grand Show 'Dance History 2002', which is as the name suggest, an amazing collection of dances dating back to the history of dance and the unique combo of dance and music. There are ancient tunes and rhythm as well as techno music from the latest century. There are also Broadway-style performances. Shows are on at 12 pm and 4 pm.
For those who love roller coasters, then the Suspended Coaster is a must for you. It is also one of Everland's best attractions. This coaster simply fly, twist, spins and curve at a speed of 85 km per hour and runs at a length of 1,013 meters. There is also the Hurricane, which soars 19 meters above ground level while spinning rapidly. Caution: A strong stomach is needed for this ride.
For those who want a slower exploration pace, then check out the museums at Everland. There is the Samsung Transportation Museum, which features a fine collection of first-class cars. Here, you will get to learn about transportation history and technologies. Another museum, the Ho-Am Art Museum, is for the art enthusiast. Within the museum building and its gorgeous grounds are more than twenty thousand collections of paintings and sculptures (including prehistoric metal works, Buddhist arts and ceramics) from famous Korean and foreign artists. Pieces here are from well-known people such as (Koreans) Lee Sang-Bum, Lee Jung-Seop, Park Su-Keuna and Kim Hwan-Ki, and (foreign) Renoir, Picasso, Chagall and Rodin.
Whatever your wimps or fancies may be, Everland has just about everything for anyone. While you are there, do stop by at the many stalls along the way for some charming snacks and ice-cream.

---