Exploring Japan...In San Francisco
---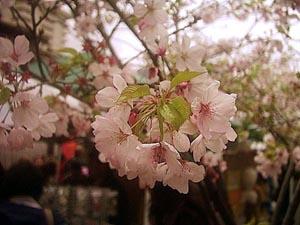 Image ©
2006 Celeste Heiter
Twelve city blocks in the heart of San Francisco are home to a thriving Japanese community. Bounded by Pine, Octavia, O'Farrell and Fillmore Streets, San Francisco's Japantown is the oldest and largest of the three remaining in the U.S., with its two counterparts in San Jose and Los Angeles. Built shortly after the devastating earthquake that destroyed the city of San Francisco on April 18, 1906, Japantown celebrated its centennial in its present location in 2006.
The History of San Francisco's Japantown
Prior to 1906, the Japanese immigrant population in San Francisco were gathered in enclaves in Chinatown, South of Market, South Park, and the Western Addition that is present-day Japantown. Only the Western Addition and South Park, south of Market, survived. Most of the Japanese community relocated to the present-day Western Addition, which was subsidized with a contribution by the Japanese government for $246,000.
In the dark days of World War II, Japantown residents were the subject of much protest for their presence in the U.S. and were ultimately deported or relocated to internment camps. However, after the surrender of Japan to Allied Forces on September 2, 1945, Japanese residents were slowly allowed to return to their lives in the U.S., and in 1952, Asian immigrants were granted the right to become naturalized citizens. Today, nearly 12,000 Japanese Americans live in San Francisco and approximately 80,000 live in the greater Bay Area.
Japantown Today
Present day Japantown, also known as Nihonmachi, is a thriving community of Japanese businesses, shops, churches, schools, restaurants, hotels and other organizations. The Japan Center, completed in 1968, and the Buchanan Mall, completed in 1976, feature dozens of restaurants, sushi bars, and karaoke lounges, shops offering a Japanese art, antiques, kimonos, jewelry, books, gifts, toys, apparel, auto accessories, records, tapes, CDs, and DVDs, spas offering Japanese massage, Japanese food markets, displays of ikebana floral arrangements, a cineplex and the Hotel Miyako. The block-long Buchanan pedestrian mall features flowering plum and cherry trees and cobbled streets lined with Japanese shops and restaurants.
Annual Japantown Events
Throughout the year, Japantown hosts many festivals and cultural events, including workshops, lectures, exhibits. Most notable are those associated with Japanese New Year, the Chashitsu tea ceremony, Ikebana floral arranging, Hina Matsuri celebrating Girls' Day, Tango no Sekku and Kodomo no Hi celebrating Boys' Day and Children's Day, the Bon Odori dance festival honoring departed ancestors, and the largest and liveliest celebration of all Ohanami, the Cherry Blossom Festival.
The Cherry Blossom Festival in San Francisco was first held in 1968 to celebrate the grand opening of the Japan Center, with a parade led by Mayor Joseph Alioto as the Grand Marshall. It has since become an annual tradition, with street vendors selling a tempting array of Japanese festival foods, and kiosks of traditional Japanese wares such as pottery, woodblock prints, textiles and bonsai. The festival takes place over the course of two weekends in mid-April, and features traditions such as Ikebana floral arranging workshops, a dog show, martial arts demonstrations, origami workshops, and bonsai displays. There is also an anime cosplay event. The Ohanami festival concludes with a Grand Parade, held on the last Sunday afternoon.
Planning a Visit to Japantown
The best way to enjoy San Fransisco?s Japantown is with an overnight stay at the Hotel Miyako, which overlooks the Japan Center and the Buchanan pedestrian mall. The 205 guest rooms in the 18-story tower are elegantly appointed in traditional Japanese style, with tokunoma alcoves displaying Japanese artwork, deep tubs for soaking, and sliding shoji screens that reveal stunning city views. Spacious suites are also available in the five-story Garden Annex, which once housed diplomatic visitors to the Japan Consulate.
The Hotel Miyako features a koi pond, a traditional Japanese garden and offers all the finest amenities, including a self-service business center and an on site fitness facility. Convenient and affordable indoor parking, with direct access to the hotel, is available in the Japan Center Garage beneath the hotel, and valet parking also is available.
From November 2006 to Summer 2007, the Miyako Hotel will undergo a multi-million dollar renovation, yet will preserve its traditional Japanese ambiance. The hotel will remain open during the renovation, with 3 floors at a time out of service. Reservations are recommended, especially well in advance of any festivals or events that may take place during your visit.
During your stay, you'll want to explore the many specialty shops in Japantown, browse Kinokuniya Bookstore , enjoy a bowl of noodles or a bento lunch, have a light afternoon snack with a cup of coffe at the kisaten, sample sushi from the floating boats of Isobune, or splurge on an entertaining teppan-yaki dinner at Benihana. Afterwards, maybe a nightcap and a round of song at a karaoke bar. And if you're in the mood to really pamper yourself, a perhaps visit to Kabuki Hot Springs for a soak in the sento and a relaxing massage. Note however, that Tuesdays are the only day of the week when the spa is open to both men and women. The rest of the week, it alternates between the two.
Getting There
By Bus: From Union Square, take the No 38 bus on Geary Street, or the No. 2, 3, or 4 on Sutter and get off at Laguna, Buchanan or Webster Streets.
By Car: From the Bay Bridge or Highway 101 from the south, take the Civic Center/9th Street exit. Go left on the 9th. Stay in one of the two right-hand lanes until you cross Market St. 9th will become Larkin. Stay on Larkin to Geary. Go left on Geary to the Japan Center.
From the Golden Gate Bridge, take the Lombard St. exit, turn right on Webster and continue to Post Street.
Parking: There are two indoor parking garages in the Japan Center. Entrances are on Geary between Laguna and Webster, Fillmore Between Geary and Post, and Post between Webster and Laguna. Both garages are open every day. There also is an outdoor parking lot on Webster between Post and Sutter Streets.
For more information, visit the Japantown website.
---