Favorite Thai Diving Spots
---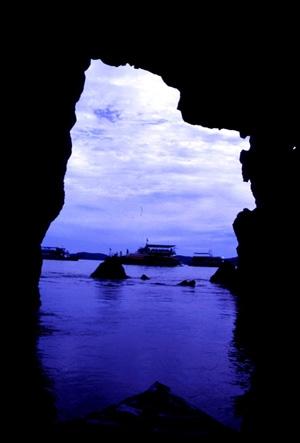 Thailand's popularity as a leading dive destination is given additional credibility by the year round potential of good diving conditions. This situation is created by the Gulf and Andaman bodies of water having opposing seasonal conditions. When waters are murky in Phuket, then Samui is in its peak season and vice versa.
Most divers still head for the Similan Islands' clear blue waters as the true dive experts' number one destination. Live aboards from Phuket cost as little as 18,500 baht for a 4-day trip to the Similan and Surin islands. Phuket Adventure Tours, for instance, offer a price inclusive of onboard aircon accommodation, all meals and soft drinks as well as divemasters' service and shore excursions. There are few dive destinations that offer such value for money.
Koh Lak, being the nearest real jetty point for Similan's trips offers good diving and snorkeling conditions for those not having the time for a full 4 day jaunt. Ko Rang Nok and Koh Phota offer good coral and an abundance of fish near to the mainland. Accommodation at Koh Lak has increased over the last 5 years to be now quite extensive and progressively modern in appearance .This is also the base for the Sea Dragon Dive Company, a European managed operation operating 100 km north of the Phuket competition and perhaps giving better value for money.
The islands further south are still not particularly developed for full diving and places such as Koh Lanta and Turatao still rely on snorkeling as the mainstay for water sports. It would seem though that their days are numbered, especially with the number of new resorts appearing on Lanta Island.
Still on the Andaman side is the up and coming dive destination of Ko Racha Yai where Kiwi Gary Halpin is resident dive expert with island accommodation at Baan Raya to thrill those in search of peace and quiet. Racha Yai is 23 km south of Phuket, just enough to stop the rat race, although a few Patong -based operators appear for daily jaunts. Racha Yai is one of the few places where weather conditions seem to not matter. If the islands windward side has squalls, it's a ten minute walk to the leeward beach for excellent diving. That's for real, as it's also one of the few places where divers simply walk in from the beach! With bungalows starting at bht 1600/nt it's worth the one hour boat trip from Phuket. And, good news- the island now has a telephone box to service its 50 inhabitants.
It's fair to say that most divers would now avoid Phi Phi which has become overrun with day trip snorkellers. However not far away are Krabi's excellent clear waters and there are many, many small islets to choose from for a diver's day outing.
Switching to the Gulf of Thailand, Samui is without doubt the leader of the pack with Ko Tao rapidly becoming the mainstay for serious divers. At last count there were at least 20 dive operators on Ko Tao itself. Although the waters around Samui, Phangan and KoTao are excellent, the big attraction is the Angthong marine Park, a 45 minute boat journey to the North East. With a small reef running from here  past Chumphon and as far north as Bang Saphan, the diving conditions are good and marine life is plentiful. The Sea Canoe and Blue Star Companies out of Chaweng now offer dive/snorkel alternatives for Angthong, some with overnight island camping. Chumphon Cabanas, a delightful mini resort just north of town offers excellent weekend dive trips.
With this reef running that far north excursions from Hua Hin and Bang Saphan are now operating. The northern end of the stretch is not as exciting but it makes a weekend dive trip from Bangkok via Hua Hin an affordable alternative to the eastern Gulf's Koh Chang option, especially when travel time from Bangkok is about the same and no boat crossing is required.
Koh Chang does however have the more longstanding reputation and diving facilities there have been in place for many years. Koh Yuak is the in place for skin diving at the moment. Just remember to go there when Phuket is in low season or you will be disappointed.
At the end of the day if all the above destinations are simply out of reach, one can still fall back on the experts at Larry's Dive, Sukhumvit Soi 22. There starter and refresher courses last 4 days and include pool coaching in Bangkok plus 2 nights in Pattaya with day and night dives - all for a lead in price of bht 12000. If you are an overseas visitor, expect to pay such a fee of under usd 300 for such a course anywhere throughout Thailand. There is the real enticement... value for money diving.
* * * * *
---