Fishy Business In Chucker Street
---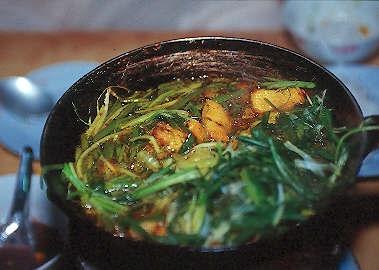 Image ©
2006 Graham Simmons
A fish frying in boiling oil might not be the stuff of gripping story material. But when the fish is no ordinary fish, the oil is a secret concoction that would put Colonel Sanders to shame, and the restaurant has given its name to a whole street, then the story takes on a whole new dimension.
Cha Cá is a difficult name for foreigners to say, given the six distinct tones of the Vietnamese language. The nearest you can get to it in English, in both tone and pronunciation, is the word "chucker". It then becomes easy to remember the name of this street in Hanoi's Old Quarter - and easier still when you learn that Cha Ca means "braised fish".
Cha Cá Là Vong (Cha Ca La Vong) is an unassuming two-storey restaurant about half-way along Chucker Street. Some say that the restaurant is in fact over 200 years old. Others put its age at a mere 130. Whatever the true age, the restaurant has become famous for just one dish (you guessed it - Braised Fish!)
The creation of this dish has been attributed to the Doan family, who for hundreds of years have lived at Number 14 Chucker Street. To draw attention to the restaurant the Doan family erected a statute of La Vong (an old fishermen), with a fishing rod on one hand and a bamboo reel in the other hand - hence the name Cha Ca La Vong.
Today, Ngo Tho Tanh and her daughter Le Bich Loc, direct descendants of the Doan family, are the managers of the Cha Ca restaurant. My dining partner Le Thu Thuy has given the restaurant rave reviews, so I accept her recommendation that this is THE place to eat in Hanoi.
Climbing a rickety wooden staircase, we ascend to the modest dining room, with tables and chairs overlooking Chucker Street. No sooner are we seated than a charcoal-fed brazier is placed on our table, along with eight or so side dishes - including mam tom (fermented shrimp paste mixed with rice wine and lemon juice - definitely an acquired taste, which I didn't have long enough to acquire); a plate of freshly roasted peanuts; curried Anethum (a vegetable); and dishes of chopped fennel, shredded lettuce, cilantro, basil, Vietnamese mint and other herbs.
Then comes the pièce de resistance - the main course itself. A pan containing about one cm of a mixture of ghee and oil is placed onto the brazier, into which is stirred an ample quantity of diced, spiced fish. Using chopsticks, we then add portions of the vegetables and sauces. The whole is then stirred and simmered, until a couple of minutes later, the mixture is served piping hot, with white rice noodles (vermicelli).
"How do you like the mam tom?" asks Thuy.
"It would be OK if I didn't have a sense of smell", I have to reply.
"Then just try this dip instead", she says, pointing to a bowl of lime juice with freshly crackled black pepper.
And the verdict for the meal? Delicious and intriguing, to say the very least. I found that the complex blend of flavours was a little overpowered by the ghee - but then, who am I to criticise a proprietary recipe dating back hundreds of years?
Later - much later - I learn some of the secrets of preparing this dish. The best fish to use is known locally as lang fish, though sturgeon or other white fish can be used as a substitute. The fish has to be carefully prepared before cooking. Galingal and saffron are ground and mixed with water, and then several drops of rice wine and high quality nuoc mam (fish sauce) are added. The diced fish is soaked in this solution for about two hours before cooking.
For most diners, a meal at the Cha Ca is something very special. "I don't eat here every day", says Thuy. "For us Hanoi residents, dining at the Cha Ca is a luxury, something we can only afford maybe once a month." The bill for the two of us comes to 130,000 Vietnamese dong, or about $US10.
Besides the Cha Ca restaurant, every street in Hanoi's old quarter has its own craft specialty. Chucker Street is no exception. Upon leaving the restaurant, we pass a shop displaying nothing but brightly coloured ceramic pigs. Each little piggy wears a grin from ear to ear. For a moment I wonder why, but the solution is obvious - they must have just dined at the Cha Ca La Vong!
* * * * *
Fact File:
Getting There:
Vietnam Airlines flies regularly to Hanoi, via Taipei
Where to Stay: (Country Code for Vietnam is +84, and area code for Hanoi 4):
Hanoi, formerly with a dearth of good accommodations, is now undergoing a hotel boom. A range of hotels, from luxury to budget, is given here, with prices in $A and $US:
Sofitel Metropole, the grand olde hotel of Hanoi, 15 Ngo Quyen St, tel 826 6919, fax 8826 6920, $A400, $US200 single or double.
Daewoo Hotel, Hanoi's first 5-star establishment, 411 rooms; the only member in Vietnam of Leading Hotels of the World, cnr Ngoc Khanh and Lien Giai Streets, tel 834 9467, fax 834 5744.
Hoang Ngoc (Oriental Pearl) Hotel, elegantly furnished, just 14 rooms: a true "boutique" establishment, tel 823 2660, fax 823 2605, $A58-118, $US29-59 (including buffet breakfast), plus 15% taxes (note: they give a 20% discount if you stay a year or longer!).
Camellia Hotel, my favourite hotel in Hanoi, but you won't find it in any of the guide books: excellent and friendly service, 81 Thuoc Bac Street, tel 828 2376, fax 828 2404, $A30, $US15 including breakfast, for clean ensuite rooms with 9-channel satellite TV.
Queen Café and Guest House, 65 Hang Bac Street, a good café very popular with travellers (this can be a plus or a minus), and with very basic rooms attached, tel 826 0860, $A8-30, $US4-15.
Cha Ca Restaurant:
Cha Ca La Vong is at Number 14, Cha Ca Street, in the Old Quarter of Hanoi. For reservations, tel 825 3929.  A new branch (is this the start of a MacViet trend?) opened at 107 Nguyen Truong To Street in 1999 (tel 823 9875)
Must See:
Lake Hoan Kiem, with Ngoc Son Pagoda and Tortoise Tower.
Van Mieu Temple of Literature, built in 1070, and still a potent symbol of the reverence that the Vietnamese attach to scholarship.
Hang Quang Street, a whole avenue of shops selling Buddhist paraphernalia - ceremonial fans and lanterns, ceremonial flags for funerals, etc.
Ly Thuong Kiet Street: "Embassy Row", lined with graceful jacaranda trees.
Hai Ba Trung Temple, in memory of the famous 1st Century Trung sisters.
* * * * *
---