Water Shortage In Cherrapunji
---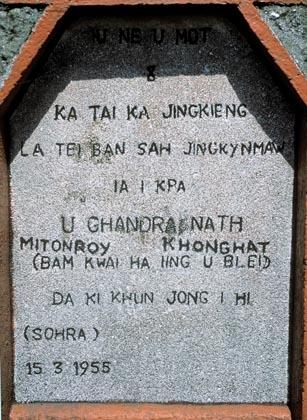 Image ©
2008 Graham Simmons
"Water, water everywhere, but not a drop to drink". For many years, the Indian town of Cherrapunji has (despite rival claims) held the title of wettest place on earth. But incredible as it may sound, the world's wettest town is now suffering from a shortage of drinking water.
The problem is that Cherrapunji lies atop a high limestone plateau. Rain falling on the town drains away immediately, finishing up on the plains of Bangladesh, far below. Very little rain collection takes place, because the locals don't like the taste of water running off rusty tin roofs. With a growth in the town population, water has to be carried up from the plains during the drier winter months – this despite the fact that recent wet-season rainfalls have been some of the heaviest on record (eg 3,893 mm in June 2002).
Denis P. Rayen is a local of Cherrapunji, a former bank manager who has now opened an eco-tourist resort near the rain-town. As he is widely recognised as an authority on Cherrapunji, I set out to pay a visit, and to take in some of the awesome scenery around these parts. I also wanted to ask him about claims that either the nearby settlement of Mawsynram or Hawaii's Mt Waialeale has overtaken Cherrapunji as the world's wettest place.
The road to Cherrapunji starts in Shillong, the capital of the Indian state of Meghalaya and formerly of the whole of Assam (the first capital was actually Cherrapunji, but so many British officers stationed there committed suicide that the capital was shifted to Shillong). Shillong has been named "the Scotland of the East", evidently by a nineteenth Century advertising executive who had never visited Scotland. With its lush pastoral setting, Shillong would not look out of place in Switzerland.
Strangely, this is India but at the same time not India. The people are different; the houses are different, and the climate is different – all so unlike the rest of India that this could easily be a hill-station in the north of Thailand.
Ai Suk Lin is a young Khasi lady, a member of the predominant ethnic group in Meghalaya. "I have no idea where I come from", she says. "Some say that the Khasi are from Cambodia, or Thailand, or the plains of India. But our language has words also found in Tagalog, the national language of the Philippines."
A common cultural tradition of all the tribes of Meghalaya is the matriarchal law of inheritance, by which custody to property and succession of family position runs through the female line, passing from the mother to the youngest daughter. This could easily have been sufficient reason to ask for Ai Suk's hand, had it not already been well and truly gloved.
The Khasi have other distinguishing characteristics, too. Most Khasi are either Presbyterians or Catholics, certainly a departure from the Hinduism of the rest of India. Also distinctive is the Roman alphabet used to write the language. Then there's the unique cuisine, with a huge reliance on pork dishes.
From Shillong, we climb towards Cherrapunji, with a brief stop at nearby Shillong Peak to take in the spectacular city views. Pines cover the hilltops, and the air is as bracing as a southerly buster – but not a cloud is in sight. From the Peak, Shillong seems to have been perfectly located, in a wide, cradling basin.
An obligatory waterfall stop is called for, en route to Cherrapunji. Why "Elephant Falls" is so named is beyond my comprehension, as the falls look nothing like an elephant. They don't even trumpet like an elephant - and I doubt whether they have as good a memory. But this IS the world's top rain venue, so a visit of homage is perhaps worthwhile.
At a roadhouse near the scenic Kharashirong Valley, I meet Mr RC Agarwal, President of the North East Federation of International Trade. "Big things are in store for north-eastern India ," he says. "When the rail link from Tinsukia in Assam to China is completed, there will be no holding back trade between the world's two most populous nations". I couldn't help admiring Mr Agarwal's enthusiasm, but given the crushing torpor of Indian bureaucracy, can't see the rail link happening in the immediate future - or even before next week.
Before reaching Cherrapunji, two more waterfall stops are the order of the day. I get to see the Dainthlen Falls, set in a surreal water-and-rock landscape that in the rainy season must be truly awesome. Then there are the Nokhalikhai Falls, said to be the world's fourth highest – and these falls are impressive enough even during the dry season.
Just out of Cherrapunji, a funeral ceremony is underway, though it has to be said that the gathering looks more like a party than a funeral. The mourners divide into two groups. While the men sit smoking and talking, the ladies in their best finery prepare quids of betel nut to accompany the subsequent feast. Later will follow the Ka Shad Phur dance, a traditional funeral performance.
Finally we reach Cherrapunji, where not even a hint of rain is in sight. In 1850, the British naturalist Joseph Dalton Hooker spent the monsoon months in the town, describing it as "as bleak and inhospitable as can be imagined". Little has changed since those days, except that the town's population has climbed from around 5,000 to over 70,000, due mainly to the availability of jobs at a local cement factory.
In the middle of town, a young lady is drawing a kettleful of water from a communal tap. These taps, installed by the public health engineering department at various street corners, are the only source of drinking water. Those who cannot make it during the 90 minutes every day when water trickles out of the pipes have to walk several kilometres to the natural springs that surround the town. Many women and children spend the better part of the day at this chore, using wooden carts, bicycles and bamboo poles to carry buckets of water back uphill.
At Cherrapunjee Holiday Resort, atop Latkynsew Hill about 10 km from Cherrapunji along the Mawmluk-Mawshamok Road, Manager Denis Rayen explains the strange lack of water in this, the wettest place on earth. "It's due to deforestation", he says, "and also to the appalling laziness of the local authorities. They only turn up for work on market days (every eight days), because that is the only day they know their absence would be spotted. In the meantime, the tanks and water-pipes that are sadly needed just don't get built".
Mr Rayen seems to know what he is talking about. The walls of his office are covered in meteorological charts, and Rayen himself has become something of an expert on the topic of rainfall. He defends Cherrapunji against claims by (among others) the Discovery Channel and Lonely Planet that the nearby village of Mawsynram is in fact wetter than Cherrapunji. "I conducted the group from Discovery Channel myself", he says, "and I can say for a fact that the rain-gauge used by the Public Works Department to measure the rainfall at Mawsynram was incorrectly calibrated."
Other findings seem to vindicate Denis Rayen's claims. Scientists from the University of Krakow in Poland have recently restored Cherrapunji to its rightful place. In fact, rainfall at Cherrapunji seems to be increasing. The average annual total for the 29 year period 1973 to 2001 was 12,054 mm (over 12 metres a year), compared with a 74-year average to 1980 of 11,430 mm. While Mt Waialeale in Hawaii has also recorded over 11 metres of rain a year, statistics are for a limited period only.
I was still scratching my head over all this, when Joy Rayen called us to the dinner table. She had prepared a lavish Khasi-style feast, featuring such dishes as Jadoh (saffron rice with pigs' fat), Dohkleen (pigs' brains with ginger), Dohsniang (pork with onions and vegetables) and Dokha (a hot fish curry), accompanied by the super-hot Pudina chutney, a fiery concoction of small red chillies mixed with crushed mint, garlic and ginger.
I hope these descriptions aren't off-putting. The meal was certainly more delicious than it sounds. And after dinner, there was ample time to explore the scenery around the Resort, including spectacular views over Mawsynram and the plains of Bangladesh. Had there been time, I would have visited the unique living root bridges in the forest near the resort. It is said that one of these bridges, made by training tree-roots across a gorge, can carry up to 50 people at a time.
Darkness had fallen by the time we left Cherrapunji, and the shops were closed. No bottled water was to be had. It would probably have been OK to drink from one of the taps, had they been running. Unfortunately, I wasn't able to wait until 2004, when (so it is claimed) piped water will eventually be available in the town.
I was faced with the prospect of dying of thirst in the wettest place on earth. It seems just too horrible to contemplate!
* * *
Fact File
Getting There:The excellent domestic airline Jet Airways flies from Delhi, Bagdogra and Kolkata (Calcutta) to Guwahati, capital of Assam State. Share taxis (from Guwahati railway station in Paltan Bazar) charge Rs. 125 (about $US 2.50) per person from Guwahati to Shillong, the state capital of Meghalaya.
Meghalaya Tourism Development Corporation Ltd. charges Rs. 125 ($US 2.50) per person for its conducted coach service to Cherrapunji, stopping at major tourist spots. Alternately, ask at your hotel in Shillong about hiring a car with driver.
Accommodation: Shillong: Pinewood Ashok Hotel (European Ward, Shillong, tel: +91 364 223 116) is recommended. Huge Raj-era rooms are accompanied by a plush bar/restaurant, and there are commanding views over Shillong. Tariff: Rs 450 ($US 9) single, Rs 700 ($US 14) double.
Cherrapunji: Cherrapunjee Holiday Resort (+91 3637 64218, http://cherapunjee.com) is highly recommended. Activities available include bushwalks, caving and hang gliding. The Resort is about 70 km from Shillong by road and can be reached by share taxis (Rs. 30 or 65 cents) per person to Cherrapunjee bus station, from where taxis charge Rs. 200 (about $US4) to the resort. Alternately, from Shillong at the Cherrapunjee taxi stand near Bara Bazaar you can get a private taxi straight through to the resort for Rs. 500 to Rs. 600 ($10 to $12).
Further information: Government of India Tourist Office
* * * * *
---