The Saurashtra Experience
---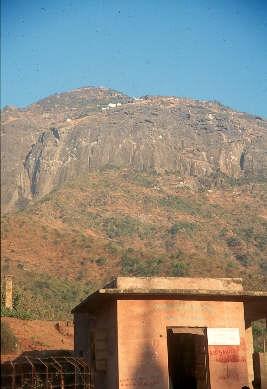 Image ©
2008 Graham Simmons
"Saurashtra? Where's that", you ask.
Saurashtra is in India - but this isn't "brochure India". It's explorer's India - the India of the grit of the earth, of dust, and smells, and the sights and the din of super-vibrant living. They say "you can't take it with you when you die" - but they're wrong! Life experiences are one thing you CAN take with you: and Saurashtra provides a rich roller-coaster of just such experiences.
The Saurashtra or Kathiawar peninsula lies just south of the Gulf of Kachchh (or "Kutch"). The whole peninsula is made up of sheets of lava, making for mega-fertile soil. The Gir Ranges rise to over 600 m, and the forests around Sasan Gir are the lair of the last few remaining Asian lions.
 But strictly speaking, Saurashtra isn't a place at all - it's a series of experiences.
The Saurashtra experience can start from many places, but likely as not the journey will begin in Ahmedabad, the "Sundays-only" capital of Gujarat State. This city, so crowded on weekdays, is infused with an almost ethereal air of devotion, with dozens of exquisite temples, mosques and other places of worship a testimony to peoples' faith. And it's from here that the Girnar Express departs for all points in Saurashtra.
The Girnar Express isn't your average chock-a-block Indian train. Inquiring at the state-of-the-art booking office, I was told there were plenty of both first-class and second-class sleepers available. "Which do you recommend?" I asked. "Second class", replied the booking clerk. "It's just as good as first class, but a quarter the price."
Such candour is rare in India, but the booking clerk's advice proves to be true. Not only is there plenty of room, but the train is also clean and comfortable. Making the acquaintance of my fellow passengers, I feel relaxed and at ease, and settle down for a smooth trip through the candle-lit villages of rural Gujarat.
The first stop of real interest, which you reach in the wee hours of the morning, is Junagadh. This ancient walled city, with its mango orchards, gum-tree lined streets and houses draped with bougainvillea vines, stimulates all the senses at once: you immediately want to find out more.
Junagadh dates from around 200 BC.  One of its principal claims to fame is the famous monumental  rock just  outside the city walls, bearing inscriptions from the Buddhist emperor Ashoka, dating as far back as 273 BC.
Emperor Ashoka is unique in world history. A hero and conqueror in war, he became a disciple of the renowned teacher Upagupta, and laid down his arms once and for all. His reign is still remembered as one of the most enlightened and progressive in history.
The 14 edicts of Ashoka inscribed on the rock are translated into English on a wall plaque. Among the moral edicts are:
 - courtesy to slaves and servants;
 - reverence to elders;
 - gentleness to animals; and
 - liberality to Brahmans.
These sound like universal truths, but rare indeed the country that puts them into practice.
On your way to the Ashoka Rock, you pass the famous Damodar Lake or Pond, at the foot of a temple dedicated to Lord Shiva. Now, here's a mystery worthy of investigation: it is said that any bones placed in this pond invariably dissolve completely. Many chemical analyses of the water have been  done, but so far no explanation has been forthcoming.
Other monuments of renown can also be found in this quarter of the city, situated right at the foot of Girnar Hill. These include the huge Upperkot Fort or Citadel, which you approach through three stone gateways. Within the Fort is the serene Jami Masjid (Friday Mosque), through the arches of which you get a camera-eye view of Girnar Hill, towering over 900 metres above the plains.
Girnar Hill, besides affording spectacular views over Junagadh city, is a renowned Jain pilgrimage destination. If you  have the energy you can walk up the 10,000 steps leading to the top of the Hill, passing throngs of pilgrims, strutting peacocks and numerous rest stations and tea-stalls en route. I can't claim to have completed the trip, but did encounter some exceedingly fat Jain merchant families on their way down - so it is possible!
Dr Prakash Joshi is manager of the ayurvedic herbs factory just out of town. At this factory, over 750 herbal preparations are carefully manufactured in accordance with formulas laid down thousands of years ago. On a tour of the plant, I was shown the old crushing equipment, still in daily use, with which medicinal plants are reduced to powder, made into little pills and given a final polish. There is also an interesting museum, with hundreds of plant specimens in jars, plus samples of red coral, snakeskins,  minerals and so forth.
But it's time to move on. About an hour by bus or train southwest of Junagadh is Veraval, one of the last dhow-building ports on earth. The bus trip is pleasant and scenic, despite (on the day of this particular trip) the efforts of our maniacal, groove-headed driver, who seemed intent on killing or maiming his precious cargo.
On the way, along an attractive tree-bowered country road, we pass Chorwad Road railway station, jumping off point for Chorwad Beach. A billboard advertises the latest movie offering: "Subash Ghai's Khal Nayak, a musical hysteria" - but isn't this a description of ALL Indian movies?
Arriving in Veraval,  I take an auto-rickshaw out to the Harbour, a scene of frenetic activity, where hundreds of dhows are under construction. These massive wooden vessels are constructed completely without the use of nails, and to watch the skilled dhow-builders at work is a lesson in fine craftsmanship. If you have the time to ask around, this could be the place to get a ride to the Gulf: Muscat, Oman or Abu Dhabi.
The original Somnath Temple, just ten minutes from Veraval by auto-rickshaw, is said to have been created by the moon god Somraj. It is even claimed by some to have been on hand to witness the creation of the universe (sorry, I can't verify the accuracy of this claim).  The Temple has since been rebuilt several times, each time in a less valuable material than previously: first out of gold, then silver, then wood and now stone (and next time out of cardboard?). From the Temple grounds, you get a 270 degree panoramic view of the beaches of Veraval.
But for REAL beaches, it's time to visit Diu Island, about another hour by bus down the road. This  ex-Portuguese possession is a gem, a time-warp caught in a vortex. To walk the cobbled streets of Diu Town and take in the sights and atmosphere  of this attractive island is to be as though suddenly teleported to a little island anywhere in the Mediterranean. As yet, the only people who seem to know about Diu are day-tripping business people from Ahmedabad and a handful of French and German backpackers.
Joseph Pereira is the manager of Diu's Sanman Hotel, and also teaches English at a local college.¬He brought his family here from Goa about five years ago, and says he's found his own little piece of "heaven on earth". (He reckons he was sick of stepping on discarded needles when he went swimming at Goa's beaches).¬
Diu's history goes back a long way!¬ It's said that in the era of Satyuga (between two and three million years ago, a time when "the gods walked the earth"), a certain King Jalandar ruled over the island. ¬It's said that he was a bad character, and accordingly was done away with by Lord Vishnu. ¬But eventoday, Diu has a temple in Jalandar's honour.
Some 5000 years ago, Diu was described as "Dev Bhadra", or "fortress of the gods" in the epic Mahabharata. Even nowadays, remains of the old fortifications can still be seen at low tide.
Ever since that time, fortification is what Diu has been all about ¬A series of rulers from distant lands, including the Gulf States, culminated in the Portuguese occupation from the early 1500's right through to 1961.¬ Virtually all these occupants devoted their time to constructing more and more elaborate fortresses to protect the island from invasion.¬ And the Portuguese also devoted a great deal of time to fortifying themselves with the excellent wines of their homeland.
The superb Portuguese fort (Fortem do Mar) at the eastern tip of the island is the most striking reminder of colonial times. It ¬was built on the ruins of another fortress, constructed by the Arab Governor Malekhyaaz ¬around 1400 AD, which in turn was built over a still earlier fort dating back to 700 AD. ¬Within the fortress walls you can see piles of old cannonballs, some of which are used as borders for the garden-beds in the fort's inner compound. Unfortunately, you can't tell which cannonballs have lobbed in and which are waiting to be sent (maybe they should have "in" and "out" trays!) 
Diu has also been called "the city of temples", with no less than 131 old and new temples dedicated to various deities. And that's in addition to the beautiful churches and chapels, mosques and other places of worship. The whole island runs on "Diu time" - this means that nothing much happens before ten a.m., when it's time to start getting ready for siesta. Around 1 or 2 pm, everything shuts until 4 pm. Then all the bars and shops open again, staying open until 10 or 11 at night.
Up on a hill overlooking Diu, the old Church of Saint Francis of Assisi, now a Museum, is brilliantly spotlighted.¬ To get to the entrance, you walk past an avenue of 25 fountains, all different and illuminated in a changing spectrum of colours. The Museum itself has some fascinating exhibits, including statues of saints and the Apostles, relics and gravestones of Portuguese killed in battles, and fragments of an old Jain temple that used to stand on this spot. 
Across the road, loud Portuguese rock music is coming from one of the houses.¬ This is the home of the De Souza family, who have lived here for generations. As another member of the small group of Diuan Catholics (now totalling 127!), they're custodians of the nearby St Paul's Church. On this particular evening, St Paul's is host to a group of visitors.¬The elaborate altar, carved out of a single piece of Burmese teak, is lit up with a hundred and one candles, and the effect is stunning.¬
I walk slowly back through the old town to the Apana Hotel. No, this place isn't like Goa was 30 years¬ ago - it's more like Portuguese Timor was in the early 70s, long before the Indonesian invasion. The atmosphere is lazy, tranquil, and with the secure feeling you get when you know that tomorrow is going to be just the same as yesterday.
If you've got the time, Dwarka,  in SW Saurashtra is also well worth a visit. Dwarka is an important pilgrimage site, said to be the birthplace of Lord Krishna. It's also one of the four sacred sites" of India, as established by the renowned Shankaracharya centuries ago.
Other places of interest include Porbandar, the birthplace of Mahatma Gandhi, and the amazing Shatrunjaya Hill near Palitana, a Jain pilgrimage site near Palitana with over 900 marble temples bedazzling the eyesight. Or you could try your hands at lion-spotting near Sasan Gir. Whatever, just put aside your guide-book and do a bit of exploring!
After a few days or weeks in Saurashtra, you realise that you've only just begun to understand the mysteries of this place, another part of that intricate jigsaw puzzle we call humanity. When you get home, you may well find that more of the pieces of the puzzle are starting to fit than you had ever thought possible.
* * *
Fact File
From Ahmedabad Central Station: the comfortable and uncrowded metre-gauge Girnar Express makes the overnight trip to Veraval, leaving Ahmedabad at 2045.¬ Price with a sleeper is Rupees 132 second class, or Rs 370 first class. The return train leaves Veraval at 1745.
From Veraval, a mini-bus connects to Diu, a trip of about 2 hours.
To Diu direct: The efficient new Indian domestic airline East-West flies from Bombay's domesticairport (about 2 km from the international airport) on Tuesdays, Thursdays and Saturdays.¬ Flight 4S657 leaves Bombay at 1015, arriving Diu 1115, with the return flight to Bombay via Porbandar leaving Diu at 1140 and arriving Bombay at 1420.¬ The one-way fare is Rs 1770.
* * * * *
---