Back to Baucau: Culture Schlock In East Timor
---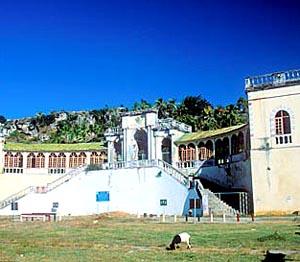 Image ©
2003 Graham Simmons
I was in search of the stuff of reminiscences - of nostalgia, and of memories regained. But my return to Baucau, second city of the newly independent East Timor, provoked mainly bewilderment - a feeling that this is not just a different place but the antithesis of the Baucau of 1973. Following the turmoil of 24 years of Indonesian occupation, Baucau today is a parody of its former self - a city rebuilt but then smashed to pieces, as if to prove that the Indonesian era never really happened.
When the Australian writer Margaret King visited Baucau in 1961, she described her impressions in the book Eden to Paradise. Baucau at that time was yet to awaken from a long Portuguese-induced anaesthesia. However, unlike English colonialists, the Portuguese rarely regarded themselves as "superior" to their subjects, so that Portuguese language and institutions meshed neatly with indigenous value systems.
In January 1973, I arrived in this hilltop town on the weekly TAA (now a part of Qantas) flight from Darwin. Baucau at that time was the very last stop before Australia on the "hippy trail", making Baucau the last place to unload that stash of Mazari or Paki gold-label hashish, Sumatran heads and other soft drugs.
I took refuge at Peter's Place, the cheapest hotel in town. I mean, it doesn't come much cheaper than the free-of-charge concrete floor of a shop, where all that the genial Chinese owner expected was that you would buy one or two bottles of Laurentina beer, imported all the way from Mozambique.
But Baucau at that time really did lay claim to being an impressive city, with a grand Portuguese-style market looking like a Roman forum on stilts, and a new Olympic-sized swimming pool just downhill from the imposing Inn that was home to visiting dignitaries. In the afternoons, I'd walk down to the white-sand beach in the company of Portuguese conscripts, who then regarded Timor as the "crème-de-la-crème" of foreign postings. (The hardest thing was the steep climb back up to the city centre, which lies over 500 metres above sea level).
The Indonesian occupation, which lasted from 1975 to 1999, was the saddest time in East Timor's history. When the renowned English travel writer Norman Lewis visited Baucau in 1991, he described the city as "one of the most disturbing places in the world,... a dishevelled town full of barracks and interrogation centres with high, windowless walls and electrified fences."
Later visitors to Baucau filed similarly distressing reports. John Martinkus, author of the classic A dirty little war, visited the city in 1995 and reported thus:
"At night in Baucau the streets are deserted. The only movement comes from a tightly knit band of police outside their sandbagged post. For Timorese youth to move in the streets after dark is extremely dangerous. If detected, the result is likely arrest, torture and, for some, death"
Patrick Walters, writing in The Australian on 22 Mar 97, said that:
"No visitors in their right mind ever want to stay in Baucau. The town itself is the most vivid testament to the monumental failure of Indonesia's governing strategy in the territory. For the local authorities, the listless, disconsolate young men who gather on Baucau's streets are a social time bomb waiting to go off."
The time bomb went off in 1999. In May, local youths rebelled against Indonesian rule, with vicious police reprisals. The, following the announcement of the overwhelming "yes" vote for independence in early September, the pro-Indonesia militia went on a wild rampage. The best efforts of the extraordinary Bishop of Baucau, Monsignor Basilio do Nascimento, who until that time had somehow managed to pacify the local Saka militia, were as nought. By the end of September, Alan Matthews, who headed the British Government's emergency logistics team, said of Baucau that: "It is the first place that I've seen that is almost totally destroyed. Hardly any buildings are untouched. There is no power and no water."
So it was with a little trepidation that I ventured to return to Baucau in mid-June 2002. The coastal trip from the capital Dili to Timor's second city, Baucau, provides some extraordinary glimpses of the heady mix that is East Timor today - a mix of devastated infrastructure and upbeat attitude, which expresses itself in some of the most vibrant street art to be found anywhere.
The now-paved coastal road from Dili to Baucau is a sheer delight to drive, with spectacular ocean views along the whole route. At the kind invitation of a young Brazilian lady on a motorbike, I joined a convoy of NGOs' cars heading for "Dollar Beach" near the village of Metinaro, 38 km from Dili. The name refers to earlier UN days, when you could have the whole beach to yourself for the day upon payment of a dollar to the local community.
But now, in the new East Timor, anyone is free to swim in the crystal-clear waters of "Dollar Beach", or snorkel among the soft corals that lie just offshore. This beach is a resource just waiting to be over-exploited. Hopefully, sound ecotourism guidelines now being put in place by the new government will ensure that development is low-key, low-rise, and low-impact.
A rugged, twisting road (real hang-glider territory) leads to the jumble of tin-roofed shacks that announces the outskirts of the town of Manatuto. In the town centre, fine wall paintings decorate the walls of one of the few remaining civic buildings. A Timorese warrior bearing the flag of the newly independent nation rides on a crocodile, a traditional folk emblem. Along the waterfront, poincianas and bougainvilleas draping over the rubble of destroyed office buildings are among the few things in town to have survived the destruction of 1999. Just one building, a government office complex, is being rebuilt.
But the town market is booming. Among other things that you can buy here are the famous Vermasse-style pots, a super-durable form of pottery made by mixing clay with sea sand. The restaurants of Manatuto are crowded, too. Restauran Esperança serves up a fine meal of grilled sardines, vegetables and rice for just $US3.
Around Manatuto, the countryside is hugely fertile. Buffaloes wallow in the rice paddies that line the roadside. But then the countryside changes again. A ruined bridge, all that remains of the old Baucau-Dili "road", crosses the Vermasse River. Back in 1973, this road had been little more than a rutted goat track. On the back of a clapped-out truck, it took me over eight hours to reach Dili, along dry riverbeds and along roads so corrugated they could have been used to pack beer.
The village of Laleia has both a unique "Church-in-a cave" and a fine cathedral, built by the Portuguese way back in 1933. This is a town with attitude, as if defying death itself. In the town centre, the East Timor flag rises above a map of Timor resting on a bed of skulls. From the carnage, life has re-arisen.
Finally, Baucau beckons. A giant banyan tree at the town entrance signals an extensive open-air market. Sadly, much of the old town that I remembered from the 70s is in ruins Ransacked buildings include the fine old Portuguese-style Mercado Municipal (municipal market), and nearly all the office buildings. But rebuilding is proceeding apace, with a huge influx of aid from Thailand. The Cathedral of St Antonio, consecrated in 1997, stands untouched. One brand-new building, the municipal administrative office, proudly sports its name in Portuguese, which is now once again the official language of the country.
This time, I was able to drive right down to the beach, a fine sand-fringed lagoon where colourful fishing boats ride at anchor. The road is a legacy of Indonesian rule, though one suspects that it was built to facilitate closer surveillance of the locals. By the beach, the da Silva family are at work, cleaning fish and mending nets, all accompanied by much friendly banter.
A number of things have improved in Baucau. The old Inn, which later became the notorious Hotel Flamboyan (used as a torture centre by the Indonesian army), has been converted into the lavish Pousada de Baucau, just opened in March 2002. The building was inaugurated by the Bishop of Baucau, almost as a symbol of a return to Portuguese traditions - but this time as a voluntary choice, rather than an imposition.
In the end, "Back to Baucau" was much more than just a trip down memory highway. I got the feeling that I wasn't just revisiting old memories, but was witness to something very profound. If heroism is the stuff from which legends are born, then East Timor is a brand new legend in the making.
* * * * *
Fact File
Getting There:
Merpati Airlines flies ten times a week from Denpasar (Bali) to Dili. Air North flies 2-3 times a day from Darwin to Dili. With Air North, you can save up to 50% with 14-day advance purchase.
Where to Stay:
Dili: There are basically three types of hotels: The old standards such as Hotel Turismo (tel +61 408 081 326) and Hotel Dili (tel +670 390 313 958, fax +670 390 313 081), are now a little run-down. However, with the ongoing departure of the UN, rooms can now be had from around $US25.
Budget hotels. One recommended establishment is Hotel Purple Cow, on Pasir Putih Road (Meti'aut Beach). Rooms are a little spartan, but fully air-conditioned, and there is a great bar and restaurant on the premises. Rooms $US15 per night. Tel +61 409 502 798.
There are a couple of newer hotels catering to business and government visitors, with international-standard rooms from $US50-80. Try the Hotel Audian, tel +670 390 323 080, E-mail enquiries@hotelaudian.com. The main drawback is that these hotels are a long way from the waterfront and the city centre.
Manatuto: On the outskirts of town, the Copa Hotel provides meals and basic lodgings.
Baucau: Pousada de Baucau, a plush establishment, runs to $US49 per room per night. Call +61 418 176 003 and leave message - or just turn up (it's a huge hotel, usually with plenty of vacant rooms).
Suggested itinerary:

Use the Pousada de Baucau as a base for exploring the east of the country, including the unique houses of Lospalos and the fine beaches of Jaco Island
Where to Eat:
Manatuto: Restauran Esperança serves an excellent menu of Portuguese-Chinese at very reasonable prices.
Baucau: Coming from Manatuto, Rumah Makan Apetitiso is a pleasant family-run establishment on a hill overlooking town.
Car Hire:

It is best to stick with a reliable operator such as Thrifty Car Rental (near the waterfront in Dili, tel +61 419 61 9911, fax +670 390 321 078), from where reliable vehicles can be hired from $US35 a day.
* * * * *
---