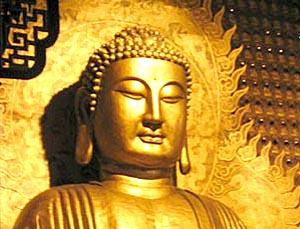 Image ©
2003 Dawn Stanton
Never mind the image of the Buddhist monastery high atop the mountain, beyond the reach and understanding of ordinary men and women. The monks and nuns at Fokuangshan Monastery in Kaohsiung, Taiwan, promote humanistic Buddhism, which focuses on applying Buddhist precepts to everyday life. They welcome outsiders into their monastery.
The night I visited Fokuangshan Monastery, over 2,000 Buddhist followers (laypeople) were attending a ceremony to renew their vows as Buddhists. The devoted wore plain black robes and filled the lawn outside the main shrine. They chanted as one, promising their devotion to remain Buddhist and specifically, vegetarian. When that ceremony ended, a select number of devotees entered the main shrine for another kind of ceremony. Inside the main shrine, 14,800 Sakyamuni Buddhas line the walls, and three large Buddha statues-Sakyamuni, Amitabha, and Bhaisajya-guru-stand front and center. For this ceremony, devotees burn three cones of incense on the inside of the arm, near the crook of the elbow. The practice leaves three permanent patches of white, scarred skin. Before the ceremony, one devotee pushed up her sleeve to proudly show me a line of round scars covering much of her arm. Tonight would be at least her fourth or fifth time.
This opportunity for a layperson to show devotion to the precepts of Buddhism was what Venerable Master Hsing Yun had in mind when he established Fokuangshan Monastery in in 1967, as part of the Lin-chi (Rinzai) school of Buddhism. Fokuangshan now serves as headquarters to a sect with branches on every major continent-Sao Paulo to San Fransciso, Bangkok to Berlin-and is the largest monastery in Taiwan.
In 1997, the monastery closed its doors to the public, but in keeping with Hsing Yun's ideal of humanism, began to allow outsiders to enter again in 2000. The monastery now hosts various retreats for Buddhist and non-Buddhist alike, and offers discounted accommodations to travelers willing to volunteer in some capacity. Currently they need volunteers in gardening, to work in the main kitchen, and for environmental upkeep. Usually for foreigners the volunteer is expected to work half a day, and the other half, he or she can do own reading, writing or practice. The volunteers stay in a dormitory of about eight persons, and meals at the Main Dining or Pilgrim Lodge are included. Meals at the Tea House are at the volunteer's own expense.
My first night there, we were served a delicious, specially prepared vegetarian meals since we were considered guests of the monastery. Our guides, nuns Man Ho and Miao Lung, explained that the usual fare in the Main Dining is much simpler. In humanistic Buddhism, even eating a simple meal offers an opportunity to practice Buddhist concepts. Eating entails a contemplation of the meal, a contemplation of one's own virtues and faults in relation to the meal (am I deserving? am I too greedy?), and finally, realization that the meal, because it gives strength, is part of one's spiritual cultivation.
When I returned to my room after dinner, I realized how weary I felt and quickly dropped off to sleep. The next morning, I awoke to the sound of rain, not the chanting I had expected. The nuns led us to a small meditation room and introduced us to an Austrian monk who would be our meditation instructor. He led us into a small (space for 6-8 people) meditation room.
Before the actual meditation practice, the monk explained that part of the purpose of meditation is to help us clear desires from our mind. He explained that with anything you might desire, "Before you have it, you're not happy because you don't have it. When you have it, it's never as nice as you thought. Also, you must maintain it. If you do not maintain it-whether it is a relationship or anything else-you will lose it. Then you are unhappy because you've lost it. So when you want something, whatever you want-before you have it, while you have it, after you have it-you are never one hundred percent happy."
He continued by offering us an example from his former life. "In Austria, whenever you go around a corner, you find a coffee shop with beautiful, lovely cakes. Whenever you go, it's easy to get cakes. I never realized how easy it was. When I came here, at first my desire for cakes was very strong. Sometimes here [in the monastery] we get cakes, but there are three or four thousand people here, and the cakes sometimes don't last. The guy before me, he gets the last cake. And I think, 'Why? Why not me? He probably doesn't even like the cake. I like it. I need it.'"
That, he says, is the problem of desire. But without the desire? He says, "Now, if I have the cake, I enjoy it. But if I don't have it, now I don't suffer."
That lesson finished, he instructs us each to sit on a flat cushion, and the meditation instructor through an exercise to focus on our breathing. Eyes stay open but unfocused as one draws breath consciously in... and out. In. And out. Inhale. Exhale. The room itself momentarily drifts into the background of consciousness. I even forget all about the chocolate cakes.
Our next sample of meditation involved sutra calligraphy (cao jing); that is, copying or tracing Buddhist sayings (in Chinese characters) onto paper. After dipping the brush in ink, you must hold the brush perpendicular to the paper, and keeping the wrist still, work the fingers to copy the brush strokes one by one. It's not easy: Too much ink soaks into the paper, blotting it into a mess, and too little leaves the brush dry before the stroke is completed. Practice without overanalyzing seems to be the key. Like traditional meditation, or dancing, or playing music, you can find yourself completely relaxed, in your body, in the present.
Fokuangshan Monastery offers these and other types of meditation retreats available to the public throughout the year. A traditional mediation retreat is hosted 3-4 times a year and you can also arrange an individual one session or one weekend retreat by contacting the monastery. The seven-day Amitabha Chanting Retreat is offered the first week of each month; the Sutra Calligraphy meditation can be done by individuals at any time the calligraphy hall is open. Other retreats include the Eight-Precept Retreat and a short-term monastic program offered several times a year. Other activities include "offering light at the shrine," wherein a donation buys you a light beneath one of the 14,800 Buddhas in the main shrine; striking the "vow bell," wherein visitors can strike the bell at the Ksitigarabha Bodhisattva Shrine to ask for Buddha's blessings; and a special program called "The Three Steps and One Bow Pilgrimage" held during the Chinese New Year.
Applications for these retreats can be found on the Fokuangshan Monastery Web site, as well as links to branch monasteries and publications: http://www.foguangshan.org/.
* * * * *
---