French Village in Malaysia
---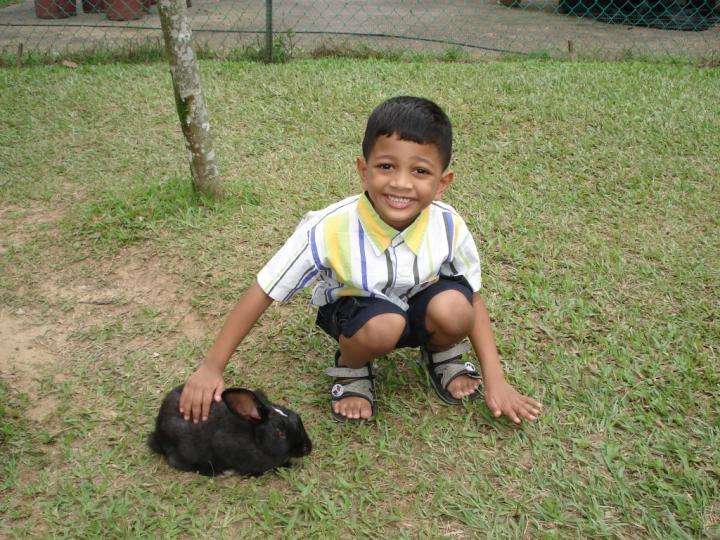 Near Bentong, Pahang, off the Karak Highway, there is a highland called Bukit Tinggi. Located just about 40 minutes from Kuala Lumpur, Bukit Tinggi houses a resort which is a replica of a collection of buildings from a 16th century northeastern village in France. If you are like me who has never been to France, this picturesque village would make you feel as if you are in Europe, of course with much less costs.
The resort – called Colmar Tropicale – is surrounded by luxuriant tropical forest and is made up of eight blocks, each with its own unique design from its colourful roof tiles to cobblestone ground. We stayed in a two bedroom apartment. It had a kitchen, dining area and living area on the ground floor and the bedrooms were situated on the upper level. The place was so spacious that more than four adults could have stayed comfortably. There are eight choices of dining outlets serving various specialties. Haute French cuisine is served at La Cigogne; a hodge podge of culinary delights at Le Cafe Coffee House; exotic cocktails and assorted beverages at the Le Blason Lounge; cool refreshments and snacks at Les-Bains-Douches Poolside; home made pastries at La Flamme Sidewalk Deli; sandwiches and various blends of coffee at La Terrace; mouthwatering ice-cream at Le Glacier Ice-Cream Corner; or tuck into a hearty meal at Le Poulet Roti Roast Chicken.

At the heart of Colmar Tropicale is the Colmar Square, a cobblestone central courtyard where one can enjoy outdoor dining and street performances. The place is beautifully lit up at night for Christmas and New Year celebrations. There are fountains and park benches to sit and relax, enjoy the beauty of nature. The drawbridge reminiscent of ancient castles, clock tower with an original cuckoo bird clock, and the viewing tower complements the ambience. The pond surrounding the castle also has swans. There are also various activities to keep you and your children occupied such as pottery painting, video game room, gym and candle and soap-making demonstrations.
While staying here too, make sure you visit the Rabbit Park where you can see and also touch and cuddle the rabbits. My children enjoyed playing with the rabbits so much they refused to leave! We then went to the deer sanctuary followed by the children taking the donkey rides.
Besides seeing the animals, we also visited the Japanese Village and Botanical Garden. The Japanese garden was apparently planned and designed by renowned Japanese architect Kaio Ariizumi-San and built by a team of 22 skilled Japanese craftsmen. Following a windy footpath, we arrived at a bridge over a koi pond. Then we walk further to a beautiful garden where a Japanese tea house is situated. You can sit and rest and take photographs of the nature wonderland.
The Botanical Garden is also a delightful place to visit, especially for someone who loves the flora and fauna. One can take a long walk in the garden surrounded by tall trees and exquisite flowering plants and ferns.
All in all, the Bukit Tinggi trip was a chance for us to get reconnected to nature. A lovely place to stay and interesting activities for the whole family. Information regarding the place can be found on http://www.berjayahills.com/index.php
---