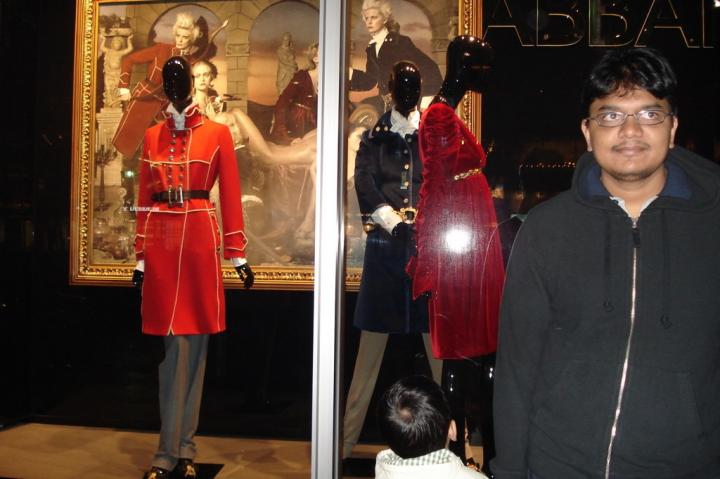 Harajuku refers to the area around Tokyo's Harajuku Station, one station north of Shibuya on the Yamanote Line. The area is actually in between Shinjuku and Shibuya. The area has two main shopping streets – Omotesando and Takeshita-dori.
Takeshita-dori is a narrow street opposite the Harajuku Station, which in fact is also the central point of Harajuku's teenage culture. The street is lined up with many trendy shops selling teenage clothings and accessories, adult clothes too, fast food and snacks. This place is always crowded, especially after school, with teenagers hanging out together in fast food outlets and clothes shops. There's also a Daiso Harajuku 100 Yen Shop here. It's a five-storey building with a wide range of products which include kitchen items, decorative items, souvenirs, clothes, stationery and electronic gadgets. I love shopping here for souvenirs – they sell Japanese dolls made of papier mache that many of my friends at home find attractive. They also have a large array of plastic containers, from big to small, rectangular, square, round, comes in various sizes. I found them useful since they were cheap and I could use them to store food during my six-months stay in Tokyo.
Omotesando is a broad, tree-lined avenue leading downhill from the Harajuku Station. Both sides of the street are lined up with boutiques, cafes and salons. Louis Vuitton, Chanel, Dunhill, Prada and Jimmy Choo are among the few top brands found here. It also houses the Omotesando Hills, a huge shopping complex which was opened in February 2006. This mall has further enhanced Harajuku as a fashion and shopping haven of Tokyo.
Along this road, you will also find the Oriental Bazaar which has a Chinese gate-like entrance. This place offers four floors of the city's largest souvenir and crafts store, selling gift items such as cotton yukata, kimono, paper products, fans, chopsticks, Japanese dolls, prints and more. I purchased two pieces of cloth with beautiful prints of Japanese women in kimono, which I have framed and now hang on my wall back home in Petaling Jaya. 
There are places for the children in Harajuku too. There's a shop called Snoopy Town directly opposite the Harajuku Station, which sells everything and anything to do with Snoopy. Another big toy store in the area is Kiddy Land, which is a six-storey wonderland filled with all sorts of toys, perfect place to get gifts for the kids for Christmas.
So, if you happen to be in Tokyo, don't miss out strolling in Harajuku to get a feel of the atmosphere here and do some shopping too.  
---