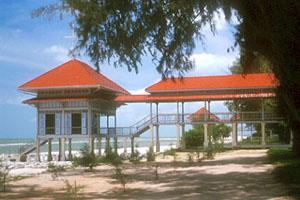 Royalty and commoners enjoy the seaside ambience of Hua Hin, on the Gulf of Thailand not far south of Bangkok.
Tackiness and pollution have taken their toll... but the now-notorious Pattaya was just a deserted strip of sand way back when the royal family and the elite of 1920s Bangkok discovered Hua Hin. Thailand's original resort, the Hua Hin Railway Hotel, welcomed carriage loads of guests arriving on the new railway which ran south to British Malaya.
Royals and commoners alike continue to make the journey from the capital, joined by a swelling contingent of falang who appreciate the difference from better-known resort towns.
Hua Hin lies 232 kilometres (139 miles) south of Bangkok in Prachuab Khiri Khan Province - less than four hours by road or rail from the Big Mango.
At first pass Hua Hin seems a microcosm of modern Thailand: another fair-sized, dusty Thai town boasting several ugly wedding-cake waterfront towers and a scattering of tourist bars. Three-wheeled samlors and tuk-tuks whine past dilapidated teakwood shophouses, clusters of dried-squid stalls on street corners and the many tacky, bathroom-tiled 'Asian moderne' concrete boxes. Let's make for the beach...
The beaches, periodically scoured of touts and litter, are equipped with lounge chairs and umbrellas, and vendors bearing steamed crabs, mussels and beer.
Pony rides are on hand, for the children. Before breakfast you can watch the orange and blue striped fishing trawlers nose into the main pier, then disgorge their catch in buckets full.
Golfers enjoy a wide choice of diversions here. In 1932 Rama VII was playing golf at the Royal Hua Hin, Thailand's oldest 18-hole layout, when he received the news of the country's first military coup. Springfield, a Jack Nicklaus design, Majestic Creek, Lake View, Palm Hills, and Milford, join many others on the way in from Bangkok.
Away from the waterfront, Hua Hin's timber-panelled railway station, with its charming, filigreed royal retiring room standing alone on the platform, looks a treat in the golden light of late afternoon. Time to head back to the waterfront, where the seafood served in the open-air restaurants next to Tha Thiap Reua Pramong, the big fishing pier, has to be as good as any. Cotton fish, perch, mussels, crab and the ubiquitous squid can be recommended. After dark, the action moves to the bustling night market flogging bootleg watches, cassette tapes and designer tee-shirts. Many night-market vendors also set out mouth-watering treats to sizzle on their charcoal grills.
Right on the beachfront in the heart of town, the 1923-vintage Hotel Sofitel Central - formerly the Railway, and which some may recognise as the Hotel Le Phnom in The Killing Fields - commands fifteen hectares of landscaped greenery, including a topiary garden of intricate animal shaped bushes, a giant chess set, an orchid and butterfly farm, two putting greens and a croquet lawn. Renovations in 1986 took the hotel back to its Edwardian past, richly decorated with cut-glass chandeliers, antique teakwood verandahs and cool marble floors.
Chiva-Som, a luxurious spa resort, also helps place Hua Hin on the international tourism map. At this 'Haven of Life' the staff blend eastern and western health philosophies with planned nutrition (wine only at dinner-time!), aerobics, massage and hydrotherapy. My sybaritic spies, posing as ladies of leisure, found it all a little bit over the top; if you question the cost, you can't afford it.
Ratchaniwet Marukkha Thayawan, the Palace of Love and Hope, was built on the coast between Cha-am and Hua Hin for King Vajiravudh, Rama VI, who reigned 1910-1925). The monarch hoped to father an heir in this breezy pleasure pavilion where sea breezes waft through fretworked golden teak, but he seems to have made little use of his love nest. It is enclosed within a military reservation but open to the public. In 1928 his successor Rama VII built Klai Kangwon, another Hua Hin palace which is still in use.
The small town of Cha-am, 25 kilometres down the road, is blessed with a long casuarina-fringed beach and an even quieter atmosphere. Resorts are springing up between the two towns and the most spectacular of these is the Dusit Resort & Polo Club. Faced with competing against the cachet of the Sofitel Central Hua Hin, the designers of this property created something quite distinctive. When the lights come on at dusk the cascading pools tumbling down towards the beach are spectacular. The Thai Royal Family dines here on occasion - need one say more?
On the way back to Bangkok is the city of Petchburi, where the steep limestone pinnacle of Phra Nakhon Khiri, the Holy City Hill, commands the hot, steamy lowlands. King Mongkut, Rama IV, built himself a retreat up here in the mid-19th century, creating a beguiling mix of Thai stupas, Chinese screens and the framed prints of Napoleonic battles which encapsulates his Kingdom's historic relationships with the outside world.
Alone among their less adept neighbours, the astute kings of 19th-century Siam (as it then was) kept one step ahead of the great colonizing powers, adopting western technology and ideas whilst maintaining their country's cultural integrity. A cable car provides an easy ascent out of reach of the marauding monkeys for which cameras, necklaces and snacks are easy targets - the staff carry slingshots to keep these shameless thieves in check!
Thai Song Dam people, an ethnic minority whose forbears emigrated from the Dien Bien Phu region of northern Vietnam two centuries ago, have settled in a village outside Petchburi.
The village's 3000 people still preserve their telltale preference for sticky rice and their skills in dyeing homespun cotton with natural indigo (although one learns that chemical dyes must often substitute for the time-consuming business of collecting and treating the bark of the indigo tree).
Also in the Petchburi district is Kaeng Krachan National Park, Thailand's largest forest reserve yet one of the least visited. There are virtually no amenities but abundant vistas, thick rainforest, long distance hiking trails and rivers suitable for rafting. Residents include, reportedly, the rare Sumatran rhinoceros among less endangered species like elephants, serow, the giant hornbill and gibbon.
* * * * *
Fact File
IDD code is +66 32.
Frequent bus and train services available from Butterworth via Hua Hin to Bangkok. Train service information at http://www.srt.motc.go.th/httpEng/
Hua Hin Guide http://www.huahinguide.com/
Thai Tourism's guide to Prachuab Khiri Khan Province http://www.tat.or.th/province/central/pachuap/index.htm
Huan Hing Golf Tours http://www.huahingolf.com/
Chiva-Som International Health Resort, tel 536536, fax 511154 http://www.chivasom.net/
Hotel Sofitel Central Hua Hin, Damnoen Kasem Road, tel 512021/40 (237 0974 in Bangkok) http://asiatravel.com/sofitelcentral/
Dusit Resort & Polo Club, Cha-am, tel 520009, fax 520296 http://www.dusit.com/Dusit/dpc/index.html
Lonely Planet's Thailand guidebook includes a glossary of Thai terms for ordering seafood.
Tourism Authority of Thailand on the Web at http://www.tat.or.th
* * * * *
---