Jungle Vines and Khmer Finds
---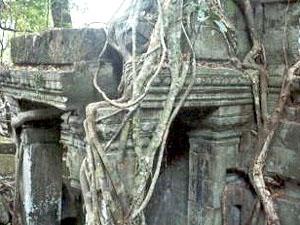 Image ©
2001 Donald Gilliland
It may not be on the same scale as traipsing through the legendary cinematic "Temple of Doom," but for would-be Indian Jones adventure seekers, the thrill of visiting ancient Khmer temple ruins in rural Cambodia is an intoxicating experience in its own right.
For hundreds of years many of these magnificent temples lay abandoned and forgotten, left to the forces of nature to do with them as they pleased. Thus, a plethora of trees, roots, bushes and vines have made these old temples their new home, supplanting laughing children and hard-working villagers as the tenants. Climbing and darting about the grounds with unrestrained abandon, the jungle invaders gradually encroached on the sacred Khmer architecture, and in some case swallowed the buildings whole.
One of the most popular temples within the main Angkor circuit is Ta Prohm. Its popularity can be attributed to the temple's shaggy, unkempt condition and jungle-like setting. Walking around the grounds of the large complex is a wondrous experience. It's very atmospheric. Many a tourist has gone photo-crazy as they snap away at the legions of trees - especially the roots and limbs - that have attached themselves to the inside and outside of the crumbling temple walls.
In recent years, other similar "jungle temples" have been rediscovered, refurbished, de-mined (the presence of landmines, of course, being a natural condition, courtesy of the infamous Khmer Rouge) and opened for the flocks of tourists now invading Angkor to admire. Not all of these temples, however, are crawling with cell phone toting tour groups. Some of them, mainly due to their remote location and the lack of restoration funds, have been left relatively untouched. Except for minesweepers having come in to make the area safer for exploration, these more obscure jungle temples still lay dormant in their "natural" disheveled state.
Ta Prohm sees hundreds of tourists each day, so it doesn't exactly qualify as one of those obscure treasures. To see one of those rougher jungle temples you have to flee the hordes of tourists milling around Angkor and drive a further outside of Siem Reap. To say that these temples are off the beaten track is a bit of an understatement. The roads leading to them are usually very bad and there aren't any large signs or billboards heralding their location. Heading east, past the cozy confines of Angkor, you'll find two places - Beng Mealea and Chao Srei Vibol - that qualify as adventurous temple treks. Of the two, Beng Mealea is by far the most awesome sight, and worth the extra effort - both in time and in energy - that it takes to get there. For either temple, plan on multi-hour bumpy rides down dusty pothole-laden dirt roads. But that's not necessarily a bad thing, for the mesmerizing scenery getting to and from these rural sites proves to be part of the adventure's appeal.
Yearning for a long distance temple trek, I asked my regular Siem Reap moto driver to take me out to Beng Mealea. Happily, he knew what I was talking about and readily agreed to the trip, even suggesting an early morning departure time in order to take advantage of better lighting conditions for photography. The 40-kilometer drive took about three hours one way. We broke up the journey by stopping at the small but exquisite Banteay Srei temple to mingle with other tourists among the beautiful pink sandstone carvings. Sadly, the authorities have roped off the most impressive of the specimens so that now you almost need binoculars to look at them. The rest of the route out to Beng Mealea followed a series of rural dirt roads, some of which were in surprisingly good condition. Still, it was quite a challenge trying to balance my butt on the back of the tiny motorbike seat and attempt not to inhale the lethal doses of red dust that blanketed us. Yes, my shirt used to be white.
Before we were allowed to enter Beng Mealea, my moto driver and I had to stop at the local police station ("conveniently" located near the entrance to Beng Mealea - so there is no avoiding it) and declare our presence. I paid the requested five dollars admission fee (this amount seems to be negotiable; other tourists have reported paying even higher amounts) to an officer, who then escorted us to the temple site. In fact, this armed officer stayed with me for the whole duration of my tour of Beng Mealea. Another man, who appointed himself as my guide, and several curious local children, completed the tour party. It turned out that having this self-appointed guide was a good thing: Beng Mealea is one hard to navigate, sprawling mess of a ruin. But a fascinating mess it is.
The appeal of Beng Mealea lies both in its decaying unrestored state and the considerable size of the complex. Beng Mealea is an 11th- century temple that was nearly as large in size as Angkor Wat. In fact, both temples were built during the rule of King Surayavarman II. Due to Beng Mealea's isolated location, there hasn't yet been much in the way of restoration efforts done to the site, save for de-mining and an improved dirt road leading to the entrance. The ruins lie in the same neglected state as they did hundreds of years ago; vines and trees pop up in the unlikeliest of places and large stones and pillars block the way through various passages and what were probably corridors of some sort. Navigating the temple requires physical dexterity and sure footing. There are no true paths and the rocks are slippery and not very stable. Neither are there any handy steps or railings to guide you through the complex like there is at Angkor Wat. You'll do a lot of ducking, twisting, leaping and shimmying. If nothing else, meandering around Beng Mealea will give you a good workout!
Tall trees provide a shady canopy for the entire complex and also add to the mysterious and murky jungle vibe. Throughout the temple grounds there are an assortment of broken carvings and fractured pieces of the temple interspersed with the thick jungle vegetation. Lintels, balustrades and doorways are decorated with carvings of apsaras, lotus buds and nagas. Two large buildings, thought to have been libraries, stand predominately at opposite ends of the complex. A small royal pool, called Srah Keo, sat neglected in the shade, with lovely green water lilies floating on its surface. Tall gray pockmarked columns are positioned at various doorways around the complex, entrances to what must have been very grand buildings in their time.
The only real negative to my visit was the fast pace of the tour. I felt like the man who was guiding me through the ruins was unnecessarily rushing through the process, perhaps giving me the "quickie" version of the tour. I finally resorted to stopping for extended periods and making the guide wait while I gazed at carvings or snapped photos. Nevertheless, the experience was amazing. I can honestly say that a visit to Beng Mealea is well worth going out of the way for. Aside from a smattering of local Cambodians, some of whom held a picnic on the grounds, I was the only tourist around. At the end of the tour, my "guide" requested a few dollars for having shown me round the place. I hesitated only briefly, remembering that the police office with the gun was nearby, but also realizing that without this man's presence I might have gotten lost - or injured - trying to traverse the confusing maze of damaged architecture.
I'll be back to Beng Mealea again, but next time with more film and more time to explore the ruins at my own pace.
* * * * *
---