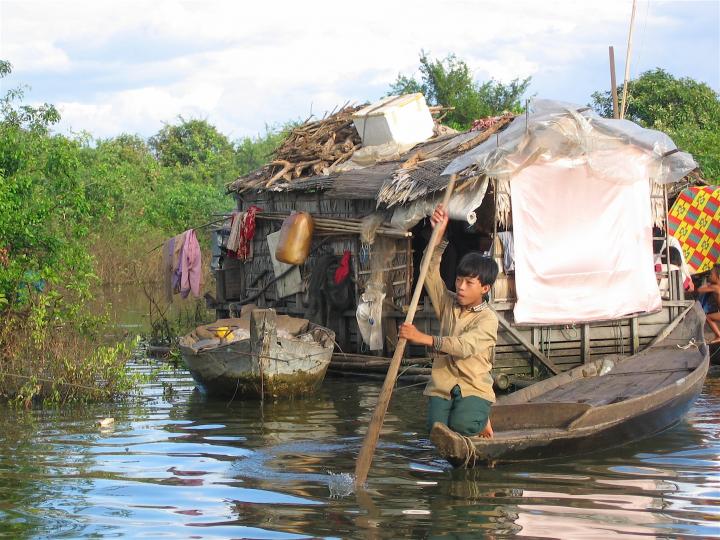 Image ©
2008 MaryLou Driedger
              Listen to your heart.  Visiting Siem Reap, Cambodia was a heart breaking experience. Near the city are a hundred ancient temples built between 1100 and 1300. Lost to the world for centuries these magnificent structures stood hidden in the Cambodian jungle until they were discovered by a French explorer in the 1800's. Today they draw thousands of tourists to Siem Reap to marvel at the genius, creativity and intelligence of a civilization so advanced that it had the ability to erect such masterpieces. These amazing structures serve as a testament to the passion and skill of Cambodia's ancient artists, the devotion and scholarly expertise of its religious leaders and the peace and prosperity of its community life.
               In stark contrast to these breathtakingly beautiful reminders of Cambodia's glorious past is the stark reality of its tragic present. Cambodia has the highest illiteracy rate in the world. Virtually every teacher in the country was murdered by Pol Phot in the 1970's. Rebuilding the educational system just began in the late 1990's when some semblance of political stability returned to Cambodia.  Families are so poor that 80% of children have no time to go to school. We saw school age children working in the fields and selling goods to tourists. Many also serve the tourists as prostitutes. Lax laws and corrupt government officials have made it possible for Cambodia to become a haven for foreign pedophiles. At least five children a day are reported missing in Siem Reap, and are believed to have been kidnapped to work in brothels. Many families in desperate need of money sell their young sons and daughters into prostitution.
          I listened to a lecture given by a Swiss doctor who runs two large charity hospitals in Cambodia. He informed us that nearly half the people in the country have tuberculosis. Three thousand children die every month of dengue fever. The doctor said during the month of October 2004 his two hospitals delivered 742 babies that were HIV positive.  AIDS came to Cambodia with the soldiers of the United Nations task force sent there in the early 90's to bring stability to the country. The disease has spread like wildfire since. Cambodia also has the highest percentage of amputees in the world, thanks to the millions of landmines which lie buried in its soil.
              Family life was destroyed during the Pol Phot regime as children, teenagers and parents were separated to go and labor in different work camps. Many of these families have never been reunited or else have lost so many members to malnutrition, murder or overwork that they are still traumatized. People have turned to alcohol or drugs to numb the pain.
                I thought I had seen poverty in other countries I have traveled to in Asia, but nothing could have prepared me for the filth, squalor and primitive living conditions I saw in the Cambodian villages I visited.  
        Our guide in Cambodia took us the visit an ancient temple called Ta Prohm built by a Cambodian king in 1186 to honor his mother. It contains a unique echo chamber. The small square room has a towering ceiling that is open to the sky. If you stand against the stone wall and beat your chest the sound is amplified and resonates loudly in your ears. You can imagine you are actually "listening to your heart."
              Our guide told me very few tourists who visit Siem Reap are interested in learning about the country's problems. They only come to see the temples and other artifacts from the past. Perhaps if more visitors "listen to their hearts" when they visit Cambodia and really look at the present day tragedy around them, something can be done to help return this once great country to the thriving, prosperous place it used to be. 
---