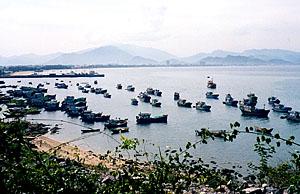 Image ©
2001 Samantha Coomber
I am almost loath to write about Nha Trang. True, its firmly established on the well-worn tourist route on Vietnam's South-east coast, and is one of the country's premier vacation spots. It's already popular enough, with its breathtaking surrounding hills and a stunning municipal beach that seems to run on forever. But strange things happen in Nha Trang City. Once sampling its delights, you might not ever want to leave again. In the midst of a long love affair with Nha Trang, I have several times almost lost myself to its charms, and like all good love affairs, it's extremely hard to extricate yourself from. The same thing could happen to you, so please don't blame me for the consequences.
As I stepped off the overnight train from Saigon City, immediately my first arrival in Nha Trang switched me to laid-back mode. From Saigon's chaotic and noisy streets, Nha Trang chills back to an impossibly relaxed mood. People smile and seem genuinely happy and carefree. But then, if you lived in Nha Trang, it's more than likely that you would be like that too. The city's wide, tree lined streets are full of snails pace bicycles and cyclos - there aren't many motorbikes or cars here. And all roads lead to the azure, sparkling waters of the South China Sea. A long promenade runs alongside a magnificent, sweeping stretch of sand lapped by gentle waves. Amongst a mass of coconut trees, there are several cafes and restaurants, which are somewhat tastefully disguised between the foliage.
Almost jet-lagged from the train journey, I stumbled straight away into a bamboo retreat just off the beach. It was another lovely morning of clear blue skies, hot sun and tranquility. I noticed several beach sellers' pound along the scorching sand selling their wares and tourists making their daily pilgrimage to one of the numerous sun loungers strung along the beach. In the cool of the shade I ordered the obligatory banana pancake and coconut juice and sat back in my wicker chair. Completely stupefied, I must have sat gazing out to sea for seemingly eternity. An American sitting next to me was doing exactly the same. Sensing my wonderment at finding such a place, he uttered:
"Seems we have both stumbled upon paradise, haven't we?"
I couldn't have agreed more and nodded. And then we both resumed gazing out to sea again.
I ended up staying here for days and days. I went native and by day three was sauntering around town in sarongs and sandals. Day four I had taken to wearing a flower in my hair and day seven I had already changed my onward ticket twice. Further south, it had been hard work in the previous few days with all this sightseeing; visiting pagodas and markets and famous landmarks. So it was now rather delicious to simply leave the guesthouse, cross the road and submerge oneself in beach life for the entire day. I might consider sitting up as beach sellers cooked fresh crab on portable stoves right in front of me on the sand. Or when it got far too hot, swim in the transparent sea that was akin to bathing in warm bath water.
To give Nha Trang its dues however, it is far more than a beach city and there is a lot to see and do here. For cultural enthusiasts, there are the Po Nagar Cham Towers, one of several kalans (towers) in the area built by the Hindu Chams between the seventh and twelfth centuries.
There is the massive White Buddha, which stands at the top of a hill and can be seen all over the city. The views alone from here are awesome but the Buddha itself is of interest, as a symbol of Buddhist struggle against former repression.
Nha Trang's main industry -apart from tourism- is fishing and just north of the city, dozens of gaily-painted fishing trawlers grace the Cai River estuary. If you can face getting up at some ungodly hour, you'll witness waves of fishing boats returning from their nightly catch and fish sold shore side for the city's Central Market. You could indeed spend weeks seeing the sights, but it's very hard to get around to actually doing anything. The inviting beach beckons when the heat gets up and it's almost impossible to break the spell. Besides, dozing on the beach is the best way to recover from the excesses of the nocturnal activities.
Not for nothing is Nha Trang known as "party city." The seductive sleepiness of daytime belies the alternatively heady nightlife. As if by magic, Nha Trang appears to come to life around dusk. It almost seems the entire population is drawn to the beach, once the sun gently retreats behind the hills and cool, evening breezes soothe over-heated flesh. Generations of Vietnamese families come out to bathe and frolic in the tepid seawaters, encouraged by the departing fierce afternoon sun. Young boys play rigorous soccer on the gently sloping sands and old people methodically practice T'ai Chi amongst the coconut palms. And it's at this very hour that Nha Trangs' infamous bars and clubs come in to their own. As if waking up from a long slumber, the neon lights are once again lit, "Happy Hour" kicks into start and rhythmic music sets the pace of the night ahead. If you have any energy left from your daytime itinerary, you can surely drag yourself into rounds of ludicrously cheap cocktails, dancing and general mayhem along with fellow Western revelers.
For the best way to start the evening off however, Nha Trang has countless good restaurants to choose from. Many serve fresh fish sizzling over hot charcoal table barbecues and from beachside candle-lit eateries, the distant lights of fishing boats can be seen.
If that is not enough, Nha Trang even caters for the 24-hour party animal. The infamous island boats depart each day for several beauteous islands sprinkled along the coastline. You can snorkel and swim in crystal clear water as the boat languidly lurches from one island to the next. But for many, it's merely an extension of the night before (or the night about to unfold.) Some boats turn into mobile parties and the festivities continue mid-ocean. Where else could you possibly enjoy a floating bar and sip fruit punch with a dozen others bobbing around in the sea?
I learnt later on that many foreigners had left it all behind, fallen in love with a local and resided here for good. Who could blame them? I observed one ex-pat (who had evidently been here far too long) take his deckchair down to the waters edge at the same time each day and simply stare out to sea. After days of loosing the plot myself, it took me all the strength I could muster to leave for the pretty port town of Hoi-An, further up the coast. Eventually I managed to escape this city's lovely clutches, but have compulsively returned many times. Nha Trang can be so addictive, it should come with a government health warning.
---