Main Gurdhwara in Nankana shahab
---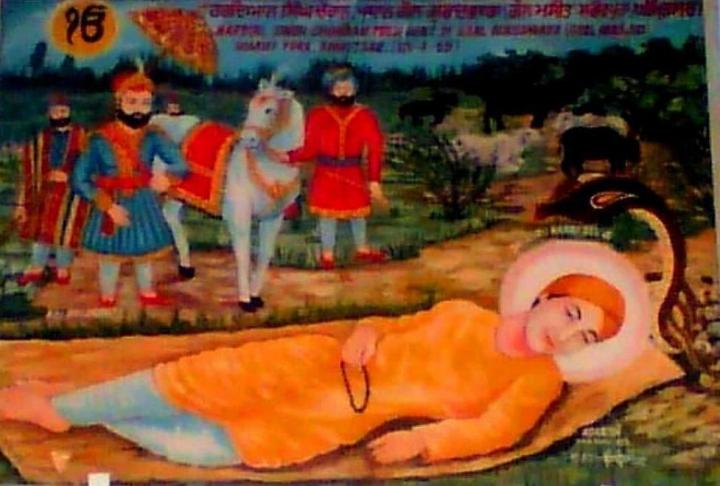 A Place known as  Nankana Sahib in Pakistan is the birth place of the first Sikh guru, Guru Nanak Dev, Nankana Sahib is one of the most sacred pilgrimage sites in Pakistan.  Nankana Sahib, also known as Raipur and Rai-Bhoi-di-Talwandi is a town in    Punjab.The district is well connected with rail and road with other parts of Pakistan.
 I vsited  this place some years ago, and took some photos of the main Gurdhwara. Though photography is not allowed there as I remembered it because the gate keeper there, asked us for our cameras. So I have to take all these photos from my mobile camera. Its a spiritual place and it is very well equipped. I was completley absorbed in the serinity of this place.
The town has nine gurdwaras including the Gurdwara Janam Asthan which marks the birth place of Guru Nanak Dev. Each of the gurdwaras is related with important events in Guru Nanak's life.
The area around Nankana Sahib was formerly a tehsil of Sheikhupura District. In May 2005, the provincial government decided to raise the status of Nankana Sahib to that of a district as a way of promoting development in the area. Now Nankana Sahib is a District. And it's two big tehsil are "Tesil Sangla Hill" and "Tehsil Safdarabad". It is Known as Very Important Tesils.
The Gurdhwara I visited was known as Gurdwara Janam Asthan and its history is like that...as it is the birthplace of Guru Nanak, it is the premier shrine at Nankana Sahib. Home of (Guru) Nanak. Maharaja Ranjit Singh (1780-1839), at the instance of Akali Phula Singh and Baba Sahib Singh Bedi, constructed the present building, a domed square sanctum with a pavilion in front standing on a spacious, raised platform, and made an endowment of about 20,000 acres of land for the maintenance of Guru ka Langar.  With the partition of the Indian subcontinent in 1947 and the migration of Sikh population from Pakistan, the management of all Sikh gurudwaras in the newly created State, including those at Nankana Sahib, passed to the Waqf Board. The Government of Pakistan later allowed 15 Sikhs to stay in Nankana Sahib to perform the daily services in the shrines. In 1968 the number was reduced to 5. Now only a Granthi or scriptural reader and a few Sindhi Sikhs stay at Gurdwara Janam Asthan.But Batches of pilgrims from India are occasionally allowed to visit with special permission from the Pakistan Government.
 The time I spent there was really worth to remember. Due to lack of time, I didnt visit all the worth seeing Gurdhwaras in Nankana Shaib but the the time that I had spent here in this place is really a hallmark.I heard many inspiring stories here in this place. There is a room  dedicated to all the accessories of Guru Nanak Sahib and a century old tree is also there to witness the past, preasent and future of this place. Visited to such places are not only informative but also strenthens our faith. These places are the part of our culture, we have to preserve them for our bright future. History of our country is interconnected with the history of such places. And I  have still an urge in my heart to visit this place again. 
---