Malacca, Melaka, Malaysia
---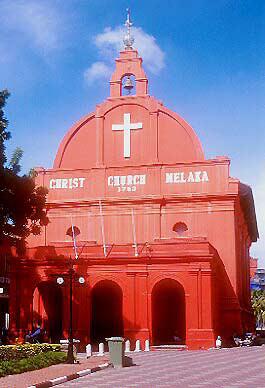 "Where... where's that Red Square?" gabbled the tourist accosting me, panic-stricken, as she realised that her tour coach had moved off.
I knew where she meant. Communism has long been out of favour in Malaysia, but red indeed is the impression created by the Town Square beside the river in Malacca, now called Melaka. Dutch colonists constructed an imposing brick-red town hall here in the seventeenth century, and a century later complemented their Stadthuys with the equally fiery Christ Church, faced with red laterite stone.
Crowning a small hill behind the square was a Portuguese church, already two centuries old and visited many times by St Francis Xavier. The Dutchmen renamed it St Paul's and, at the foot of the hill, rebuilt the fort erected by their Portuguese predecessors whose invasion began Melaka's fall from grace.
Parameswara, a Hindu prince from Sumatra, founded a settlement here at the start of the 15th century. Melaka soon became powerful, commanding the trade routes between Arabia, India, China and the Spice Islands. Islam took hold and spread from this point, but many races blended to produce Melaka's present-day communities: the Eurasian Portuguese, the Straits Chinese or Peranakan, a blend of Chinese and local cultures, and the Chitties, or Indian-Malays.
Only after Sir Stamford Raffles took possession for the British East India Company would free trade again flourish, but Melaka was soon overshadowed by the commercial success of Penang and Singapore.
After World War II and the eventual Japanese surrender, anti-colonial sentiment grew steadily. Even as British troops fought to contain communist guerrillas, on February 20, 1956 Tunku Abdul Rahman proclaimed Malaysia's independence here.
St Paul's stands open to the sky and only a single gate, Porta de Santiago, remains of the Portuguese fort called A'Famosa. The evocative ruins, and the buildings gathered around Town Square nearby, are tangible reminders that Malaysia's recorded history began here.
Less substantial reminders abound, too. Bernard, a loquacious guide on one of the popular river tours, seems to epitomise the Malaccan melting pot. He claims Chinese, Dutch, British, Portuguese and Malay blood and a surname corrupted from the original Dutch. Bernard knows the name of every basking monitor lizard, the cost of a fishing licence, and the medicinal properties of papaya fruit.
We pass under a bridge once painted an auspicious red by the Chinese after Japanese forces decapitated their kinsmen here - but now a heedless city council has restored the original green. The tiny round mirror on a Chinese doorway reflects back evil spirits. The launch glides by Kampung Morten, a Malay village which took its name from the Englishman who lent the funds for its construction. Bungalows of dark unpainted teakwood are enlivened by gaily-patterned staircase tread tiles.
Melaka is no longer a major port, but schooners from Sumatra still tie up on the riverbank to discharge cargoes of charcoal and lumber.
West of the Melaka River lies Chinatown, and immediately over the bridge is Heeren House, the best known of the historic Straits Chinese homes which have become boutique guesthouses. Another, the Baba House, boasts superb black and gold lacquered screens framing panels of etched glass. Typically, an imposing entrance hall leads to a central open-air courtyard. The doors of Chinatown's clan association shrines are often painted with fearsome guardians in black, vermilion and gold.
One of Chinatown's streets is now named for Hang Jebat, the Malay knight whose exploits are chronicled in the Malay Annals preserved at the Literature Museum beside the Stadthuys. The Dutch used to call it Jonkers Street; some now call it Junk Street, for the antique shops on Jalan Hang Jebat are crammed with Buddha figures, porcelainware, carved wooden panels, ephemera from the Forties and Fifties.
Pause for refreshments at one of the street corner coffee shops, kedai kopi, with their dim, fan-cooled interiors, open walls and marble-topped tables. Cool off with guava or starfruit juice or es cendol, iced syrup, then sip a delicately flavored dumpling soup, followed by shaved and marinated pork fried with noodles in soy, all for less than two dollars.
An elderly artisan cheerfully invites inspection of his doll-sized creations three inches long, covered in brocade. His miniature shoes tailored for the bound feet of Imperial China's 'golden lotuses' are a dying trade, but "will be valuable one day", he assures us. Only four or five elderly customers survive, women who suffered for many years after the bandages were removed from their feet at the instigation of reform-minded husbands.
Another wiry elder creates elaborate structures on bamboo frames, fastening paper dragons and peonies to the red paper. These fragile masterpieces will disappear in smoke as funeral offerings.
On Goldsmith and Temple Streets, the houses of worship of three great faiths stand almost side by side. A Malaysian Indian zealot accosts visitors to the Kampung Kling Mosque, urging us to seek out literature on the 'God who cannot be seen'. Near the entrance to the Hindu temple of Vinayagar, two centuries old, sits a contemplative devotee, cross-legged and unfussed by the small boy scampering around the portals. At the equally venerable Cheng Hoon Teng Temple the Chinese devotees are rhythmically shaking the sheaves of smouldering incense, oblivious to intruding tourists.
With evening approaching, it's time to remount my rented boneshaker and head out of the city to dine at the Portuguese Settlement. I pedal out past the Merdeka (Independence) Museum, housed in a colonial-era gentlemen's club, following the coast down Jalan Parameswara. In the grounds of a Chinese temple a diva is warming up her audience for an evening performance of Chinese opera.
The much-vaunted Settlement was founded in the 1920s by two priests to provide a focus for a community which had all but evaporated. Senior residents have gathered under the trees to shoot the breeze but there is no visible hint of Caucasian in any of the weather-beaten, coppery faces.
Bright lights lure me to the right-hand end of a row of waterfront restaurants. The ginger prawns cooked in their shells prove fiddly but tasty. Only chicken 'curry dable' (devil) and curry kapitan offer a whiff of Mediterranean influence, although oysters or eggplant cooked in shrimp paste sound tempting. I squeeze in beside three unassuming young Chinese women. Unreservedly friendly, as one often finds in Malaysia, they urge me to stay and share their fried rice.
Fact File
Best time to visit is the dryer season March - October. Kuala Lumpur International Airport is a two-hour drive from Melaka, or is easily reached by bus and train via Nilai.
Malaysia's currency, the ringgit, is now fixed at US$1 equals RM 3.80 and not freely convertible although in practice it can still be readily converted in Singapore. Cash machines are widespread.
Communal taxis run regularly between Melaka and the railway station at Tampin, 38 km (23 miles) north. Railway information www.ktmb.com.my/ in Tampin tel 06-441 1034, in Melaka 06-282 3091. Express buses and communal taxis run frequently to Kuala Lumpur and other towns. Pelangi Air operates air shuttles from Singapore to Melaka.
Tourism Malaysia: http://tourism.gov.my/. Melaka Tourist Information Centre at Jalan Kota, 75000 Melaka, tel 06-283 6538
Further reading: Lonely Planet's Malaysia, Singapore & Brunei
---