'Memoirs of a Geisha' Recipes and Photos
---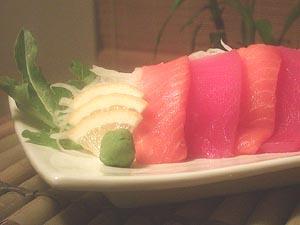 Image ©
2006 Celeste Heiter
This light, classic Japanese menu features an array of bite sized portions, including sashimi, sushi, zarusoba noodles, steamed chawanmushi custard, tempura, grilled fish and wasabi beef.
Sembei
Sembei is the Japanese word for rice crackers. These tasty little tidbits are the perfect start for any Japanese meal. They come in an amazing variety of sizes, shapes and flavors. Some are glazed with soy sauce, others are dusted with wasabi powder, and still others are wrapped in nori seaweed paper. The best thing is that they're so light, they won't spoil your appetite. Sembei can be purchased in most upscale grocery stores or in Asian food markets.
Sashimi (Serves 4)
¼ pound sushi grade tuna
¼ pound sushi grade salmon
1 6? piece daikon radish
2 tablespoons wasabi powder
Soy sauce for dipping

Trim the tuna and salmon into rectangular blocks. Set the trimmings aside for another use. Slice the blocks of raw fish into uniform pieces approximately 1/8? thick. Using a mandolin slicer, shred the daikon into fine ribbons. Mix wasabi powder with a few drops of water until it forms a paste. Arrange the shredded daikon on a serving plate, top with slices of raw fish and garnish with a pinch of wasabi paste. Serve with soy sauce.
Nigiri Sushi (Serves 4)
Sushi, perhaps the most widely recognized of all Japanese food, is the categorical term for a variety of dishes made with vinegared rice. Sushi can be made with a countless array of seafoods and vegetables. Everyone has his or her own favorites. Just be sure that the ingredients you choose are absolutely the best and freshest available.
Sushi Rice
3 cups dry white sushi-grade rice (medium grain)
3 cups water
1/3 cup rice wine vinegar
2 tbsp sugar
1 tsp salt

Cook the rice in an automatic rice steamer, or use the stovetop instructions on the package. When the rice is done, dissolve the sugar and salt in the rice wine vinegar in a small pan over low heat. Sprinkle the vinegar mixture into the cooked rice and fluff gently with a wooden rice paddle to mix.
Place the cooked rice in a large wooden bowl or spread on a baking sheet to cool. Fan the rice with a pleated fan or piece of stiff paper for 8 to 10 minutes. This will produce an attractive sheen and helps keep the rice sticky. When the rice is cool to the touch, you can begin using it to make sushi.
Nigiri Sushi (24 pieces)
¼ pound sushi grade tuna
¼ pound sushi grade salmon
2 cups sushi rice (see recipe)
2 tbsp wasabi paste (optional)
Pickled ginger
Soy sauce

With a very sharp knife, cut the fresh tuna into uniform 1"x2" slices about ¼" thick. If desired, rub a pinch of wasabi paste down the center of each slice. With your left hand, scoop up enough sushi rice to fill the center of your palm. With the index and middle fingers of your right hand, press and shape the sushi rice into a tight oblong ball. If the rice sticks to your hands and fingers, moisten them with a little water or rice vinegar before handling the rice. Lay a slice of tuna across the rice ball and place the sushi on an attractive serving dish. Garnish with a mound of pickled ginger, a ball of wasabi paste and serve with soy sauce for dipping.
Tamago Sushi (Serves 4)
2 eggs, lightly beaten
1 cup sushi rice (see recipe above)
1 scallion, thinly sliced on the diagonal
Vegetable oil for frying
Soy sauce for dipping

Heat a few drops of oil in a small frying pan. Pour about 1/8 cup of the beaten egg into the pan. Gently rotate the pan to coat the bottom with the egg to form a 4? paper-thin, round omelet. Fry for about 1 minute, until egg is golden brown on the bottom. Using a spatula, carefully turn the omelet over and brown lightly on the other side. Remove from the pan and set aside. Repeat with the remaining egg to form 4 thin omelets.
Using your hands, scoop up about a tablespoon of sushi rice and form into an oval. Place the rice in the center of an egg omelet. Fold in the left and right sides, and roll to form a small pouch around the rice. Garnish with scallion slices. Repeat with the remaining omelets. Serve with soy sauce.
For Hana Sushi and Hana Maki, please refer to Hana Sushi
Shrimp and Cucumber Sunomono (4 to 8 servings)
A favorite way to begin a Japanese meal is with a light vinegared salad made with cucumbers and other fresh vegetables in a simple marinade of rice wine vinegar, soy sauce and a few drops of sesame oil. The word sunomono means 'vinegared things' and can be prepared with almost any combination of ingredients, from fresh raw vegetables and greens to finely diced seafoods such as crab, octopus, or shrimp and sprinkled with sesame seeds. Here's a tasty and easy to prepare sunomono recipe:
1 Large cucumber
1 cup precooked bay shrimp

Wash a large cucumber and trim off the ends. Using a mandolin or very sharp knife, slice the cucumber into paper-thin slices and place in a bowl. Add one cup of tiny pre-cooked bay shrimp and marinate for 2 hours (stirring occasionally) in
Rice Wine Vinegar Dressing:
1/2 cup Rice Wine Vinegar
1/4 cup mirin or sake
1 tablespoon sesame oil

Thoroughly mix and serve the sunomono in small individual dishes with a slotted spoon to drain off excess marinade. Garnish with a pinch of pickled ginger and sprinkle with sesame seeds.
Basic Dashi
Dashi is the clear seafood broth that is the foundation for many Japanese soups, sauces, dips, and marinades. To make one quart of dashi, you will need:
1 quart of water
1 4" piece of dried konbu (dried sea kelp)
1 cup of katsuo (dried bonito shavings)

Rinse or wipe the dusty coating from the surface of the konbu, place in a pot with one quart of water and cook over high heat. When the water comes to a boil remove and discard the konbu.
Add the katsuo flakes and bring to a boil again. Remove the pan from the heat and allow it to cool. Strain the liquid into a separate container and discard the katsuo and kombu.
The remaining liquid is called dashi and can be used as a base to make a wide variety of Japanese soups and sauces.
Miso Soup (Serves 4)
Japanese soups tend to be light and clear, made with a soup base called dashi. This basic stock is the foundation for Japan's most common soup, miso shiru, which consists of dashi, miso paste, flakes of dried wakame seaweed, and cubes of firm tofu.
1 quart of dashi
4 tbsp miso paste
1 tbsp dried wakame seaweed flakes, finely chopped
1 cup of tofu cut into ½" cubes

Bring the dashi to a boil in a large saucepan. Add the miso paste and stir with a wooden spoon until it dissolves completely. Bring the mixture just to a boil again and remove from the heat. Add the tofu cubes and wakame. Allow to stand for 5 minutes before serving. Ladle the soup into small bowls, stirring as you ladle to making sure that the miso, tofu cubes and wakame are well distributed between the portions.
Zarusoba (Serves 4)
6 ounces of soba noodles
1 cup ponzu
2 tablespoons wasabi powder
4 large prawns, deveined, shells intact

Bring two quarts of water to a boil in a large saucepan. Place prawns in boiling water for about 2 minutes, or until just pink and tender. Remove from water and drain. Set aside to cool.
Using the same boiling water, add soba noodles and simmer for 3-5 minutes, until just tender, being careful not to overcook. Drain noodles, dress with ponzu sauce and place in the refrigerator for about 1 hour to chill.
In a small bowl or ramekin, mix wasabi powder with a few drops of water and stir until it forms a thick paste. Set aside. Peel the prawns, leaving tails intact. Divide the noodles and ponzu sauce into four serving dishes. Place one prawn on top of each serving and garnish with a pinch of wasabi paste rolled into a ball. Serve cold.
Chawanmushi (Serves 4)
3 eggs, lightly beaten
1/2 cup dashi (see recipe above)
1 tbsp soy sauce
1 teaspoon sugar
1 teaspoon sake
1 boneless chicken breast, cut into ½? cubes
8 raw shrimp, peeled, tails intact
4 shiitake mushrooms, thinly sliced
1/2 cup spinach leaves, quickly blanched

In a mixing bowl, combine eggs, dashi, soy sauce, sake, and sugar. Strain the egg mixture into a large measuring cup. Divide the chicken, spinach, and shitake into 4 portions and place some of each into the bottom of four custard cups. Pour ¼ of the egg mixture into each cup. Top each cup with two shrimp Cover the cups with squares of aluminum foil. Place in a steam kettle and steam for 15 to 20 minutes, until custard is lightly set. Serve warm or chilled.
Tempura (4 servings)
12 large prawns, peeled and de-veined
Vegetable oil for frying

Tempura Batter:

1 egg yolks
1 cups white flour
1 cups ice water

(or you can use a tempura batter mix)
Tentsuyu Dipping Sauce:
1 cup dashi (see recipe above)
3 tbsp soy sauce
3 tbsp mirin
1 tbsp freshly grated daikon radish
1 tbsp freshly grated ginger

To Prepare the Tempura:
First, combine all tentsuyu ingredients, mix thoroughly and spoon into small individual dishes (one for each guest) so that the dipping sauce is ready when the tempura is served. For a more interesting and attractive presentation, you can also combine only the liquid ingredients and serve the daikon and ginger in little mounds on a separate condiment dish for the guests to mix in themselves.
Next, combine all the batter ingredients, being careful not to over mix. It's okay if the batter is a little lumpy. Work quickly so the batter stays chilled. If necessary, you can divide the batter into two bowls and store one in the fridge until needed.
Fill a large wok about half full of vegetable oil and heat to 370 degrees. A good way to test the readiness of your oil is to dribble a few drops of batter into it. If the batter sizzles and floats, it's ready.
Dip the shrimp one at a time into the tempura batter. Hold each piece over the bowl to allow the excess batter to drain off and slip them into the hot oil, being careful not to splatter. You can use a fork or a pair of chopsticks for this step, but fingers work just as well.
Do not overfill the wok. Each batch should contain no more than 6 or 8 pieces. The chilled tempura batter should explode into a lacy crust that will turn a pale, golden brown in about 3 minutes. When crispy and tender, remove the tempura from the oil with a pair of tongs or a slotted spoon and place on paper towels to drain.
Before adding the next batch of tempura, skim and discard the loose bits of batter from the cooking oil so they do not burn. Work quickly and serve the tempura on a large platter, or place on individual plates. Tempura may also be kept warm for a short while on a baking dish in a 200 degree oven until serving time.
Grilled Cod (Serves 4)
1 pound cod filets
1 lemon
Soy sauce

Cut the cod filets into 2" pieces. Heat a stovetop grill pan, electric grill or Japanese brazier and lightly coat with cooking spray or vegetable oil. Place the cod filets on the grill and cook until tender and just barely done. The grill marks should be a light golden brown. Do not overcook the fish. Remove from the grill and place in individual serving dishes. Drizzle with a bout a teaspoon of soy sauce and garnish with lemon wedges.
Wasabi Beef (Serves 4)
1 pound boneless beef tenderloin, sirloin or ribeye, cut into 1" steaks
2 tablespoons wasabi powder
½ cup ponzu (Japanese citrus soy sauce)
1 lemon, thinly sliced

Mix 1 tablespoon of the wasabi powder into the ponzu. Place the beef in the ponzu and allow to marinate in the refrigerator for about 2 hours, or overnight. Mix the remaining wasabi with a few drops of water to form a paste.
Heat a stovetop grill pan, electric grill or Japanese brazier and lightly coat with cooking spray or vegetable oil. Place the beef filets on the grill and cook until tender and medium rare. Do not overcook. Remove from the grill, cut into ¼? slices. Arrange on a serving plate and garnish with lemon wedges and a pinch of wasabi.
* * * * *
---