A New Guide to an Old Treasure: Ancient Town of Hoi An
---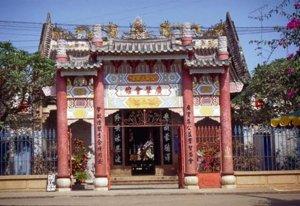 Image ©
2000 Global Directions, Inc.
The Traditional Village in Vietnam will provide you with an excellent overview of village life in Vietnam. Once you've read this book, visited some rural villages, and acquired a sense of their culture and history, you're ready for a look at a larger Vietnamese community. I recommend Hoi An (Faifo), a coastal community in Danang Province, and that before going there you read Ancient Town of Hoi An, also from The Gioi Publishers of Hanoi (1993).
Ancient Town of Hoi An is a collective effort resulting from an international symposium held in Danang in 1990. The Ministry of Culture, provincial authorities, and the Japan-Vietnam Friendship Society organized the conference. Over 150 experts from Vietnam, the Netherlands, Poland, Japan, Canada, Australia, and the USA presented some 36 papers on Hoi An's geography, archaeology, history, culture, linguistics, architecture, and preservation. After the conference these papers were collected and published in Ancient Town of Hoi An.
Situated on the Thu Bon Estuary south of Danang, Hoi An first came to prominence as an international port in the late sixteenth century and reached its apex in the seventeenth and eighteenth centuries. At that time Hoi An had trade links with China, Japan, Siam, the Malay Peninsula, Luzon, and even European countries such as England, France, Holland, and Portugal. According to Professor Pan Dai Doan, one of many experts included in Ancient Town of Hoi An, the town grew prosperous exporting silk, sugar, gold, cinnamon, sandalwood, pepper, areca nut, ceramics, timber, tortoise shell, rhino horn, and, of all things, sea swallows' nests. The book quotes an old folk song that ran:
Boats are filled to the brim with silk, areca nut and tobacco.
Far and near, one hears of the thriving trade in Hoi An.
The town's importance declined in the nineteenth century, however, as Danang became the key port in the area and the Thu Bon Estuary silted up.
The Vietnamese Ministry of Culture declared Hoi An an historic site in 1985, and rightly so'the town's ancient quarter offers a wealth of historic streets, alleys, homes, halls, graves, and temples. In its heyday Hoi An hosted a large foreign community, including Japanese and Chinese merchants, Dutch representatives of the Dutch East Indies Company, and Portuguese Jesuits. This fertile cross-cultural mix produced an architecture unique to Hoi An'known simply as "Hoi An Style"'that represents a blend of many different architectural traditions. Of all historic structures in Hoi An, the Japanese bridge remains the most famous. Called Lai Vien Kieu in Vietnamese, this red covered bridge has its own temple and guardian statues.
Ancient Town of Hoi An is divided into three basic sections, the first of which deals with archaeology and culture. The papers in this section are a mixed bag, offering something of interest for every reader. You can learn about the sixteenth-century ceramics trade between Japan and Hoi An. Or you can dig up some obscure archaeological facts. For example, one paper discusses the ancient burial jars unearthed by archaeologists in the Hoi An area, while another catalogs the 1000-year-old coins discovered in archaeological digs. You can even learn about Hoi An's unique style of coastal sailing ship that like Hoi An's buildings, owes much to foreign influences.
The book's second section, devoted to the history of the Hoi An area, offers another topical grab bag. Many of the papers contained here discuss different facets of Hoi An's trading history, giving you a chance to learn about Japanese merchants, the Dutch East Indies Company, and the initial French presence in Hoi An. Without a doubt the most interesting paper describes Hoi An's strangest trade good: edible sea swallows' nests. Nguyen Chi Trung and Trun An explain that for 400 years the inhabitants of Hoi An have collected these nests made from the saliva of sea swallows. We also learn that "processing the nests is quite simple: one must pick off all the bird feathers, feces, or dry leaves stuck in the nest with a sharp knife." After this appetizing step, the nests are sold as a delicacy or traditional medicine. Be sure to try this when you make your trip to Hoi An.
The third section concerns architecture and historic preservation. Here you can read about the evolution of that distinctive architectural mongrel, the "Hoi An Style." In this eclectic mix of papers, I found the one by Kazimierz Kwiatkowski of the Polish Committee for the Restoration of Vietnamese Historic Monuments to be the most interesting. Kwiatkowski compares Hoi An's restoration to the restoration of Kazimierz, an ancient market town in Poland. Having lived two years in Poland myself, I am well-acquainted with the heroic Polish ability to reconstruct historic cities from nothing more than war-blasted rubble and a handful of old drawings and photographs. It seems to me that Poland can teach Vietnam much about historic preservation, and that Hoi An can only benefit from such tutelage. If Polish historic preservation doesn't pique your interest, don't worry'some other paper in this section will.
Ancient Town of Hoi An will give you real insight into a town well worth placing on your itinerary. Reading up on Hoi An will help you understand the town's multicultural, centuries-old history. Keep in mind that when you arrive in Hoi An you will not only be retracing the town's heritage as an international port'you will also be contributing to the town's rich history. Foreigners, after all, have been coming to Hoi An for hundreds of years, be they sixteenth-century Japanese sea captains or twentieth-century American tourists. Reading Ancient Town of Hoi An will help you see where you fit into this long procession of foreign visitors to one of Vietnam's most fascinating towns.
---