Once 'Round the Little Dragon
---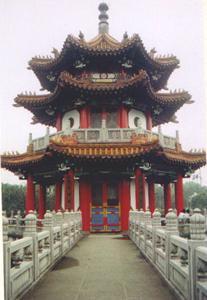 Shaped like an autumn leaf, Taiwan fell from the boughs of Mainland China long ago, coming to rest on the Tropic of Cancer. Early western mariners named Taiwan "The Beautiful Island" (Formosa in Portuguese), and a few hundred years later, more and more tourists are beginning to agree. Taiwan combines stunning natural scenery with a level of affluence its neighbors can only envy. The knock-on effect of this on the infrastructure means an ease of traveling unknown in most parts of the region. Of course, the hardship associated with backpacking in South East Asia or the Peoples' Republic of China may be what turns you on, may be the thing that makes Asia so magical for you. However, if you want a laid-back holiday, dully free from prehistoric coaches and archaic trains, calmly free of unexpected disasters and misadventures, well carry on reading this article!
Taiwan's accessible roads and rails make it ideal for a quick trip. Now that's not to say tourism should be a race. Traveling is about quality experiences not quantity. Naturally the following itinerary can be stretched out, augmented with extra stops, turned from a steady jog to a leisurely dawdle. However if you are pushed for time this is one way to check off the must-see sights in one week.
Day One
Arrive at the international airport and ride into Taipei. Cheapish coaches depart outside, with arrivals frequently throughout the day. Check into your hotel and spend an evening of window shopping at the city's department stores across from the main Taipei train station or at the night market. If you arrive early, remembering the city has an excellent subway system, you might find time to start off at the Chiang Kaishek Memorial Park. Every city has its symbol, its Big Ben, its Statue of Liberty. The Memorial is Taipei's, and at the weekend it throngs with families seeing and being seen. The National Opera is here too, if you fancy a touch of 'Farewell My Concubine.'
Day Two
You can easily spend a whole day at the National Palace Museum, especially if you are an art lover. When the Kuomintang abandoned Mainland China to its communist fate, they took with them the worlds largest collection of Chinese treasures. It is said that this huge museum only exhibits one TENTH of its priceless hoards at any one time. Come here for jade, calligraphy, oriental landscapes, Buddhas, silk, silver, ivory, ceramics, bronze and countless Chinese antiques. Walking around this breathtaking collection, one can't help but think: no wonder the People's Republic of China wants Taiwan back!
Return to the main station in time to board a train to Hualien. (A couple of helpful hints. First the main station has plenty of lockers big enough for a backpack. They're scattered around the subterranean corridors linking to the subway. Secondly the station has an information desk for foreigners where you buy tickets. They can advise on departure times, prices and such. There are varying train services, with varying speeds and price.) Arrive in Hualien in time for bed at the hotel of your desire.
Day Three
The famed Taroko Gorge is about an hour from Hualien if you take the dilapidated bus from the city's bus terminal, or from the station. Sit back and enjoy the ride!
This marble canyon cuts deeply into protected forests and hills, offering a selection of hikes, from the short and easy, to the long and leg wrenching! A half-day walk along the whitewater river and back needs little gear or sweat, but there are more arduous routes for those wishing to stay a few days. Blue and white boulders pile up on all sides, greenery pours down from above. Birds, butterflies and fish add to the charm. On the day I was there I didn't see a soul on my hike!
In the evening you may wish to tour the streets of Hualien, although Hualien has little nightlife. And since you may need to soak your legs in a hot bath, this might be a good time to curl up in the hotel with a good book and cable TV.
Day Four
The rail-tracks run all the way down the east coast of Taiwan. An opportunity to rest your feet (still aching from yesterday's route-march) and observe the scenery. I changed trains at Taitung and had lunch there. Incidentally there are now two train stations at Taitung and you may arrive at one and depart from the other. A shuttle connects the two, or you can fork out on a taxi.
Late in the afternoon, after changing to a commuter train at Kaohshiung, you'll pull into Tainan. A lot more cosmopolitan than Hualien, there are plenty of restaurants, shops and teahouses to while away the night.
Day Five
The temples of Tainan are legendary. Fitting them all into one day will keep you busy. The historic shrines include Confucian, Buddhist, Matsu and Taoist sites of worship. The architecture is a treat, as too are the sacred interiors, red and gold altars crowded out with deities, the reek of incense, the calligraphy and dragons! Chinese heaven if you happen to be a sinophile. Other delights include the city park, the old Dutch fort and a teddy bear discount shop!
Day Six
Keeping up the tempo take a coach from Tainan for a couple of hours to Chiayi. Here change to the local bus (same terminal) that will puff and pant its way up the mountainside to the lofty mountain resort of Alishan.
This little Shangri La of hotels and souvenir shops nestles between the peaks and fir trees, and makes a good base camp if you are planning some longer mountain hikes around the range. It's quite easy to arrive for lunch, leaving an afternoon to do the basic walkabout, the Alishan Loop Hike. This four-kilometer trek affords lots of time for bird-watching, and gawking at peaks. There's another temple thrown in for good measure and some ancient evergreens. Blissful, very blissful.
Unless you're self-drive you're stuck at Alishan for the night. A bit of an endurance if you're touring solo. There are cheap tatami rooms but remember, mountains get very cold up on the top! Definitely sweater-weather!
Day Seven
Virtuous travelers rise before dawn and catch the mountain railway to the peak of Chushan Mountain. They watch the sun break over the jagged summit. They reflect on the beauty of the experience. Personally I stayed in bed.
Back down that perilously steep road to Chaiyi and by coach back to Taipei.
And now the treat! Taipei is well known for its hot spas. After a week on the road you will be just ready for one. Most are located on the outskirts of the city where the suburbs begin to climb the hills. There's that speedy subway again to whisk you out there. Treat yourself to a taxi from the station to the spa. There are too many to recommend one, but the best combine boiling springs with bamboo decor and fresh air. (Yes, you'll be naked, but it's OK in a spa). Once marinated to perfection, finish off with a massage, dress, and cool down in the bars and restaurants.
The Final Day
Well if its an afternoon flight home, why not visit the Chinese Handicrafts Store-within walking distance from the main station (where airport buses depart). Oriental memorabilia galore! The Lungshan temple is another feast for the eyes, if you have time. And now you're on the plane ascending into the clouds and that Ihla Formosa is falling away. Oh well, now you've been once 'round the dragon, you can always come back for longer next time!
---