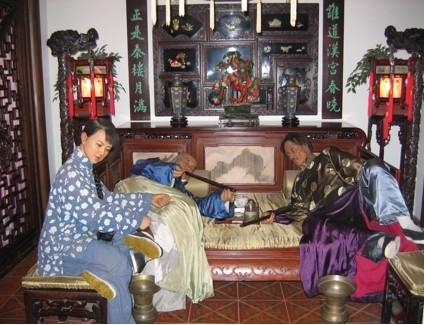 Image ©
2009 MaryLou Driedger
"My grandmother's life was very hard because her grandfather was an opium addict. He lost all of their family's money gambling at mahjong, drinking and visiting brothels." One of my Hong Kong students wrote that in a story about his grandmother. Widespread addiction to opium in China during the late 1800's and early 1900's came courtesy of the British who needed a profitable product to sell in China.
        In 1815 British ships began sailing to Chinese ports to pick up silk, china tableware, firecrackers and tea. These products sold well in Europe. Merchants were looking for a product to sell to the Chinese so their ships could carry cargo both on the way to and from China. Opium, grown in the English colony of India, proved to be their ticket to prosperity. The British began selling opium in China as a painkiller, but soon realized people could easily become addicted to it. As a recreational drug it had great economic potential. It wasn't long before hundreds of thousands of Chinese were dependent on opium and England was raking in huge profits.
            Opium addiction had a debilitating impact on family and community life throughout China. After the Emperor's own son died of an opium overdose in 1839 the Emperor appointed a well- respected mandarin named Lin Zexu to deal with the problem. Lin tried several approaches. He wrote a letter to Queen Victoria.  It said in part, "I am told in your own country opium smoking has severe penalties. This means you are aware of how harmful it is. Why then do you continue to tempt the people of China to buy it? Such conduct is repugnant and at variance with the Way of Heaven.
         The Queen did not respond to Lin Zexu, so he tried to rehabilitate addicts through education programs run by Chinese schoolteachers.  He ordered the beheading of all addicts who had not successfully reformed after eighteen months. When this failed to work he tried an outright ban on opium sales.         
  I recently visited Macau, the city where Lin Zexu issued his edict forbidding the sale of opium in China. A museum there tells the story of Lin's crusade. To show he meant business he seized 20,000 cartons of opium from the British and burned it. His actions eventually led to the Opium Wars that lasted from 1839-1898. The Chinese fought to ban opium from their country and Britain fought for the right to continue selling it. The huge, well- equipped English army was no match for the Chinese. They lost the wars and had to surrender port cities like Shanghai and Hong Kong to the British. Now the sale of opium in China could continue without restriction.
         Opium parlors flourished. I saw a life-like re-creation of an opium den in a Shanghai museum. The accompanying historical notes described the way the 'powerful colonial power of Britain used military might to allow the import of opium with tragic results for family life in China.'
       It is said Mao Zedong eradicated the opium problem when he took over China in 1949, although his latest biographer Jung Chang claims he was not beneath selling opium himself when he needed funds. Apparently in the last decade with the growth of China's capitalist economy there has again been a dramatic increase in drug use especially among urban youth.
         One can only hope the trend does not continue. How sad if in the future new generations of Chinese young people will need to include mention of the way drugs caused hardship and grief for their ancestors when they relate their family's history. 
---