The other face of the Imperial Japanese Army
---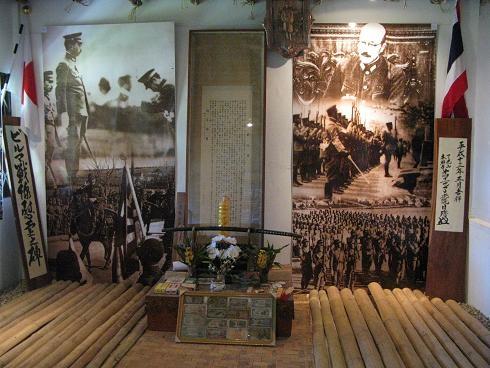 The Japanese occupation of Singapore and its neighbouring regions during WW2 is perhaps the darkest period of the last century in South East Asia. Hearing first hand accounts from my grandparents of innocent people getting machined-gun, tortured, bayoneted and other unimaginable form of brutality still opens up wounds that are slow to heal.
Therefore it was truly mind blowing to hear about how well the Thai people particularly in Khun Yuam were treated by the Japanese soldiers some 60 years ago. The WW2 museum in Khun Yuam showed me a different perspective about the Japanese. This fascinating place is 63km south from Mae Hong Son along Highway 108. Opened in 1995, it was the brain child of a certain Pol. Lt. Col. Chertchai Chomthawat, who was head of Khun Yuam Police Station. He managed to organise and collect about 1300 Japanese army artifacts consisting of dishes, spoons, vehicles, weapons, samurai blades, and uniforms from the locals.
The museum is run by an elderly Thai man who once worked for the Japanese Military when he was a 12 year old - fetching water for one baht. Through our Thai friend Angkana, we learned from him how the villagers offered whatever help needed to wounded and sick Japanese soldiers who were retreating in masses from their failed campaign in Burma against the British (they were initially successful). Over 100,000 Japanese soldiers died in the Burma War. About 7000 soldiers were in this area at its peak. As a result, there were many inter-marriages as well between the soldiers and the local girls and most famous of all is the late Fukuda san whose surviving Thai wife still lives in Khun Yuam. Stories and pictures of how the Japanese helped local farmers all sounded too good to be true, at least from my perspective, but this was clearly displayed in the museum with eye-witness accounts. Thailand was considered an ally of Japan then so that may explain the cordiality experienced.
Nevertheless, it was most intriguing to hear from the other side of the fence. We learn that at least in this region, the Japanese soldiers were not as monstrous as we know them to be. War brings the worst out of people and in rare occassions, the best as seen in Khun Yuam.
We continued our drive to Mae Hong Son reflecting on the complexities of mankind - capable of immense evil as well as good. I wonder how my late grandparents and others in their generation would react to these stories?
.
---