All aboard the Bamboo Train of Battambang!
---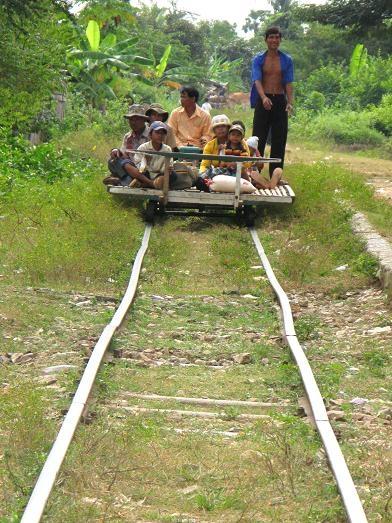 Despite the long civil war and the reign of terror by the Khmer Rouge, the 1930s railway tracks around Battambang are surprisingly still pretty usable. However, the train service is almost non-operational save for a token once a week service between Phnom Penh and Battambang. It does the 280km journey in a slow and woeful 14 hours.
Trust the strong survival instinct of the Cambodians to take matters into their own hands and create their own local train system. Consisting of two post-war axles, a bamboo structure measuring 4 x 2m and powered by a small generator motor on fan belt, the bamboo train is marvellously simple. For passenger comfort, the bamboo platform is covered with rice mats and a couple of old pillows.
The 8 of us rode on this contraption and came away very impressed, illegal as it may be. Ingenious, economical and most importantly, very effective. US$2 for an hour's ride, cheaper for Khmers. The train carries goods, people, motorbike and the odd cow to the next small town at a quickish 35-40km/h. But hang on as the ride is not all smooth sailing. Some parts of the line are warped, and even a bit broken.
The excitement builds up when another bamboo train suddenly appears on your same track. Our alert driver simply cuts the power and the "train" slows down very quickly. One minute is all it takes to lift the structure and remove the axles from the track. Simply amazing and this happened to us about 3 times. Seems that the one with the most passengers gets the right of way. Fair enough! No fuss or fighting, lots of goodwill and understanding, and everyone seemed happy enough. The fresh country air does bring the best out of people.
A ride on the Bamboo Railways of Battambang is a must-do for anyone visiting this charming provincial Cambodian town. Zipping around the beautiful countryside, 12" from the ground on a flying bamboo platform, is pure magic.
All aboard the Bamboo Express!
---