A Ticket to Hope - Cambodia
---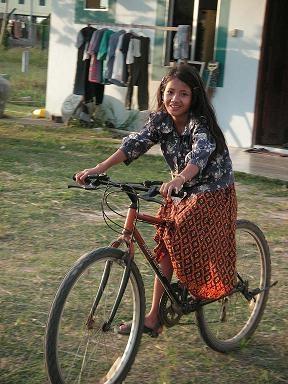 Mention Cambodia and immediately, images of landmines, amputees, orphans, beggars, crime, and of course, the murderous Khmer Rouge come to mind. It is precisely because of its recent tragic history that many people still shun it as a dangerous travel destination. This is a pity because Cambodia has so much to offer. I had the opportunity of visiting that beautiful country again recently and my heart was serendipitously stirred.
Cambodia was under French colonial rule for about 80 years till 1953, and that has left its imprint on Cambodian culture and society in more ways than one. Up to the late 1960s, Cambodia was the shining star of Indo-China, a confluence of intellectuals, traders, artists and bourgeois who lived, played and worked there. Phnom Penh was the jewel of Asia then. Lee Kuan Yew, the first Prime Minister of Singapore visited Cambodia in April 1967 at the invitation of Prince Norodom Sihanouk. Cruising along the capital's elegant boulevards in a Mercedes convertible, Lee turned to his host and said, "I hope, one day, my city will look like this".
The turbulent wars of the 1970s and 80s ravaged and destroyed most of Cambodia, leaving it to become the black hole of Indochina till recently. But now with peace in the land, a relatively stable economy, genuinely warm and humble people, rich Angkorian heritage with a touch of French colonialism, Cambodia is attracting visitors like bees to honey. The renowned World Heritage Angkor Wat Temple ruins received over 1 million visitors last year. This is resulting in a daily torrent of tour buses and a sea of tuk-tuks, clogging up the narrow roads of the ancient site. It is reported that the environmental damage to the temples' over-trodden walkways is serious enough for the government to consider getting tourists to wear special plastic slippers to minimize the deterioration. Managing the ever-increasing tourist traffic will be the key to the future survival of Angkor Wat.
Most travelers would also stop over at Phnom Penh to sample its ample charms. The golden-roofed magnificent Royal Palace with its spacious grounds along the muddy waters of the Tonle Sap and Mekong is a good starting point. Built over a hundred years ago, it is probably the most prominent landmark of the capital. Stroll along Sisowath Quay and be amazed at the plethora of international restaurants and bars. Sisowath's riverside location with international flags fluttering in the breeze is a delightful place for a meal or drinks.
Although Cambodian cuisine has not yet made its mark on the international scene, those who have had the privilege of tasting it would describe it as having Thai, Indian, Chinese and Vietnamese influences. A rich paste called the "Kroeung" form the basis of Khmer food. Its exotic flavors and aromas come from lemon grass, galangal, rhizome, turmeric, garlic and shallot. This is pounded usually in a granite mortar and pestle by hand. "Kroeung" is used in the famous Amok Cambodian curries. Frizz Restaurant at the riverside conducts cooking classes and this is the best way to be introduced to traditional Khmer food.
For the gastronomically challenged, there are also a good variety of international food available thanks to the large NGO community - from the simple baguette to Peking duck. The Aussie-owned Lazy Gecko at Boueng Kok Lake serves an awesome burger and beer for US$3.25! The locals frequent Mittapheap (friends) coconut ice cream restaurant along Kampuchea Krom (St 128) and this delightful dessert goes very well with (of all things) French pate on bread.
Bargains abound in the Russian and Central Markets where anything from fake DVDs, "branded" backpacks, fried spiders and other edible insects (if you dare), silk and ethnic handicrafts can be purchased. Prices are always negotiable, which adds to the fun or the bane of the shopping experience.
Traffic in Phnom Penh is crazy and chaotic. Motorbikes, cars, 4WDs, bicycles, push carts and the occasional elephant all competing for precious space on the dusty roads. But strangely, there is order in chaos. For those who dare, cycling through the streets of Phnom Penh can be an invigorating experience. My friend, a newly posted missionary school principal, invited me for a ride around town and I found it surprisingly easy especially on my new Bike Friday Tikit. It is the only way to feel the heartbeat of this fascinating city, to smell the smells and to truly get in touch with the locals. Exchanging friendly smiles with a family of four on a 100cc motorbike at a lawless intersection is heartwarming.
No visit to Cambodia is complete without a trip to Toul Sleng S21 Genocide Museum. Out of the 17,000 people who entered, only 7 came out alive. The Killing Fields of Choeung Ek, 15km away, is just one of many places around the country where the Khmer Rouge murdered 21% of Cambodia's people. There is a memorial building that displays 8000 skulls from victims in the mass graves. Be warned - this darkest part of Cambodian's history will drain you emotionally.
As memories of war, guns, and land mines slowly fade away, a new Cambodia is taking shape. Foreign investments and companies are trickling in. Infrastructure is slowly improving and construction work seems to be booming in the city. More limbs are lost now from motor accidents than land mines. Nevertheless, Cambodia is very much still a "wild wild east". Live firing of AK47s and RPGs can be arranged for a fee. Driving license, seatbelts and helmets are optional. Corruption is rampant - from government officials, police and even to teachers. This is understandable in light of the meager salaries paid. A teacher for example, earns only US$30 a month! Tackling corruption is probably the greatest challenge for Cambodia.
Yet, I sensed a spirit of cautious optimism among its younger citizens. I spoke to a group of young professionals about their thoughts for the future and they expressed in fairly decent English, their great determination to catch up with the rest of the world, especially through education. Kem Savy, a young Physiotherapist and father of two said with a sparkle in his eye, "I will do my very best to make sure my children get the best learning opportunities possible..."
Overcoming the odds will not be easy but somehow, I believe Savy and Cambodia will make it. Hungry to improve themselves, hard working, eager to learn and not afraid to embrace the new world, these fine young people are Cambodia's ticket to a new hope and a better tomorrow. Given their tumultuous past, they deserve no less.
-------------------------------------------------------------------------------------
A Tikit to explore Phnom Penh
My Tikit folding bicycle flew in with me as part of my normal luggage on Silk Air. This new folding bicycle from Bike Friday USA packs and unpacks in 15 minutes from a standard Samsonite F'lite suitcase. The suitcase can be converted into a trailer if needed.
It rides brilliantly and can keep up with the anarchic traffic of Phnom Penh easily. The razor sharp handling made it a joy to weave around vehicles and avoid potholes. It is truly wonderful to have your own wheels especially on occasions where there is no other means of transport. I took a cooking class in the countryside and had to return early that day. Thanks to my Tikit, I was back in the city in 30 minutes.
Security is also an issue and the folded Tikit could be wheeled easily and safely into shops and cafes. The Tikit never fails to draw a crowd and the doormen at Phnom Penh Hotel were only too glad for some origami amusement when I unfurled the compact Tikit right before their eyes, in 5 quick seconds.
You could say I had a Tikit to smiles!
For more information about the Bike Friday Tikit, check out: 
For more information about Cambodia, Andy Brouwer's website is highly recommended.
---