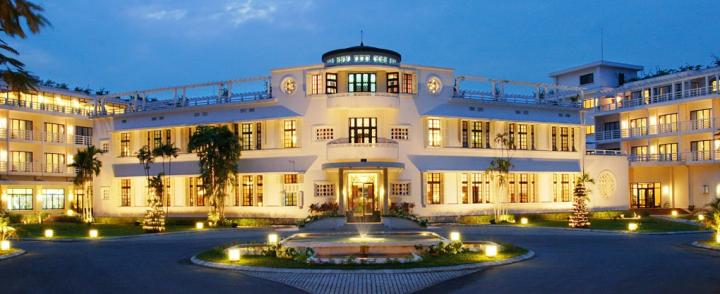 Image ©
2009 Robert Tompkins
After languishing for more than a quarter of a century as a tumble-down government-run hotel, the former colonial mansion by the Perfume River has been restored to its past elegance and grandeur. Now transformed into La Residence Hotel and Spa, Hue's finest boutique hotel has gained international renown.
All over what was once French Indochina, similar revivals of long-neglected, once-grand architectural vestiges of the century-long colonial empire have been ongoing. Tourism to Vietnam is escalating; visitors, enticed by the marketing of nostalgia chic, hope to experience what is perceived to be the romanticism of a bygone era.
* * *
Throughout the 143-year Nguyen Dynasty, the imperial city of Hue was Vietnam's political capital. Although ostensibly ruled by the emperor, true authority during the colonial period rested with the French. In 1930, the residence of the governor of Annam was renovated and expanded to provide accommodations for visiting colonial administrators and dignitaries. The revamped residence on what was then the grand boulevard called rue Jules Ferry, reflected the exuberant decorative flourishes of the Art Deco design movement that was in favour worldwide. With a columned rotunda at its nucleus and winged by annexes, the new structure combined curves and straight sides, along with effects such as windows shaped like port holes and railings on the upper terraces, that gave the ship impression characteristic of the Nautical Moderne branch of the Art Deco style. From this spectacular manor by the Perfume River, the colony was ruled, while the colons inside indulged in sumptuous lifestyles.
Then that comfortable good life began to collapse. World War II saw the Japanese occupation of Hue-with the explicit acceptance of France-for five years. Although there are no documents indicating that they usurped the luxurious estate during that time, such behaviour had been the pattern of their invasions throughout Southeast Asia. After the Japanese surrender at the end of World War II, the French attempted to reclaim their colony. This time they met opposition-President Ho Chi Minh and his Viet Minh-and Hue saw much fighting during the First Indochina War. As a colonial administration center, the mansion was frequently under attack.
After Ho Chi Minh's victory against the French and the Geneva Accords of 1954 divided the country just north of Hue, the Art Deco residence was appropriated by the president of the Republic of South Vietnam, Ngo Dinh Diem, as an administrative headquarters. But the North's desire to "liberate" the South and unite the country continued to intensify. Since the building was related to the governing of the South, and because of Hue's location near the border between North and South, it was often a target, and there is no doubt that the original mansion was pocked with bullet holes. These attacks, however, were only a prelude; Hue would soon be the scene of one of the bloodiest battles in its history.
* * *
After the fall of Saigon and reunification, the governor's residence on what was now named Le Loi Street was converted into a hotel operated by the government tourist authority and its grandeur began fading with time.
Following a thorough renovation, the hotel's refurbished and expanded renaissance was in December of 2005. The architecture of the original manor was preserved and duplicated in the two new wings that were adjoined to the original 1930 colonial heart. Throughout, the décor is evocative of the 30s. Now totalling 122 rooms, the hotel radiates a colonial aura and the ebullient styling typical of Art Deco. What was once the circular and colonnaded function room has been converted to the lobby and reception lounge as well as Le Gouverneur's Bar which features an engaging textile fresco depicting scenes of Vietnamese life. Inspired by the frescoes in Art Deco buildings in France, the mural was created by French artist and Ho Chi Minh resident, Roland Renaud.
Anchored by the luxurious president's suite located on the top floor of the rotunda, the original colonial core has been revamped into a dozen rooms and suites. Mature trees grace the two hectare property as does an extensive lush garden. In addition to a thirty-metre saltwater pool, there is an internationally acclaimed spa and Le Parfum, undeniably one of the best restaurants in Vietnam.
It was during a memorable multi-course Vietnamese dinner at Le Parfum that we had an opportunity to chat with the hotel's general manager, Carmen Marienberg, who is as exuberant as the building's Art Deco architecture.
Much travelled since leaving Germany in 1986, Ms.Marienberg honed her skills in the hospitality trade by working in Spain, England, aboard the Queen Elizabeth II, in the Cayman Islands, South Africa, Beijing, Egypt, Jordan, and Thailand. "At one point I was hired to manage a bar in Hong Kong," she relates with an engaging laugh. "The owners were shocked when I suggested they serve alcohol." The gregarious general manager's journeys have not been without danger-she was shot at in Siem Reap as well as assaulted and robbed in Nairobi.
As is the case with all who stay here, the general manager, who took the position in late 2006, is clearly enamoured with the boutique hotel. "One of the most remarkable things about La Residence is its positioning by the Perfume River. The hotel takes in the water and the Citadel beyond in a way that-when I first came here three years ago-evoked Indochine as I imagined the French once knew it. What's as remarkable, I suppose, is that today I can still marvel at that view, and the hotel's situation here, and be moved by it."
At the conclusion of our meal, she appeared at the table, standing in her whites and smiling. Carmen made the introduction, "This is our Executive Chef, Louise Serfontein." We were surprised at how young she was. Thinking it impolite to comment on her age, we expressed our enjoyment of our dinner. Chef Louise immediately diverted the praise to "my brigade in the kitchen."
Throughout our stay, the attractive, amiable, and unpretentious chef de cuisine would find time to visit our table for brief chats.
 "I wasn't good at math and I wasn't good at languages. Fortunately I found something I was good at," she explained when we asked how she decided on her career. "Maybe it's in the blood. I made what turned out to be crème brûlée at a preschool age."
Chef Louise's menu at Le Parfum offers an extensive selection of Western and traditional Vietnamese dishes, all with her subtle variations. "There are certain things I just could not do without-garlic, onion, black pepper, coriander, basil, and balsamic vinegar."
Vietnamese starters include an addicting banana flower salad served with steamed rice flour crepes, fish sauce, and dried shrimp. Equally delectable is the Vietnamese appetizer extravaganza-green mango salad with crispy anchovies, steamed rice roll with pork, fried spring roll, pan fried minced beef in betel nut, and minced shrimp on sugar cane.
Western appetisers include tender grilled calamari marinated in coriander, garlic, and lime, and served with pineapple salsa, and a memorable vegetable risotto served with shaved parmesan. Much attention is paid to plate display. "It is important to please the eyes as well as the palate," Chef Louise explained. Her trilogy of soups appetizer-potato cream with crisp bacon, broccoli with blue cheese mouse, and tomato basil-each came with condiments arranged artfully on balanced porcelain Chinese spoons.
Choosing mains from the many tempting offerings was always difficult. Vietnamese dishes enticed with such options as mixed seafood with ginger lemongrass and fish sauce served with noodles in a clay pot, or grilled marinated duck breast with steamed sweet potato, water spinach, and warm cabbage salad.
Beckoning from the Western side of the menu were further enticements: pan seared tuna with pepper crust, accompanied by grilled zucchini, spring onions, and lemon aioli; wasabi salmon-the fish has been marinated in wasabi yogurt and served with smoked salmon risotto, sautéed greens, and vegetable timbale; and lobster thermidor presented with a white wine sauce and melted parmesan. As two unabashed gourmands, Doris and I were in gastronome heaven.
* * *
We had a plan. This morning Doris, who enjoys the pampering of spa treatments, would visit the hotel's award-winning Le Spa, while I, who don't, would spend the time lounging by the pool, reading, swimming, and sunning. We would meet for lunch after her session. Even the best intentions can sometimes go askew.
Making a choice from the treatments outlined in the extensive spa menu was not easy. "Romancing the Perfume River," which offered a three-hour indulgence for two that included a bottle of sparkling wine, was easily eliminated because of one unwilling participant. "Hue Afternoon Escape" was another three-hour temptation that Doris pondered, as was the two-hour "Earthly Pleasures." Making decisions from several alluring choices was reminiscent of the difficulties encountered with the menu in Le Parfum.
After much deliberation, the aromatherapy facial with neck and shoulder massage was selected as a starter, with the hot rock stone treatment as the main. "See you for lunch in two hours," she announced.
After reading and sunning and swimming and letting my mind drift with the dragon boats on the river, I ordered a La Rue, a locally brewed lager, and sat at the pool bar, gazing occasionally in the direction of the spa. Time seems to slow down here at La Residence.
"You have many hair on your arm," the smiling young pool bar attendant commented. I wondered if this was perhaps the Vietnamese way of beginning a conversation, and was uncertain of an appropriate rejoinder. He was a friendly fellow who studied English in the evenings and as it turned out, was very inquisitive about Canada.
Eventually Doris emerged from the canopy of the longan tree in front of Le Spa. All bundled up in a plush robe and slightly flushed, she made her way on what appeared to be rubbery legs to our poolside umbrella-shaded lounge chairs. 
When I approached, I could hear her sigh. "How was it," I asked.
In response, she sighed again, not opening her eyes. "Wonderful," she whispered.
"Tell me about it at lunch?" I suggested.
 "I'm too relaxed to eat," she murmured. Moisturized, de-stressed, soothed, revitalized, rebalanced, detoxified, and renewed, she was content to go on rewind, reliving the pampering pleasures of the last two hours.
Over lunch for one at the pool bar-Chef Louise's take on tom yam gung and spring rolls-I resumed the pleasant conversation with the pool bar attendant. Although there were no more comments on one particular topic, he did occasionally glance furtively at my arms.
* * *
Just next to La Residence is a street leading to the river. After negotiating the terms for a cruise with the owner of one of the dragon boats moored at a makeshift pier, we were chugging leisurely on the poetically named river. We sat on the bow on moulded plastic chairs in the shade of a canopy made from a tarpaulin fastened by ropes. After only a few minutes, the owner's wife handed us a hand-written menu for a meal she would prepare for us, and seemed truly disappointed that we declined.
We passed young boys in dugout canoes diving for shells. In places there were communities of boats-boat villages-where women were washing clothes and themselves, hollering and laughing loudly back and forth. At one point we witnessed a solemn ceremony presided over by monk; a number of people were throwing coloured papers into the air and setting candles and incense adrift in paper boats. We were later to learn that the ritual was for someone who had died on the river, and the papers had pictures of items that could be used in the afterlife-money, clothes, food.
There is a serenity on this river, a peacefulness. Lulled into a pensive mood, our thoughts turned to a time much less tranquil. We knew that Hue had been the scene of one of the bloodiest conflicts in the Vietnam War. It was here that the Tet Offensive began.
After their capture of the city, the Viet Cong and North Vietnamese Army commandeered the governor's estate and used it as a detention centre for South Vietnamese government officials they had arrested. During the month-long intense fighting, this soothing river played a vital role in moving US and ARVN supplies and personnel.
When the North was finally defeated-the city had to be secured house by house, street by street-Hue was in ruins. An estimated eighty percent of homes were destroyed or damaged. Several thousand soldiers had been killed. Even more horrific was the toll on civilians-the Viet Cong had massacred thousands who they believed to be American sympathizers. It is not clear how much damage was sustained by the mansion at 5 Le Loi during that fierce battle, although it is likely that, like the rest of the city, it was extensive.
We were distracted from our reflections by a shuffling behind us. On a blanket, the wife had arranged what she called "souvenirs." Ever-entrepreneurial, she displayed an array of items for sale-do paper sketches of girls in ao dai and pyramid hats, beaded bracelets and necklaces, silk kimono with dragon motifs, shirts, buffalo horn hair adornments, chopsticks.
The sun was beginning to set as we saw the unmistakable architecture of our hotel ahead. Our musings returned to the present and took a decidedly more pleasant turn. Evening was approaching and we began to feel the familiar summoning of the restaurant. We wondered what gastronomic indulgences were awaiting during dinner at this former mansion by the Perfume River.
* * *
Fact File: 
La Residence Hotel & Spa
5 Le Loi Street, Hue City, Vietnam
Tel:    (0084) (0) 54 3837 475
Fax:   (0084) (0) 54 3837 476
Web: http://www.la-residence-hue.com/
email: resa@la-residence-hue.com
* * * * *
---