Police Museum Chronicles Hong Kong's Finest
---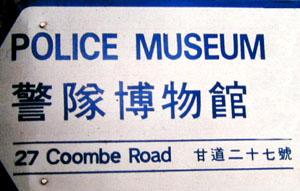 Image ©
2002 Steven K. Bailey
Man-eating tigers mauling intrepid constables of the Hong Kong police. Special inspectors busting drug smugglers from mainland China. Kowloon beat cops breaking up street fights between rival Triad gangs battling with swords and butcher knives.
You might think these stories come from an action-packed cops-and-robbers series playing on Hong Kong TV. In reality, however, these tales of true crime come from the Hong Kong Police Museum, which chronicles the history of law enforcement in a city that has always had its share of bad guys.
Though I first visited Hong Kong in 1986 and have been coming back ever since, I only got around to visiting the Police Museum this past summer. I ascribe this delay to my instinctive desire to avoid the police and the fact that this somewhat obscure museum lies tucked in a cul-de-sac high above the city on the road to Victoria Peak.
To get to the Police Museum, I caught double-decker bus #15 from Exchange Square. I scored a top-deck seat and enjoyed a memorable ride up Stubbs Road, a narrow ribbon of pavement wrapped around the jungle-clad mountains of Hong Kong Island. Each curve offered a dramatic panoramic view of the city's famous skyline and harbor.
In fact, I became so engrossed in these cliffside views that I failed to see a large sign announcing the Police Museum at the intersection of Stubbs and Peak roads. By the time I'd spotted the sign my bus had already whizzed past the adjacent bus stop. I had to get off at the next stop, cross the road, and wait for a bus heading back down in the opposite direction.
If you take a bus to the museum yourself, my advice is to watch for a set of high-tension power lines that cross over Stubbs Road. Once you see these, ring the stop bell immediately and stand by the door of your bus. This way your driver will know to let you off at the Police Museum bus stop.
Once I'd backtracked to the correct bus stop it took less than five minutes to walk up to the museum itself, which appropriately enough occupies a former police station. Though the museum hardly numbers among the city's most well-known attractions, a large crowd of locals and Chinese from the mainland had nonetheless motored up to it in their own fleet of tour busses, necessitating that a vanload of real-life policemen play traffic cop in the parking lot.
The museum's first and largest gallery offered an overview of the Hong Kong police force from its inception in 1844 to 1988, when the museum first opened in the waning days of British colonial rule. The display hadn't been updated since, so the entire gallery remained frozen in a sort of colonial stasis that emphasized the exploits of British officers selflessly defending the public from various criminal elements. The exhibits invariably identified these officers by name and rank, while the Chinese and Indian policemen, who comprised the bulk of the force, went largely unnamed. Thus these local constables wound up as mere supporting characters in a colonial adventure story of English cops and Chinese robbers.
One of the more interesting chapters in this story involves a rampaging tiger, whose head has since become a prominent part of the display. In 1915 this tiger killed one officer and wounded another before being dispatched with a volley of bullets. These days there are no tigers left in Hong Kong and though the streets remain quite safe, officers still put their lives on the line battling narcotics traffickers, as the next two galleries explained in detail.
Drugs have always been an integral part of Hong Kong's history. In fact, the first drug dealers to set up shop in Hong Kong were nineteenth-century British traders peddling Indian opium. The Chinese government's attempt to stop this trade led to the Opium War of 1840-42, when Britain acquired Hong Kong as a victory trophy. The city has been both a market and a transshipment point for drugs ever since, though the British eventually shifted to fighting the drug trade rather than profiting from it.
Much of the profits from the drug trade now go to the city's notorious Triad gangs, who are the subject of the museum's third gallery. Unfortunately, I saw little of this exhibit because unlike the other galleries, it was as packed as an MRT subway car at rush hour. It seems that the secretive Triad gangs, with their ancient traditions and rituals, have grabbed the popular imagination of Hong Kong residents in much the same way that East Coast mafia clans have grabbed the American imagination.
A fourth gallery in the basement remained virtually deserted, probably because it seemed more like a still-life from a zombie film than a museum exhibit. Nobody else dared spend any time down there except for me, and I didn't stay long. Full-sized mannequins stood in the glass cases lining the walls. All wore police uniforms from around the world and had the pale faces of drowning victims or, even more creepily, no features at all. Canadian Mounties with rigor mortis stood next to Australian policemen with the pallor of corpse flesh. I felt like I'd stumbled into a Night of the Living Police Dead movie.
I fled the Police Museum at this point and took refuge on a bench in an adjacent park. Around me groups of trekkers took a break from their rambles along the island's network of mountain hiking trails. Their walking sticks and backpacks inspired me to forgo the bus and walk down Wanchai Gap Road, a narrow colonial-era street now closed to vehicular traffic. Moving slowly in the heat, I made my way down the steep and winding road through lush jungle growth. I crossed Bowen Road, a pleasant walking path popular with roller-bladers and joggers, and then continued my descent.
Thirty minutes later I emerged on Queen's Road East, my clothes soaked through with sweat, and immediately spotted a trio of policemen patrolling the sidewalks opposite the old Wanchai Post Office. They wore their trademark sea-green summer uniforms and Sam Browne belts, complete with old-fashioned revolvers. I'd no doubt they could handle anything coming their way, from jaywalking tourists such as myself to knife-wielding Triad soldiers hopped up on methamphetamine. I decided that I'd better obey the crosswalk signals as I headed back for my hotel, knowing that lawbreakers would not be tolerated as long as the Boys (and Girls) in Green continued to walk the beat.
* * * * *
Fact File
The Police Museum is at 27 Coombe Road. To get there, catch bus #15 from Exchange Square (adjacent to the Star Ferry Terminal) and get off at the stop at the intersection of Stubbs Road and Peak Road. The fare is HK$ 9.20 (US$ 1.25). Alternatively, you can pay quite a bit more and take a taxi. The museum is open Tuesday from 2 p.m. to 5 p.m. and Wednesday to Sunday from 9 a.m. to 5 p.m. It is closed on Mondays and public holidays. Admission is free. Telephone: 2849 7019. Note that the museum is not equipped for handicapped access at this time.
* * * * *
---