From Power Station Beach to the Kamikaze Caves: Hiking Hong Kong's Lamma Island.
---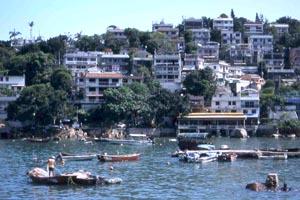 Image ©
2003 Steven K. Bailey
Whenever friends ask me for advice on what to do during their summer stopover in Hong Kong, I tell them to go take a hike. Literally. Usually I recommend the short three-mile hike (4.5 kilometers) across Lamma Island. Unlike the more strenuous trails crisscrossing Hong Kong, this easy hike can be enjoyed throughout the hot and humid summer months.
Enjoyed, that is, if you're prepared to crack a sweat. A midsummer hike across Lamma requires a tolerance for high heat and humidity, but provided you dress sensibly and pack a couple bottles of water, the experience hardly qualifies as an epic trek. The hike does, however, qualify as a scenic trek complete with rugged headlands, quiet beaches and ocean views. More importantly, the hike also offers a respite from the frenetic pace of urban Hong Kong, which can quickly drive you mad if you don't make the occasional escape to quiet places like Lamma Island.
Ironically, however, the first segment of a summer hike across Lamma can be chilly enough to require an extra layer. That first segment consists of a 20-minute ride aboard a fast ferry, a sleek vessel with a passenger cabin air-conditioned down to igloo temperatures. I've learned to pack a lightweight thermal-fleece pullover when riding the ferries in Hong Kong. After all, on many ferries passengers are not allowed on deck, so there is no way to escape this arctic chill chamber once onboard. On the other hand, you can't beat the price: HK$15 (US$2).
Each fast ferry departs from the Outlying Islands Ferry Pier in Central. The ferries cruise along the city's high-rise shoreline, then swing around the west end of Hong Kong Island to bring Lamma into sight. This first view of Lamma might best be described as electrifying, even shocking, given that the three massive smokestacks of the Hong Kong Electric power plant rise over Lamma like some triple-headed monster in a movie named The Creature that Ate Lamma. The smokestacks of this coal-fired plant remain the island's most obvious landmark and are clearly visible from a great distance.
Though Lamma ranks as the third-largest of Hong Kong's 230-odd islands, it is still only five miles long (eight kilometers). The island feels much larger, however, since its irregular coastline makes hiking in a straight line impossible. Instead trails wind along and often above the rockbound coast, which is precipitous and pocked with numerous coves and deep inlets. Most of the island consists of hilly, boulder-strewn terrain covered in long grass and scrub. The 1,158-foot (353-meter) bulk of Mount Stenhouse dominates the southern end of the largely undeveloped island. A number of tiny villages dot the coast and nestle in the flat valleys found at the northern end of Lamma. Yung Shue Wan, the island's largest community, has now grown into a somewhat haphazard suburb of Hong Kong.
On weekdays commuters head down to the Yung Shue Wan ferry terminal, which sits at the end of a long wharf that pokes out into the little harbor. Armed with briefcases and mobile phones, the commuters catch a fast ferry to Central. Meanwhile, incoming hikers disembark onto the pier, which serves as their trailhead. From here the trail heads down the wharf past dozens of bicycles chained to the railings like forgotten pets, waiting for their owners who have commuted into the city for the day. No cars clutter up the wharf, since Lamma has banned all motor vehicles except for cargo-carrying motorized carts that are far more noisy than autos and just as dangerous.
From the wharf the trail leads into the heart of Yung Shue Wan, a warren of cafes, seafood restaurants, mom-and-pop stores, bars, and small apartment buildings. The crooked strips of concrete that pass for streets are often little more than alleyways, some so narrow that I have actually touched the buildings on each side with my outstretched arms. A large number of expatriates live on Lamma Island, and their presence lends the town an international flavor. Expats and Chuppies (Chinese yuppies) gab on mobile phones as they walk purebred dogs, which surely indicates that Lamma's days as an international hippie retreat have passed as quickly as a holiday weekend. I can still detect traces of this psychedelic era in the funky arts and crafts shops, the health-food cafes, and the bongo drumming that reverberates across the island like the ghost of the Marrakech Express. But these are mere echoes of those bohemian times, which have given way to a more practical, if at times cynical, pursuit of the capitalist dream.
At the only major intersection in Yung Shue Wan the trail turns southeast towards Hung Shing Yeh Beach. The concrete footpath runs past several all-purpose shops selling everything from beach balls to balls of twine, and I always stop in at one of them to load up my pack with cold bottles of water. Beyond a pair of good trail shoes, sunglasses and a baseball hat, I never bring any hiking gear. Compasses and walking sticks are just useless deadweight, given that like most popular hiking trails in Hong Kong, the cross-island trail is so well-maintained that it really isn't a trail so much as a sidewalk. Signs point the way like good Samaritans; railings line the stretches of trail edged with steep drop offs. The whole route has been paved smooth as a street in Kowloon, though as of yet it has not been enclosed in an air-conditioned tunnel or equipped with escalators, two amenities that are Hong Kong specialties.
After about 15 minutes of walking past small apartment buildings, banana groves and boggy fields of tall grass, the trail arrives at Hung Shing Yeh Beach. Also known by the perhaps more apt name of Power Station Beach, this pleasant crescent of sand comes complete with lifeguards, changing rooms and middle-aged women breast-stroking out to the shark net. It also comes with the huge triple stacks of the power station, which overshadow this peaceful tableau. It never ceases to amaze me that I can stand in the middle of the beach, look south, and convince myself that I've reached an idyllic pocket of beach paradise. Then I can look north and decide I've reached a massive industrial park that just happens to offer the chance to take a dip. Though Hong Kong is full of dramatic contrasts, it seems to me that Power Station Beach might well offer the mother of all juxtapositions.
At the south end of the beach the trail curves up along a ridge overlooking the sea and, of course, the power plant. Hong Kong Electric paid for portions of the cross-island trail, which might explain why the route seems purpose-built to showcase its sprawling power complex. For all its imposing bulk, however, the power station has little to do with daily life on Lamma beyond powering the island's lights and air-conditioners. The station is a self-contained universe built on reclaimed land. Hong Kong Electric employees commute from the mainland directly to the station on a company car ferry, which carries trucks that never leave the plant's perimeter fence. After all, there are no roads on Lamma for them to drive on.
Unwary hikers can still be run over on auto-free Lamma Island, however. On a blind curve on the trail above Power Station Beach, for example, I once heard the racket of an oncoming motorized cart. Seconds later the contraption careened around the bend like a Formula One racecar at Macau's Grand Prix, leaving me to press myself against the underbrush lining the narrow trail as it clattered past with a load of construction debris heaped in the back.
In general, however, the ridge-side trail winds in tranquil silence through a classic Hong Kong landscape of long grass, underbrush, and gray boulders streaked with black water stains. Far below the trail white surf beats gently against the rocky coast. Soon the path reaches a Chinese pavilion that marks the halfway point of the hike. I always choose to hike during a weekday if possible so I can avoid the weekend crush of day-trippers, but even on the weekends relatively few people walk further than the Chinese pavilion. There they enjoy the cool ocean breeze that sweeps through the shade beneath the pavilion's tiled roof. They pose for digital photos before the impressive backdrop of the island-spotted South China Sea, and then retrace their steps back to the ferry pier at Yung Shue Wan.
Nevertheless a fair number of intrepid hikers continue onward down the trail. I've shared this less-traveled part of the path with a motley assortment of fellow ramblers, including a pair of amateur rock hounds. The two of them strolled along in floppy golf hats, periodically stopping to swing ball-peen hammers against promising boulders in a search for interesting minerals that was as ecologically incorrect as shark's fin soup. I've also shared the trail with a gaggle of middle-aged Chinese women, who conversed in high-decibel Cantonese while warding off the heat with folding fans. I've walked with various foreign tourists from the United States, England and Australia, who straggled along gamely in the sun, snapping photos that would be hopelessly overexposed and trying to suck the last drops from their long-empty bottles of water.
From the Chinese pavilion the trail continues south and crosses Lamma's rugged spine at a point where the island stretches barely a third of a mile wide (0.5 kilometer). Then the path plunges downward to the opposite side of the island and traces Picnic Bay, where a series of caves scowl out at passing hikers. Like everything else on the island, these holes in the cliff face have been conveniently equipped with an explanatory sign that reads Cave Kamikaze. It seems that during World War II the Japanese occupiers blasted these bombproof caves out of solid rock and hid a kamikaze speedboat in each one. These human torpedoes saw no action until after Japan surrendered and a victorious Allied fleet sailed into the waters of Hong Kong to reclaim the territory for the British Empire. Several kamikaze speedboats charged the fleet, which promptly blew them to splinters. With their dark, trash-filled recesses flooded with black pools of water, the caves serve as a somewhat haunted reminder of the war years.
According to the July 25, 2003, edition of the South China Morning Post, more dangerous reminders of the war occasionally turned up on Lamma as well. During Typhoon Imbudo, which I'd ridden out in my hotel room with the help of several trays of sushi and a couple of Carlsberg beers, a bomb had washed up on Power Station Beach. This relic from the second world war had apparently given the Hong Kong Police bomb squad a rather interesting morning.
From Cave Kamikaze the trail passes the derelict homes of islanders lured away by the bright city lights of urban Hong Kong. In recent years many islanders have abandoned their traditional fishing-village life, including Lamma's favorite son, Chow Yun Fat of Crouching Tiger, Hidden Dragon fame. Of course, the trail also passes the expensive new villas of former city dwellers who moved to the island to escape those same bright city lights, which, ironically, are powered by the massive generating station on the other side of Lamma.
Even the fittest of hikers -- and I make no claim to be one of those -- will be thoroughly overheated by the time they reach tiny Sok Kwu Wan, a one-street town devoted to seafood. A string of restaurants front that single street along the water and blend into a long line of gastronomic excess. Each restaurant offers al fresco dining on a dilapidated pier that looks ready to pitch diners into the drink, but in yet another one of those jarring Hong Kong contrasts, each restaurant also features an extensive wine list with prices even Chow Yun Fat might think twice about. Freshness is all-important at these restaurants, so their bubbling fish tanks display every possible edible form of sea life that can be hooked, netted or dragged up from the depths. Walking down the street feels like visiting an aquarium, except that in Sok Kwu Wan you get to eat what's on display. Most diners come out to Sok Kwu Wan on pleasure cruises rather than cross-island hikes, though restaurant staff also intercept hikers bound for the ferry pier and try to convince them to sit down for a plate of jumbo prawns instead.
I never seem to reach Sok Kwu Wan at mealtime, so I always pass on a seafood smorgasbord and continue down to the ferry dock that marks the end of the trail. The trim little Flying Fame and her sister ships periodically depart from the pier for Central. These smaller ferries actually permit passengers to forgo the air-conditioned main cabin and sit up on deck for a noisy but nonetheless enjoyable open-air cruise.
Forty minutes later the ferry docks at the Central ferry pier and hikers return to urban Hong Kong rejuvenated by a day on the trail. They have quite literally taken a hike, and no matter how hot the trail, they are most certainly better for it. And if they are at all like me, they have already pulled out their map and begun planning their next hike across Lamma.
* * * * *
Fact File:
Lamma is easily accessible by both ordinary and fast ferries. Both types of ferries run from the Outlying Islands Ferry Pier in Central to Yung Shue Wan, Lamma's largest community and the starting point for the hike described above. The journey takes approximately 30 minutes and costs HK$15 weekdays and HK$20 weekends (US$2.00 to 2.60). Ordinary ferries cost a bit less and take a bit longer. Ferries regularly return from Sok Kwu Wan, the end point of the hike, on 40-minute journeys to Central for HK$10 (US$1.30).
While the main trails on Lamma are well signed, secondary trails often are not. If you plan on walking the island's less-traveled trails, then carrying a map is a good idea. Fortunately, the Survey & Mapping Office of the Lands Department publishes the excellent Countryside Series of topographical hiking maps. In fact, their Outlying Islands map is the best map available for exploring Lamma Island. Given its high quality and obvious practical value, the map is a bargain at HK$50 (US$6.50). Purchase the map at Bookazine (Pacific House, 20 Queen's Road, Central) or go directly to the Government Publications Centre (Queensway Government Offices, 66 Queensway, Admiralty).
For information on the kamikaze caves, I relied on the excellent Ruins of War: A Guide to Hong Kong's Battlefields and Wartime Sites by Ko Tim Keung and Jason Wordie. The Bookazine chain generally stocks this title, which sells for HK$120 (US$15.50).
* * * * *
---