Saigon's De Tham Street: International Crossroads and Carnival
---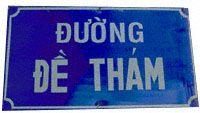 Image ©
2000 Steven Bailey
Every Asian city on the backpacker circuit has a budget traveler district and over the years I reckon I've been to them all. Jakarta has Jalan Jaksa; Hong Kong has the length of Nathan Road centered around Chungking and Mirador Mansions. And perhaps most famously--or infamously--Bangkok has Khao San Road. All of these long-established locales cater to the needs of young western travelers traversing the continent on the cheap. After the recent opening up of Vietnam to tourists, Asia's newest budget traveler district sprang up in Ho Chi Minh City.
If you arrive at Saigon's Tan Son Nhut International Airport or main railway station with a rucksack on your shoulders, the waiting taxi and cyclo drivers will automatically offer to take you to De Tham Street, the center of Saigon's burgeoning budget traveler district. This district actually consists of three streets intersecting in an H-shape, with De Tham the bar of the H, and Bui Vien and Pham Ngu Lao Streets the legs. Travelers from all over the world converge on this area and it is rapidly becoming one of the great crossroads of Asia. If you are backpacking across the continent, and you meet some traveling Swedes, Brits or Germans in Bangkok, Bali or Bombay, there is an excellent chance that you'll run into them again on De Tham Street for Vietnam has become the trendiest of destinations. All backpackers want to go there and once in country, a sizable percentage of them spend time on De Tham Street.
For the hungry budget traveler, De Tham fries, boils and bakes just about anything you could want to eat. Street stalls, cafes and restaurants prepare everything from springrolls to pizza. There is Sinh Cafe, Kim's Cafe, the Cafe 2, Coffee 2 and the Ly Ly Cafe, which proudly proclaims itself to be the home of the Hoang Khang Burger. Printed in English, sometimes French and always in Vietnamese, the menus offer a cheap variety of foods. A substantial breakfast of an omelet and baguette with strong filtered coffee can easily be found for less than a U.S. dollar. Lunch and dinner prices vary, depending on what and where you eat, but no place on De Tham will bust your budget. You won't run out of dining options either; you can eat Thai, Italian, Indian, Vietnamese, American and unique plates that fuse two or more of the above culinary traditions. For example, De Tham establishments whip up such specialties as curried spaghetti, burgers served on baguettes with La Vache Qui Rit spreadable fromage, and French-fries doused in Cholimex chili sauce.
The thirsty traveler will not be disappointed either for the beer on De Tham Street is cold, cheap, tasty and plentiful. You can get big bottles of BGI, Tiger, Heineken, San Miguel, 333 Export and Bia Saigon for 10,000 dong apiece; if you don't mind slightly flat beer you can try bia hoi, which is the no-name draft brew that sells for 8,000 dong a liter--and that's the tourist price.* In contrast, a dinky can of beer on the upmarket Rex Hotel's rooftop terrace will put you back 32,000 dong.
For a happy hour beer on De Tham Street my favorite place remained the 333 Cafe, a friendly little hole in the wall named for the beer that its thirsty customers guzzled so enthusiastically. In the 333 Cafe a never-ending procession of local children wandered in and out peddling shoeshines, chewing gum, postcards and cigarette lighters shaped like hand-grenades. Travelers swapped tales of the road, pored over their Lonely Planet guidebooks and bought each other rounds. If I wanted it, I never lacked for conversation in the 333 Cafe. Like me, many of its patrons were traveling alone and eager for company. They were curious about their fellow backpackers and interested in obtaining useful travel tips. Best of all, everyone had a story to tell. I never once had a boring exchange of words at the 333.
Aside from abundant bars, restaurants and cafes, an ever-increasing number of hotels and guesthouses crowds the De Tham area. Prices vary widely, are invariably quoted in dollars and depend on the time of year and your bargaining skills. Dorm beds can be had for a few dollars; rooms start at about $6 and top out at about $15. Room quality oscillates wildly from guesthouse to guesthouse, and as I discovered, it pays to shop around.
The first time I came to Saigon I paid $12 for a room at the Mini-Hotel Huy Hoang, a quirky place with a half-dozen rooms jury-rigged in a narrow concrete building. The family that ran the place lived in the combined lobby-living room; the guests stayed upstairs. Each time I passed through the lobby they cheerily pointed out the American movie on the TV and invited me to join them. My room featured a ceiling fan that slashed the air like a helicopter blade (each morning I awoke thinking of the opening scene of Apocalypse Now), a variety of plastic flower arrangements and a toilet that never quite flushed properly. I couldn't complain, however, for I was on a budget. Besides, the luxurious New World Hotel, a monolith just visible from the end of De Tham Street, looked sterile and unexciting.
When I returned to Saigon some weeks later I had acquired a better sense of what my dollars could buy in terms of accommodation. I hunted around the De Tham Street area and finally settled on the Hotel Giang. This wonderful little gem of a hotel lies down an alleyway that parallels De Tham Street. More than a dozen new hotels and guesthouses have opened here, offering some of the best deals for accommodation in the entire city. After some friendly bargaining, the proprietor's son Dung and I agreed that for $9 a night I could have a brand-new room with its own hot-water bathroom, air-conditioning and, best of all, a little writing desk. The hotel was secure, friendly, squeaky clean and quiet. Without question it was the best room I ever had in Vietnam, and for the price, one of the finest rooms I'd ever rented in Southeast Asia.
Eating, drinking and sleeping may well be the three most important things for any traveler, but shopping remains a close fourth. Here De Tham will not disappoint, for it has a sidewalk bazaar atmosphere where you can buy everything from toothpaste to lacquerware. There are stores entirely dedicated to bags and backpacks of all shapes and sizes. There are silk tailors like Tan International Vietnam Silk ready to sew your custom-made clothes. There are used bookshops and bootleg compact-disc vendors selling the greatest hits of Eric Clapton, Abba, Jimi Hendrix and the Carpenters for two dollars each. For the literate traveler, enterprising Vietnamese women come around with maps and xerox-copy books to sell--Graham Greene's The Quiet American, Bao Ninh's The Sorrow of War and the Lonely Planet Vietnamese Phrasebook. At the Neoc Tuyen Souvenir Shop you can buy shell-casing lighters, Kodak film, NVA pith helmets complete with red stars and T-shirts bearing the visage of Ho Chi Minh.
Any travel arrangement, be it a hydrofoil ticket to Vung Tau or a Vietnam Airlines flight to Hanoi can be made at one of the various travel agencies on De Tham Street. Wherever you are going in Vietnam, from Dalat to My Tho, you can be sure there's a bus leaving from De Tham Street. Most likely that bus will be operated by Sinh Cafe, a multi-enterprise operation offering everything from tours to fried tofu. In addition, if you want to keep the home front appraised of your travels, you can send e-mail, make phone calls and transmit faxes from De Tham Street travel agents.
Situated close to the city center, De Tham is a good starting point for exploring Saigon. Rental companies like Forren Motorbike offer all manner of two-wheeled transport including motorbikes for $5 a day and bicycles for a buck. Forren Motorbike's rental machines are in no better shape than their English spelling skills, but then again, you can't beat their prices. Taxis are plentiful, and among the sidewalk ranks of parked bikes, mopeds, and motorcycles stand the cyclos, whose drivers scout for business or loll half-asleep on their three-wheeled machines. With some firm but cheerful bargaining, you can get a good price.
Even if you're not traveling on a budget, I think De Tham Street to be well worth a visit. Come down in the evening hours, when everyone has returned from their day trips to the Cu Chi Tunnels, Vung Tau or the Mekong River, and the daily Sinh Cafe buses from Dalat and Nha Trang have arrived with a fresh wave of backpackers. The hawkers set up for business and the neighborhood Vietnamese sit outside on the curb in the cooling night air, slurping the ubiquitous pho (noodle soup) and quaffing tea or beer. Under the street lights backpackers sit at plastic cafe tables, deep in conversation while drinking BGI beer and eating baguette sandwiches and fried noodles.
In my opinion, no finer place to people-watch exists in the entire city. Where else can you see a tribe of wild Israelis with long curly black tresses and silver hoops through their noses, eyebrows, ears and belly buttons? Or ancient peasant women shuffling along in conical non hats or smartly dressed young women in ao dais flowing past like apparitions? Or schoolgirls playing badminton in the street while Australian Vietnam war veterans swap war stories over Heineken? ("Went back to the old base. Not a trace left. Only thing I could recognize was the rubber plantation.") Where else can you see an intoxicated Swede dancing on the sidewalk to appreciative multinational applause, an armored baseball hat fashioned from used Tiger beer cans on her blond Nordic head? Where else can you hear Japanese speaking English? Vietnamese speaking German? Dutch speaking French? Brits speaking Russian?--all within the same cafe?
De Tham is a human kaleidoscope and international carnival. It may not be as "cultural" as a museum or temple, though in fact the neighborhood actually has a pagoda or two of its own. It may not be as elegant as the colonial-era Continental or Majestic hotels in the city center. It may not have the gourmet restaurants or swank boutiques and jewelry shops of Dong Khoi Street. But De Tham may well be the most international street in Saigon, a United Nations of travelers from Texas to Taiwan. Plus De Tham is cheap, friendly, vibrant, diverse and just plain wacky. Come on down and join the party.
*I visited Vietnam in June 1997 when the U.S. dollar fetched 11,650 Vietnamese dong.
The Hotel Giang is at 40/26 Bui Vien, Ho Chi Minh City. Telephone: 8369559
The 333 Bar-Restaurant is at 201 De Tham Street, Ho Chi Minh City. Telephone: 8360205
---