Prometheus Unbound: An Interview with Artist Ian Douglas
---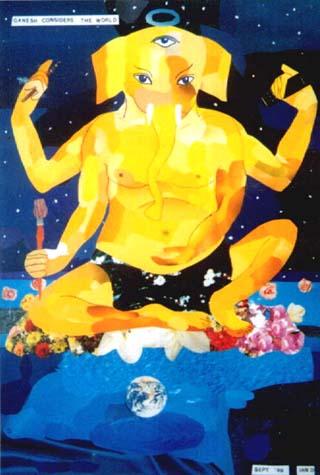 It's a long way from the boughs of the Sherwood Forest to the mango groves of suburban Bangkok, and nobody knows that better than Ian Douglas. However, for this artist, poet, and once itinerant ESL teacher, the distance from point A to point B was not a straight line. Ian traveled extensively in Asia, Oceania, Europe, and North America before settling in Bangkok, where he has lived since 1994.
Even as young as age five, Ian recognized his "burning desire to lead a creative life." But alas, the buttoned-down world of a London grammar school provided little, if any impetus for his art; and as the second of three boys in a working class family, he found no encouragement there. If ever anyone personified the old axiom, "The nail that sticks up gets hammered down," Ian Douglas did. But not forever.
Reluctantly embarking on what he describes as a "path designed for him by the relatives and teachers around him," Ian made a foray into a career as a social worker. And although it was not his first love, he approached his work with dedication and sincerity. "I was highly successful with cases other social workers wouldn't touch, particularly within my specialty of learning disabilities. For ten years, mental handicap was my life and I always tried to give 200 % to my clients and their families. I happened to be involved with several innovative projects over the years and did many things. We had our unhappy endings too, that's a part of the work. Mental handicap issues inform my poetry and art, and I am proud to have had the opportunity to work with them." Not surprisingly however, after ten years as a social worker, Ian found himself still yearning for something more. This, coupled with the painful but timely end of a romantic relationship, left him poised to point his life in a new direction. "I had no reason to stay in my career, and suddenly I had no reason to stay in England. I'd always wanted to travel, and I thought, 'Now's the time to do it.'"
Acting upon that impulse, Ian headed for India: a decision to which he attributes the liberation of his creative anima. "Travel broadened my mind," he says. "It taught me that I am not an ordinary person, so I should stop being ashamed and stop trying to be ordinary. Travel gave me the confidence to believe in myself and to take risks. It showed me that, with a touch of luck, we can do anything if we put our minds to it."
And although Ian did not formally study art, once he surrendered to the artist within, he began working in oil, charcoal, pastel and ink. Somewhere along the way, he discovered the medium of collage, and has since developed the trademark technique for which he is best known. Using carefully selected bits of colorful paper from magazines and catalogs as his 'brush,' Ian composes vivid and evocative works, which incorporate natural motifs and often allude to classic archetypes and mystical deities.
"In my art I have many motifs: flowers, birds, lovers, shells, animals. They all have meaning to me, and the meanings change. In my art I strive to capture the wonder of life, the good and the bad. (I may not succeed but I try). I don't paint pretty pictures. Pretty pictures are fine, but I am aiming at higher goal."
"People tell me I am obsessive, but I'd say to be an artist you have to be obsessive. Poetry, art and writing are obsessions not hobbies. I feel my artwork comes from a spring within me, and gets filtered on the way out by the life experiences that have shaped me. Art is our inner language to express the ideas and feelings we cannot say in words."
Conversely, however, the language that we can say in words has also played a significant role in Ian's life. Since earning his ESL Teaching Certificate from Clarendon College in Nottingham in 1992, he has worked as an ESL instructor in Hong Kong, Korea, and Thailand. These days, in addition to the time he spends in his studio, Ian also teaches English to children part time, and is employed as an English instructor at Rangsit University, a place that holds the key to much of his destiny. As fate would have it, Wimolsiri Douglas, Ian's wife, is a professor of Food Technology at the same university where Ian teaches.
"I was teaching in Korea and worried about the North Korean nuclear missile crisis of '93. So when I was offered a job here (in Bangkok) I jumped at the chance. I had been slowly en route to a new life in Australia, and after two years in Bangkok, I emigrated to Oz. But I had a kind of emotional breakdown and after four weeks came back to Thailand to my old job. I like to think God was pulling my strings so that I came back and met my wife."
Although his childhood may not have been idyllic, the life he has made for himself in Thailand certainly seems so. Ian and Wimolsiri rent a huge house in the suburbs of Bangkok, located on a parcel of land that borders a canal, with a garden, mango trees, and lots of tropical birds. "I love it," Ian says. "The neighbourhood is quite posh, so unlike much of my life." Moreover, Ian and Wimolsiri have been recently blessed with the birth of a baby boy they named Zachary.
And if that weren't enough, Ian is basking in the spotlight of his most recent art exhibit at the Silom Galleria Complex, quite possibly the largest private gallery in Thailand. "The gallery is HUGE," he says. "They invited me and six other international and local artists to be their 'debut'. It's a big honour and a lot of work."
Ian's curriculum vitae also includes several other exhibitions, as well as feature stories on his work in the Bangkok Post, the Nation's Best of the Week, Tatler, Living in Thailand, the Matichon, the Siam Rath, the Pattaya Mail, the e-zine Zingasia and other notable publications. He has also been advertised on UBC, Thailand's cable television network. In 2000, Ian exhibited a one-man show, "Icons for a New Millenium," at the Neilson Hays Gallery, followed by the "Dragons and Flowers" show at the Over the Rainbow Gallery near Pattaya.
His 1997 debut exhibition at was held at the Baan Chao Praya Gallery, and was presided over by Thailand's Right Honorable Prime Minister Chuan Leekpai. Ian holds that event among his fondest memories. "On the opening night of my 'debut' art show," he recalls, "The ex prime minister 'cut the ribbon.' so to speak. I was hiding in the men's room, but was dragged out to meet him. He was very complimentary. After that, the guests were very kind and I spent the night autographing brochures. I wish I could have a high like that every week!"
However, while Ian relishes the excitement of his newfound notoriety, he admits that a portion of his days are spent in such trifles as changing diapers, 'pottering about' in his garden, and feeding Amber the cat, a stray who recently added a litter of kittens to the household, which might prompt one to ask, "Why such fasciantion with a litter of kittens from a stray cat?" To which Ian replies,"When I looked in the box and saw those newly born kittens, covered with lick, eyes shut, meowing hungrily, I just thought, 'This is magic. I want the rest of my life to be filled with these kinds of moments.'" Perhaps the sentiments sprang from his newly found paternal bliss.
On the subject of fatherhood, Ian remarks, "Every baby is a gift from God, not least Zachary. I give thanks everyday. Having a child is a tremendous responsibility, but can also be a great learning experience. Becoming a parent means different things to different folks. My biggest surprise was that after the birth I was still me. I think I half-expected the 'fairies of fatherhood' would sprinkle me with magic dust and I'd wake up a Dad. They didn't. I am still me with the same faults, strengths, fears, hopes and ambitions. That's the point. Parents are not super humans, they're just you and me and anybody. You just carry on from day to day, and try to do your best."
When asked if he had any regrets, Ian replied, "Anyone with no regrets hasn't lived. I regret not following my heart and not taking up the creative life at an earlier age," a life which he seems to balance nicely with parenthood. Ian goes on to say, "I hope to leave a collection of works that inspire people and say something about the agony and ecstasy of human existence. Art doesn't feed the hungry or cure the sick, but art is one of the keys to being human. And beauty, whether that of humanity, nature, or art, does feed the soul."
---