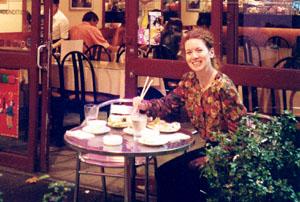 Image ©
2001 Samantha Coomber
It's tough when you long to be back in a country but for various reasons cannot be there. True, I can't really complain, as I am fortunate enough to reside in Sydney- one of the most beautiful cities in the world. But my desire and obsession to return to Vietnam each day always lurks beneath the surface.
One of the wonderful things about Vietnam is the omnipresent aromas and experiences of the cuisine, which is tangible to the nose, eyes and ears. Every street, house and stall the length and breadth of the land is a hum of joyful cooking activities. There are bubbling pots of steaming noodle soups and rice, and abundant piles of freshly chopped produce and meat on every street corner. You would certainly never starve over there- too busy tripping over yet another food stall. The country is near obsessed with eating.
So the closest I can get to Vietnam life is perhaps seeking out Vietnamese eateries across Sydney. Not only reliving the delicious subtle cuisine, but also maybe having the opportunity to desperately soak up the very last droplet of ambience before the next trip back.
Finding the required premises is a pretty easy task in Sydney. Many Vietnamese have settled here, largely due to the "boat people" influx of the 'seventies and 'eighties. The main area of Vietnamese settlement is in Sydney's Southwest and particularly, the suburb of Cabramatta -or "Vietnametta" as it's affectionately known. On a sultry Saturday afternoon, with the delicate smells of ginger, chilies and garlic wafting in the air and surrounded by bustling downtown Saigon look-alikes, it's hard to believe you are still in Australia. The restaurants are full of Australian-Viets shrewdly eating the closest thing to Vietnamese home cooking and chatting in the Mother Country tongue. There's not a word of English on many of the menus. Close your eyes and you could almost be in Vietnam, it certainly saves on airfares. It's on these streets, in the no-nonsense canteen style restaurants, that you will probably find the best pho - the Vietnamese national dish of chicken or beef noodle soup. Although there are over 500 different traditional Vietnamese dishes, the phos probably hold the fondest memories. Slivers of surprisingly tasty chicken float in a clear broth, amongst chopped spring onions and flat rice-noodles. On the table, an overflowing plate of bean sprouts, mint leaves, limes and chopped chilies accompany the generous bowls. Afterwards, you can polish that off by venturing to the nearby indoor markets where they sell the weird and wonderful che, strangely colored jellied sweet drinks.
With the Vietnamese as industrious as they are, many have become great success stories with thriving business establishments. An inconvenient excursion westward to another strong Vietnamese community - Marrickville-is more than compensated with a visit to the legendary Bay Tinh Restaurant. Here, probably some of the best cooking this side of Indochina is dished up with quite an interesting story to boot. The word Bay is "seven" in Vietnamese and Tinh is the owner's name- Mr. Tinh- who is the seventh child of his family. His daughter Linda explained that for ten years her father was the chef for the Prime Minister of the former Republic of South Vietnam. When his employer was sent overseas as an ambassador, the talented Mr. Tinh duly followed and loyally served up dishes in Taiwan and the United States. With Vietnam "reunified" in the mid 'seventies, this celebrated cook left along with thousands by boat, eventually settling in Australia. After working in various locations, he finally opened his own restaurant in Marrickville. Today, this extremely popular family-run restaurant is frequented by tourists, ex-pats and families alike and is obviously doing something very right, as it's nigh on impossible to get a table after 7pm.
My companion and I were greeted by Mr. Tinh and some of his five daughters, each dressed in the charming Ao Dai national costume. The stark, large dining area- somewhat resembling the dour government-run Viet hotels- did nothing to hint at the delights that were about to hit us. We firstly devoured delicious, fresh vegetarian rolls with transparent rice paper wrapped around tofu, mint leaves and vermicelli (banh trang) dipped in hoisin sauce. We were also plied with fish cakes and a vegetable pancake that literally melted in the mouth. Taste buds fully satisfied, we hadn't even begun the main course, which was fried fish in ginger and fish sauce, along with stir-fried chicken and vegetables with the compulsory pile of steamed rice. This banquet was rounded off with bananas in a thick, creamy coconut cream.
Away from these suburban communities, could central Sydney itself cater for my relentless pursuit of a little corner of Vietnam? Luckily, there are numerous Vietnamese restaurants dotted around the main tourist and CBD areas. Establishments such as Pasteur, which boasts of being "famous in Vietnam" and one of a chain of three Sydney restaurants. Right in the heart of the Asian quarter and next door to Chinatown, cheap, tasty food is brusquely served in unfussy canteen surroundings. Many fellow Vietnamese food junkies (and significantly Viet ex-pats) are to be found slouched over bowls of pho and the trademark pork chop and rice (com suon). The pho however, whilst reasonably good, didn't really compare with the steaming wonders doled out in a Hanoi street stall in the wee small hours. But there again, as I sat sipping endless cups of refreshing green tea, assaulted with the high pitched strains of Vietnamese dialect and faced with the plain whiteboard menu on the wall, I experienced faint twinges of nostalgia for what I now term "home".
A visit to the hip, cosmopolitan Oxford Street was also necessary, with its back-to-back global restaurants, cafes and trendy boutiques in the heart of the city. Conveniently located was Saigon Bay, another popular Vietnamese establishment for those in the know. Saturday evening and the cozy, amiable establishment adorned with traditional paintings and trimmings was heaving. Authentic Viet music serenaded the diners. Chinh -our friendly waiter for the night- wisely recommended spring rolls (cha gio) for starters. A staple of Vietnamese cuisine, these were minced pork, vermicelli, mushroom and carrot thinly wrapped in rice paper and fried golden brown. La piece de la resistance however was the main course for two, "Special Camp Fire Chicken" a Saigon Bay specialty. Chicken marinated with onions, tomatoes and shallots were slowly cooked on the table in a delicate ceramic pot, licked by naked flames. I had never seen this specialty before and Chinh confessed that it had been slightly customized for Western tastes. When it was finally cooked, he showed us how to place the pots' contents on translucent rice paper crepes, wrap them tight with mint leaves and salad and dip them in a tangy fish sauce. This was agreeably washed down with beer directly exported from Vietnam, Saigon's Ba Ba Ba.
Similar dishes were served in the bright and cheery Saigon Metro, back near the Asian quarter. Here tourists, office-workers and theatregoers have perhaps their first initiation into a somewhat sanitized version of Viet cuisine. The friendly waiter told me that the owners were originally from Cambodia, then France, before finally settling in Australia-which somewhat ruined the mystique a little. Nevertheless, my dining companion and I were served quite delicious fresh rolls (gio cuon)- transparent rice paper crammed with fresh prawn, pork and vermicelli, dipped in a wicked peanut satay sauce. And the fish served in a claypot (ca kho to) with caramel sauce and shallots- although minuscule- was more than satisfying.
But in my quest, something inexplicable was missing. True, meals are a lot cheaper in Vietnam and the portions are certainly more generous. And I swear the fish and produce is fresher over there. But then it finally dawned on me. Nothing, but nothing, will ever replace the toothless wonder who invites you to taste sensational roasted pork (heo quay) from indoor market stalls and then laughs at your lacking prowess at chopsticks. Or balancing precariously on the ubiquitous bright plastic miniature chairs and tables out on the streets surrounded by discarded bones and scrunched up serviettes. Nothing will ever replace eating fresh fish wrapped in banana leaves, ginger and lemongrass alongside the riverbank in Hoi-An- with change leftover from a $5 note. Or on Nha Trang beach, where a beach seller cooks you fresh crab on her portable stove as you sit gazing into yet another rosy sunset. It's all "same, same but different" as the Vietnamese are wont to say. No, nothing compensates for being there, so the next stop on the agenda is the travel agent and the next available flight out.
---