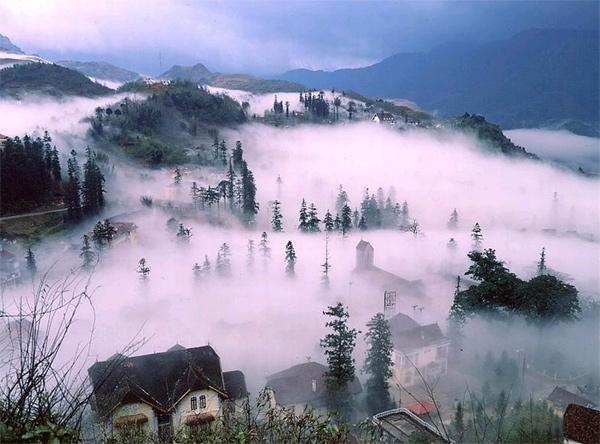 Image ©
2010 Allison Dinh
Sapa Vietnam is a favorite attraction to tourists, both domestic and foreign thanks to its beautiful scenery and colorful culture. French used to consider Sapa as Summer Capital of Northern Vietnam in the early decades of the 20thcentury. Its naturally gifted beauty keeps attracting more and more people to spend their vacation there since then.
Hotels in Sapa are pretty cheap in general. With around $ 25 - $ 40 you can be guaranteed of a nice Sapa hotel room which is right at the center of this foggy town. Aside from leisure pace of sightseeing and exploring the diversity of culture in Sapa, this is also an ideal place for more adventurous tourists with many trekking tours available. Or else, you can also do some trekking on your own and stay with the hill tribes for an insightful understanding of the ethnic groups here.
April and May are the best time for tourists to watch the most scenic beauties of Sapa, or else it might becold and foggy before that and rainy after that. During these two peak months,the town is blossoming with pink and white flowers, and green pastures in valleys. The clouds that settle in the valley in early morning would quickly disappear.
Most tourists agree that it would be regretful if the leisure and relaxation time in cool and fresh weather is not accompanied by visiting trips to Sapa's prideful natural beauty spots, such as Ham Rong Mountain, Silver Waterfall, Rattan Bridge, Bamboo Forest and Ta Phin Cave.
Sapa is home to various families of flowers of captivating colors, unique in the vast country. When Tet, the Lunar New Year Festival, comes, the whole township of Sapa is filled with the pink color of peach blossom brought from the vast forests of peach just outside the town. Sapa is regarded as the kingdom of orchids as well.
Foreign tourists are actually fond of scarce and precious specialties of Sapa, such as forest's product, handicrafts, delicacies (smoked meat, "thang co", "cai meo", san lung wine, corn wine, etc.), typical of ethnic minority people.
Local markets are the town's typically cultural element, which are always crowded and joyful, attracting hundreds of visitors. This is the common place for minority groups to gather and exchange goods. Market sessions are also a chance for local people to promenade. No foreign visitor could help joining such a market session, a typical cultural element of Sapa. What is more, tourists coming to Sapa at weekends have the great chance to learn about local ethnic people's courtship and martial life, through the Sapa love market and wife kidnapping ceremony of the H'Mong group. The ceremony will begin on April 29th.
* * * * *
---