Smiles and flat tires in Kratie
---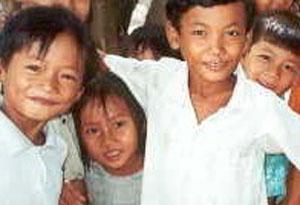 Image ©
2001 Donald Gilliland
When I think back about my visit to Kratie, what I remember most are the smiling faces. Quite honestly, I think it was the friendliest place that I visited during my recent two-week seven-city Cambodian tour.
I can't really explain what drew me to this little town. Kratie is certainly not one of the more famous Cambodian travel destinations. It doesn't have any amazing ruins or ancient Khmer temples nor does it boast any spectacular natural scenery such as mountains or waterfalls. Nightlife? Nothing of the sort - unless you like to watch mosquitos feast on other tourists. No, excitement does not abound in Kratie. Rather, the appeal of a visit to this Mekong River town lies in the tranquility and friendliness that pervades everywhere.
My curiosity about Kratie was whetted by a couple of references I found to the city in books (The Rough Guide to Southeast Asia called Kratie "an unexpected delight with a relaxing indolent atmosphere.") as well as a chance meeting in Phnom Penh with a man from Kratie who invited me to visit his hometown. Andy Brouwer's excellent and thoroughly comprehensive "Cambodia Tales" website praised Kratie for having "its own brand of relaxed charm. A rewarding experience and well worth the detour from Phnom Penh to Siem Reap."
Thus, Kratie (pronounced "Grah-chay" by the locals) ended up high on my list of places to explore. Relaxing atmosphere aside, Kratie does have enough attractions to warrant spending a couple of days, but little did I expect that a flat tire would be the highlight of my trip. And that's not taking anything away from the sights in and around Kratie, it's just that the flat tire episode was one of those priceless, unexpected moments that you couldn't have planned. I'd hired the very dependable Mr. Wutee to take me on tour of the local area. Riding on the back of his small motorcycle, the unfortunate transportation plight happened near the village of Sandan, temporarily delaying our journey to see a temple in nearby Sambor. The place where we broke down in Sandan was right next to a primary school and luckily not far from a repair shop. The only problem was that the guy who ran the shop wasn't around when we arrived, so we had to wait around for a half hour.
During our wait a flock of village children warily emerged from out of the shadows and approached me. Their trepidation soon gave way to big smiles and greetings of "Soo-a sa-day!" and "hello." Passing out multi-colored balloons to the little munchkins also helped ingratiate me to them. I ended up entertaining the kids for the better part of an hour while Wutee sweated over his motorcycle. In addition to playing the part of balloon man I tested my limited Khmer abilities on the children and took photos of them. The combination was a hit. Later, when the adjacent school broke for recess, more curious children came over to what the fuss was all about. Naturally they hammed it up for my camera and requested some balloons of their own. The package of fifty was exhausted in short order. I could have easily distributed over a hundred to the friendly and slightly silly young spectators. By the time Wutee had the flat fixed and was ready to resume our drive, I had to reluctantly bid my new friends goodbye. With vigorous waves and more shouts of "hello" and "bye bye" I rode off into the dust.
Once we finally made it to Sambor, about 40 kilometers from Kratie, we paid a visit to Wat Trasor Muoy Roi, so named for its one hundred columns. The original temple is no longer standing but in its place is a more modern structure that draws many visitors, though not many foreigners (called "barang" by the Cambodians). On both the walls and ceiling of the reconstructed temple are colorful mural paintings that tell the tale of a carnivorous crocodile, along with a few more traditional Buddhist stories. On the way back into town we stopped by Wat Ratakandal, a far more interesting historical site. Farm animals shared the small property with the ruins and I was amused to see that someone had strung up their laundry to dry right next to one of the temple's ancient gates.
The rare freshwater Irrawaddy dolphins are one of Kratie's most famous highlights. The best viewing spot is found in nearby Kampi but occasional sightings can also be had in Sambor and Sandal. In Kampi, visitors can sit on a wall overlooking the Mekong River and watch the dolphins majestically leap and glide through the water. For those wishing a closer inspection, small boats are available for rent.
The architecture of downtown Kratie is a rustic mix of colonial and Khmer style buildings, many of which are in need of a fresh coat of paint. Throughout the town there are teams of cute little ponies plodding down the muddy streets, pulling wooden carts full of farm products. Water buffaloes are used for similar chores, helping create a bit of rural traffic jam in the otherwise un-congested streets. In the evening, the riverside is full of English language students who will eagerly greet foreign visitors and ask to speak with them. One group of teenagers proudly took me back to their home one evening where I did the obligatory "meet the parents" routine and was served the equally traditional bottle of Coca Cola.
Although there is no airport and nearby roads are in poor condition, getting to Kratie is relatively easy thanks to daily boat service along the river. From Phnom Penh the speedboat to Kratie takes about five to six hours, depending upon the number of stops it makes. Once you have exited the boat and made it up the steep riverbank, you will find several inexpensive ($5-10 a night) guesthouses only a short walk away. Most of them have small restaurants with menus in English.
Phnom Sambok, a hillside temple about 10 kilometers outside of town, proved to be another interesting diversion. Snuggled between two moderately large hills, the temple is reached by a long series of steps. Huffing and puffing when I finally reached the summit, I was greeted by a friendly trio of Buddhist monks. After inviting me to rest under a shady tree, they introduced me to the temple's head monk, a 92-year old fellow who flashed a delighted toothless grin at my attempts to greet him in Khmer. We all sat down and talked in both languages for a few minutes while I caught my breath and attempted to stop sweating. Later, two of the younger monks guided me up to an even higher plateau where they showed me yet more pagodas. At the summit I was treated to a great view of the surrounding countryside and river basin. My new monk friends had me write down their names, as well as the name of the new temple where they would be studying later in the year, with the promise that I would return and visit them again. I vowed that I would and indeed I intend to make good on that promise. As Andy Brouwer said on his website, Kratie was truly "a rewarding experience."
---