Splendour of the Far East:The Philippines
---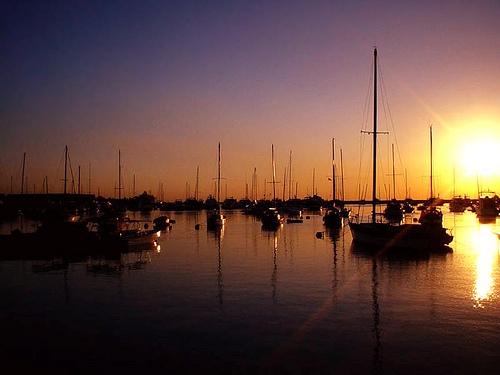 Image ©
2009 Junfil Olarte
My plane bucks like a wild horse on the final approach before landing through disturbing clouds that crowd late afternoon summer skies over Manila. Beside me a Singaporean flight engineer and his wife eagerly peer out the window for a first glimpse of the city. "We've been visiting the islands a number of times," she explains, reminding me of how neighbouring Asians refer to the rest of the country, "and can't wait to get back. Philippines are among these destinations that really give you a feeling of nostalgia."
When I reach my hotel, daylight is already fading. I stroll down Baywalk (situated Roxas Boulevard, facing Manila Bay) where many sightseers enjoying their time at the sunset. It is said that the sunsets that flame over Manila Bay are without equal in any part of the world. Watching its legendary view is the city's most fervently observed ritual: as the sun sinks toward the horizon, the western sky is a blazing banner of scarlet, crimson, yellow, purple, and the seawaters below seem liquid gold. Floating on the air comes the sound of flash cars and taxis passing along asphalt boulevard, church bells tolling. On the shore of the bay, steamy twilight breeze is soft as I amble the promenade of Baywalk, looking for a cozy place to cool my heels. Opposite sides are cafés made of container vans, a park's fountain, churches, and restaurants fill in with its waiters and customers.
Then, as night arrives, those rows of inviting lights that line beside the boulevard cast light upon the gay atmosphere of the coast. Locals and foreigners rendezvous at restaurant I dine in. among them an Australian photographer who has been busy capturing images of nature's splendid display. "Darwin has also beautiful sunsets that slip into the Timor Sea," he notes, "but Manila Bay's are unusual." We engage in several conversations along with the others. One Filipino tells me that aside from exceptional sunsets, the bay is also famous in history. "Just a few miles from these waters heading south," explains Ramon Cadiz, "was the scene of desperate and blood-spattered fighting."
Manila Bay is the finest harbour in the Far East. At its entrance, standing like an isolated guard, is the 2-square-mile fortified rocky island of Corregidor. Opposite side, to the east, is the 30-mile-long peninsula of Bataan. Here, during World War II, Filipino-American forces resisted Japanese attacks. "It was 1942. I was only 7," recalls 73-year-old Ramon, "when father brought and hid us to Laguna. I could hear the terrifying thunderous bomb sounds coming from Japanese aircrafts."
In early 1942, the Filipino-American troops, under General Jonathan Wainright, defended Bataan against the Japanese until forced to surrender on April 9, 1942, and by May of same year, Corregidor fell to the Japanese after 4 months of fierce fighting. Out of 600,000 Filipino-American soldiers that were made to march 70 miles to prison camps, over 100,000 died of starvation and maltreatment. U.S. forces recaptured Corregidor and Bataan in February 1945.
Today, the island-fortress of Corregidor serves as a WWII memorial. It is one of the world's most symbolic legacies of war.
Long before the United States regimented the Philippine Islands (1898-1946), the country was under Spanish control. North-end of Roxas Boulevard (Dewey Boulevard in American colonial days) is the historic Luneta––today a large park––where many Filipino heroes died in the hands of Spain. Near the place are the ruins of Intramuros, a woeful memento of the Second World War. Once upon a time this section of present-day Manila was a medieval Spanish City. Within its walls were the massive Manila Cathedral, a number of church buildings, schools and colleges, and monasteries of various religious orders. Fort Santiago formed the oldest portion of the walls, and there were drawbridges and an ancient moat.
Manila's long past, nostalgic history made her one of Asia's great cities; once it was the Mohammedan kingdom of a brave Filipino warriour-king Rajah Soliman; up until the Spanish conquistador Miguel Lopez de Legaspi captured it in 1571––who rebuilt and made Manila a Christian city. These days, one can certainly see the very old walls in Intramuros, its golf course, and several buildings that had arisen over the ashes left by war.
The fact that the Philippines had been a Spanish colony for 377 years (1521-1898), Manila holds one of the oldest universities in the world, the University of Santo Tomas (UST). The Dominican Order founded it on April 28, 1611; it is one of the largest catholic universities in the world in terms of population whose existence is 25 years older than Harvard University. "There's no doubt that Manila is a remarkable city in Asia," says a spokesperson for the Philippine Museum, "although Filipinos cherish no bitter memories of Western exploitation."
---