The Street Children of Delhi
---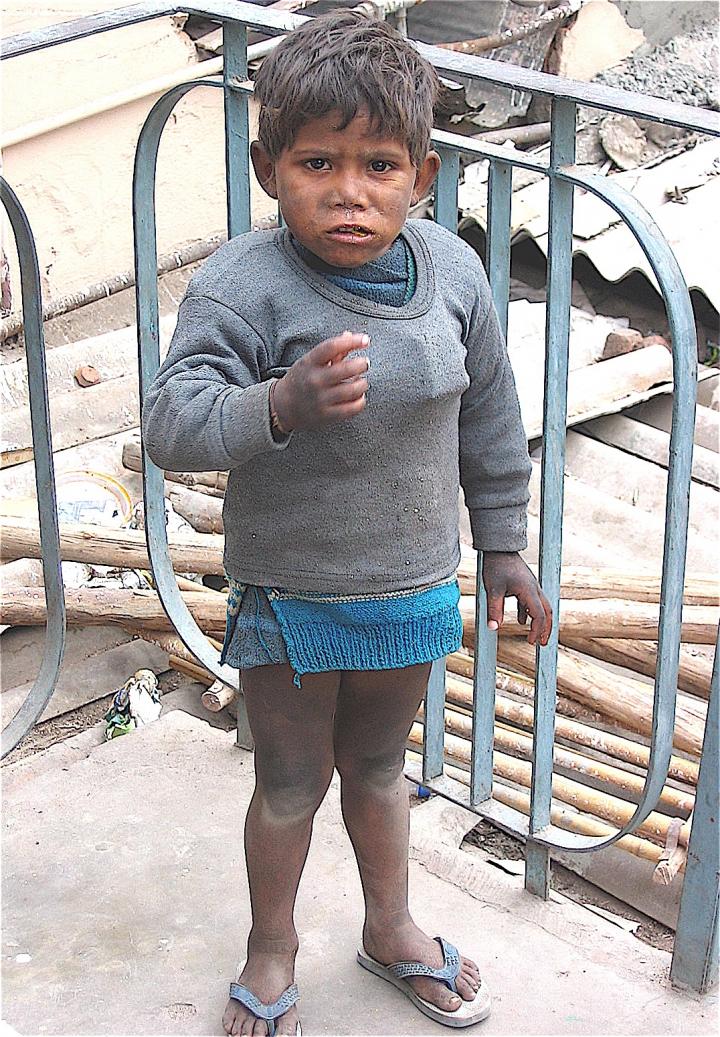 Image ©
2009 MaryLou Driedger
" Some kids sleep on top of water heaters or on the roofs of fruit stands. Others climb up onto the tin awnings at night," says Shekhar Saini. "They like to be higher up so the rats don't bite them while they sleep."
        My husband and I are hurrying through the noisy crowded Delhi train station trying to keep up with Shekhar. He guides us around snoring beggars, tottering mountains of luggage, packs of scurrying rats and tea sellers rushing by with their steaming metal pots. Shekhar's dark eyes are lively. He narrates our walk through the station with passionate warmth and confident ease. I'm impressed with his excellent English. He's wearing a fashionably faded denim jacket and jeans. His thick dark hair is neatly combed and parted at the side.
          I read an article about Shekhar, an aspiring Bollywood actor, in a Canadian magazine and contacted him immediately upon our arrival in Delhi. I wanted to arrange one of his unique tours, which gives visitors a glimpse into the lives of the more than 100,000 homeless children who live on Delhi's streets. Shekhar used to make his home amid the rotting garbage, wandering cows, rusty bicycles and animal excrement on the narrow winding streets surrounding the busy train station. He's the perfect person to show visitors around.
           A small boy grabs my arm with his sticky hands begging for money. He's wearing a heavily stained bulky green sweater. His nose is bubbling with mucus. The skin on his arms is dry and flaking. His eyes are red rimmed, and barely visible under a shock of straw-like hair.  He doesn't have any pants on! I can see his little bare brown bum. "He's an 'off the street kid', Shekhar says shooing him away. There are two kinds of street children in Delhi. 'Off the street' kids are those born to homeless parents. They have grown up on the streets of Delhi. 'Off the street kids' beg for a living and give the money to their parents. 'On the street kids' are those who have run away from home because they were being physically or sexually abused. Some were abandoned by their families because they had mental or physical disabilities or because they didn't study hard enough and weren't doing well at school. They've made their way to Delhi from various parts of India looking for a better life or just an escape. 'On the street kids' are more likely to be working rather than begging.
          " Watch for pickpockets" Shekhar warns us. Several rival gangs control the 2,500 kids who live in and around the train station. Gang leaders approach the nearly 50 new runaway kids who arrive in Delhi by train each day, and try to persuade them to work for their gang as prostitutes or pick pockets. Each gang leader has staked out one of the station's bustling platforms as their territory to 'do business'. Vicious fights break out between the gangs when these boundaries aren't respected and then the police move in to beat the warring factions into peaceful cooperation.
      Shekhar tells us with a tinge of pride in his voice that not all kids who live in the train station make a living with illegal enterprises. "They're not lazy" Shekhar says almost defensively. Some carry luggage, others shine shoes, deliver food, or pick up garbage. They give the 60 or 70 rupees they earn a day to one of the many food stand owners in the station who act as their 'bankers' for a 20% cut of their profits. In return the stand owner will let them sleep on his roof out of the way of the thousands of rats that roam the station. If the police come nosing around trying to arrest homeless kids, the food stand proprietiers will lie to the officers and say the street kids live with them and work for them.
        Shekhar stops when my husband calls out to him and asks a question about a pair of kids barefoot and jacketless in the January cold huddled in a corner sniffing something from a bottle. Shekhar says its 'White Out'. " They can buy it at any general store", he tells us " and it gives them a cheap high."  Shekhar points out other kids camped between the steel tracks ready to jump on arriving trains to look for discarded food scraps before the new passengers flood the cars. They all look so young to me. Shekhar says the homeless children in the station are between 5 and 18 but most are around age ten. We are almost out of the station before I realize I have seen hardly any girls. " 30% of the kids who run away from home in India are girls" Shekhar tells me, " but you won't see many of them on the street. Pimps lure them into brothels almost as soon as they arrive in Delhi."
      Shekhar stops under some trees near the station to tell us his story. He grew up in the state of Bihar and ran away from home at age 12. Shekhar had started smoking and drinking and his parents said he was an embarrassment to them. "Why in the world did I leave home", he said to himself when he arrived at the Delhi railroad station without money or friends. Another boy in the station took him to a Sikh temple that gave out free food and eventually Shekhar got work as a rag picker collecting boxes, cans and paper for recycling.
        It was while doing this job that he met John Thompson the man who would change his life. Thompson was from London and worked for the Salaam Baalak Trust. It's an agency started by Bollywood director Mira Nair famous for movies like Monsoon Wedding and Mississippi Masala. Nair uses a portion of the profits from her films to fund a charitable organization that tries to provide street kids in Delhi with a home and an education.  Johnson lured Shekhar into one the shelters run by the Salaam Baalak Trust by promising him clean clothes and a chance to watch TV. Shekhar stayed, learned English, graduated from high school and began to dream of becoming an actor. Johnson thought they should put Shekhar's dramatic talent to use. He came up with the idea of offering tours to educate visitors about the lives of homeless kids in Delhi. Shekhar has been conducting the tours for several years now but is still pursuing a possible Bollywood career. This year he is taking jazz dance lessons and a Shakespearean acting class. He asked me if I had every seen A Mid Summer Night's Dream and talked excitedly about a recent performance.
      The next stop on our tour was one of the seven contact points the trust runs in Delhi. Kids can come here for medical care, condoms, food and a chance to learn English. When we arrived a young artist was busy painting a colorfully illustrated English alphabet onto the wall. Counselors at the contact point were talking with kids trying to convince them to come along with them to one of the Salaam Baalak shelters. It's a hard sell. "Its not easy for them to give up the freedom of the streets for life in the shelter where they have to follow rules, take a bath everyday and go to school", Shekhar explains. "For many it means giving up the free drugs supplied by the police in return for special favors. The streets are also appealing because its one place where caste and religion are irrelevant. That means a lot to some of these kids." A huge number 1098 is painted high on the wall of the contact point. Shekhar says it's a free emergency help line for kids operated by the Salaam Baalak Trust. They point it out to all the kids who wander into the contact point and tell them to memorize it.
We wend our way through the Delhi poultry market to visit one of the Salaam Baalak shelters where street children can live for several years. Shekhar is popular in the market place. Everyone seems to know him. Shoemakers, laundresses, fruit sellers and butchers call out a greeting and ask about the foreign visitors he's got with him.
           The shelter is housed in an old building but the cracked walls have been painted a bright green and yellow. We climb the winding cement stairs to the second floor library with its shelves of old books. Several children are at tables near the windows reading in the sunlight. Shekhar says the electricity service in this area of Delhi isn't really reliable and it's expensive, so they only turn the lights on in the shelter in the evening. The third floor has a honeycomb of rooms that are home to 51 boys. We meet adults of many different nationalities. Shekhar tells us teachers, doctors, psychologists and social workers from around the world come to volunteer their time at the three centres, two for boys and one for girls run by the Salaam Baalak Trust. We peek into the room with low wooden tables where the children eat their meals. In another room 51 colorful rolled up mats line the walls. These are spread on the cement floor to sleep at night. We enter a classroom where all 51 boys are sitting on a large burgundy carpet. Many are wearing woolen hats or are wrapped in blankets to keep warm in the chilly room. Some are practicing writing alphabet letters in notebooks, but most are singing an English song with their teacher. Their high pitched, heavily accented voices make it hard to understand the words but they are printed on a piece of chart paper  "Your home is in my heart, wherever you may wander, trust that I am there." I sit down on the floor to sing along with them thinking how ironic it is for these children to be singing about love and trust when many of them have lived without love or the ability to trust anyone for much of their very young lives.
            There is no plea for cash as our tour ends. Shekhar hands us a brochure about the Salaam Baalak Trust. It invites us to visit their website to learn more about their work. It tells us young people who have graduated from the organization's shelters are working as computer software designers, tailors, photographers, waiters and factory apprentices. It lists ways we can help by volunteering our time and money. Shekhar's parting words are a reminder to invite other people to come to Delhi and experience the city walk with him. Consider yourself invited.
---